Mel's Devil Curry
I have had the good fortune to go to Kuala Lumpar, Malaysia many times to see clients and colleagues – you know who you are. Whilst there I visited work offices, also had a great opportunity to have a meet and a gas with my great mate Gordon this trip (which was ages ago actually). And whilst there we had the opportunity to go for lunch. Gordy's choice was this little unassuming joint called Mel's. The sign simply stated 'Malacca Portuguese Cuisine'. I'll have some of that thanks, and boy could Mel cook – what a delicious and amazing cheap lunch it was. The one though that got me was Mel's Devil Curry.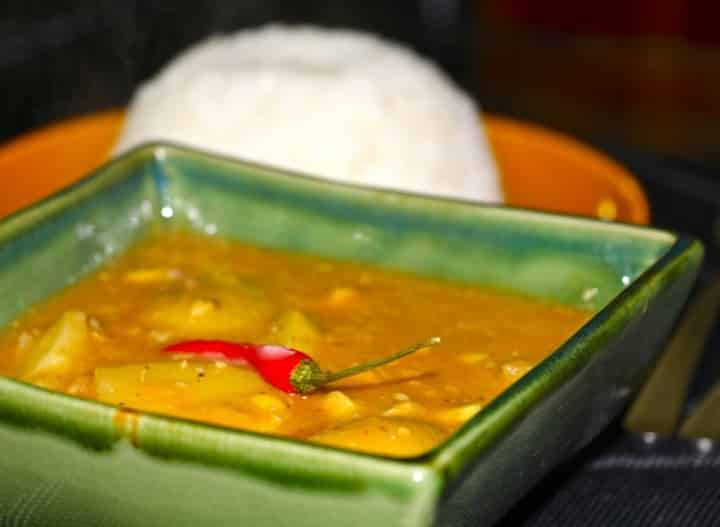 This day in KL, I chose Mel's Devil Curry. How could you not. A slow creep up on you chili heat style dish. But when this dish goes at you, it does indeed go BOOM. Smoky, sour, and spicy all in one. I loved it. So much so that I took a photo of the ingredients on one of her jars of curry paste and then came home, to turn my hand to a copy. Some of the ingredients I could not get in Singapore so I had to improvise. But I think my result was really nice. A little like hers, but not 100% but still a good effort. My version of Mel's Devil Curry.
As an aside, if you happen to be in KL you should visit Mel's. Unit 1-1A, 1st Floor, The Sphere, No.1 The Avenue, Bangsar South. Or, apparently, No.8 Jalan Kerinchi, Kuala Lumpar. Worth a visit, it really is. Also check her out @ http://www.simplymels.com
I loved the wording she used in the opening pages of her menu. Beng Naki Kumi. I remember it so clearly to this day…
"I was 8 years old. We lived in an area in Malacca known as Garden City at the time. My mother gave me a book on baking called 'Sally's Recipes'. I chose the Ginger Cake to be my very first solo baking experience.
The result was more than a well-turned out cake! All our neighbours and friends enjoyed it so much. This experience I had creating something myself, that was enjoyed by so many, led me to discover my passion for cooking and baking.
I remember my mother as being the person who nurtured my love for baking and cooking. She was incredible, strong and capable. Eurasian in every sense of the word.
Christmas and almost every other get-together was spent with family and friends, with me cooking and baking and adding to the already extensive menu my mother would have created. While many have offered their generous compliments, I'll tell you why I think what I make is special. Everything I make, comes made with a little bit of 'me'.
I realize that I have much to give and share. Each dish or cake I make is an extension of myself, my heart and my love. The feelings I experience when creating something, knowing it will be enjoyed, feeds my soul. It is like none other.
This is why I cook and bake. It always has been, it always will be.
-Mel"
Says it to all to me! And sounds very similar to my own personal situation – with thanks to my Mum and Nan. How could I resist the challenge to make my own version – I could not of course and here it is – The Semi-Naked Chef version of Mel's Devil Curry.
This is easily enough for 5 in my reckoning;
10 small potatoes cut in to quarters;
2 lemon grass stalks roughly chopped after trimming and taking an outside layer or two off;
1 inch of galangal roughly chopped;
1 inch of young ginger roughly chopped;
2 roughly chopped red onions;
half a cup of macadamia nuts;
half a cup of walnuts;
2 tablespoons of chili powder;
2 tablespoons of apple cider vinegar
A good knob of ghee or salted butter;
1/2 litre of chicken stock;
'Maybe' some corn starch with a little cold water mixed in to thicken the curry sauce;
Sea salt and cracked black pepper;
Phase I – preparing the curry paste;
Get the spuds in some salty water and on the boil until you can easily push fork in to them. Drain and set aside. They will come later.
In to a blender add the lemon grass, galangal, ginger, chili powder, macadamia nuts, walnuts, red onion, and a drizzle of olive oil to bind it to a paste. Have a wee smell of this – OMG how good is that – set this aside. And there we go, your prep is done.
Phase II – Finishing off
Get your wok on the heat, and add the ghee (or butter) and a drizzle of oil. Throw in all the curry paste ingredients and fry it off for about 1-2 minutes. Seriously have a good smell of this as you fry as this will release itself to the world. It is amazing!!! Smell amaze!!!
Add in the chicken stock and vinegar, and give it all a good stir. Add in the potatoes, and a good pinch of sea salt and cracked black pepper. Stir again and then reduce the heat to allow this to bubble and simmer for about 10 minutes. You may need to need add in some corm starch to thicken the curry as you don't want loads of liquid, you want more of a sticky , thick, unctuous sauce – you know what I mean? Not liquid, more a coating gravy.
So after 10 minutes later you should be done. Here she is Mel's Devil Curry, just my version of. You lucky people!
Serve with some plain white rice. I could have fried some thinly sliced slithers of ginger to make it look fancy and all, but I didn't on this occasion. But the who cares as the reviews were very good. Sour and spicy and complex. My lovely little attempt at Mel's Devil Curry. Empty bowls all round were seen. I'll take that any day – ENJOY!!!
Connect with Us on Social Media