Quantum of the Seas' Wonderland Restaurant, Cruise to Nowhere
Being a foodie I think you're always searching for that special moment, the moment of gastronomic heaven, the ultimate WOW / Shiok / Food Heaven… Only recently my Jude Jude asked me; "Dad what's your favourite restaurant ever?" I said in reply; "I don't know as hopefully, I have not found it yet..." Well, maybe that changed today with Wonderland Restaurant aboard Royal Caribbean's cruise ship Quantum of the Seas as we meandered around on our Cruise to Nowhere. This is part of our Cruise to Nowhere Singapore and we loved it, a Cruise to Nowhere but finding a world-class restaurant aboard.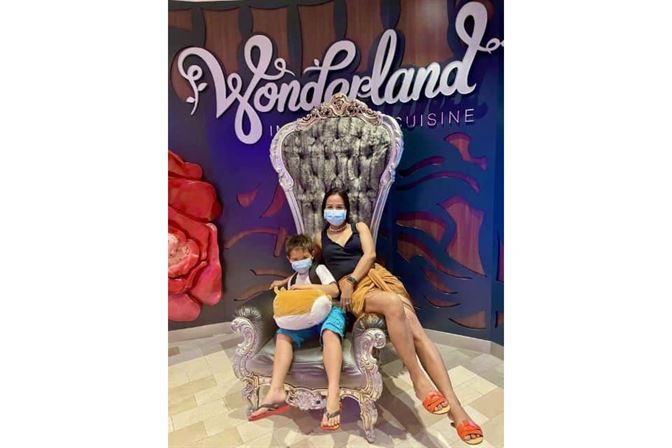 I will caveat now that the Wonderland Restaurant VLOG is a monster in length but it is worth every second of view time for food & entertainment like no other…
I think we'll be booking another Cruise to Nowhere just so we can dine at Wonderland Restaurant again, one more time.
It's not just the food here, it is the whole experience. This is 'food theatre' at its very very best. With then stunning food tastes, textures, smell and off this world plating & serving. This happens when you literally check in and you meet Avdula the Maitre D, a larger-than-life guy from Macedonia who makes your night before you have even sat down to eat. Bubbly, engaging & intoxicating is an understatement.
Then, using a paint brush to paint a magic spell on the menu that then magically appears before your very eyes. It's just jaw-dropping good…
Let's hear from Wonderland Restaurant, Quantum of the Seas
I am 1000% in agreement with everything they quote. Imaginative might be an underplay. Chef Heston Blumenthal would be excited to dine here, of that I am certain.
The Wonderland Restaurant To begin, you must enter the menu and choose your element – Sun (sun), Ice (fire), Water (fire), Earth (earth) or Dreams (dreams). Undrinkable elixirs with amorphous mirrors, mystery, and sensual delights. With each insanely delicious mouthful, the plan becomes clearer.
SUN – radiant vegetables playfully reinvented
ICE – chilled to exhilarate the pallet
FIRE – emanating wonderful warmth
SEA – oceanic inspirations from the tide of the imagination
EARTH – dishes grounded in whimsy
The theatre of the food extends to your server, our Jhon, introducing and interacting with every dish he laid on the table – as you will see from the Vlog. You have to watch him as it is all done with in-depth knowledge of his product and with such humour & interaction with us ALL.
Wonderland Restaurant / Quantum of the Seas Menu 2022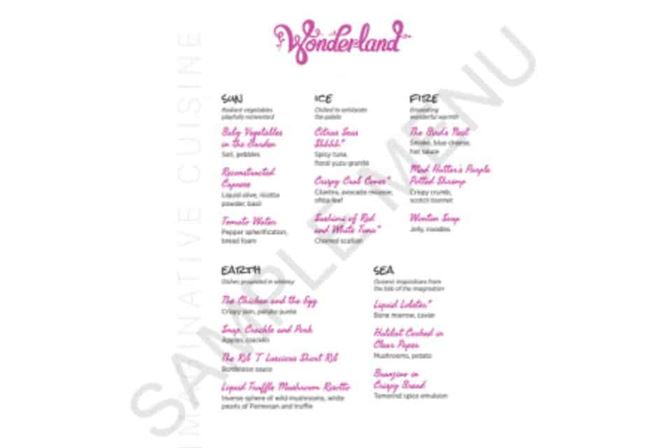 And here are two more reviews for you to enjoy about our Singapore cruise to nowhere...
This night at Wonderland Restaurant we were served up:
Jude Jude gets a candy floss 'surprise' which is basically a bananas split in disguise, AKA lift up the candy floss and surprise!!!
EARTH; Berkshire Pork Belly / Apples 'w' Cracklin. Jude Jude was sharing this with me and Strawberry chose the same. Again, cooked forever to be super-soft with no need to even chew with a crazy crispy cracklin atop. Served with this amazing savoury apple sauce and plated like a piece of art. Just a sublime pork dish. I am so happy I was sharing with Jude Jude. Damn this was sooooo good
EARTH; Terroir Beef / River Stone Potatoes 'w' Bordelaise Sauce. Holy cow, literally. What a superb piece of beef this was that I chose to share with Jude Jude. Intense in flavour and fall apart due to the 5-hours of cooking time. And the plating. Well just watch the Vlog. I think they upturn a rather fancy plate and use the under-side so there are all these little wells for the sauces – yeap, this is up there with the absolute VERY BEST I have eaten
FIRE; Buffalo Chicken Eggs / Smoke, Blue Cheese 'w' Hot Sauce. OMG, this is truly a WOW dish. Served in aromatic smoke that wafts around the table when Jhon lifted the dome to present the dish. These will be the best-deviled eggs you'll have in my humble opinion, served atop crispy smoky noodles
FIRE; Shrimp Kataifi / Crispy Crumb 'w' Scotch Bonnet. Jude Jude and I got the carrot version. But hey that's fine as the winner in this dish is the Sriracha cream mousse, holy cow that was so umami knockout
SUN; Tomato Water / Pepper Spherification 'w' Bread Foam. This is tomato juice on steroids, filtered many times to remove the colour without losing the flavour. What a CRAZY start ICE; Crispy Crab Cones / Cilantro, Avocados Mousse 'w' Ohba Leaf. OK, Jude Jude and I had a veggie version, and this was a stunner. Such a light and fluffy one-biter
FIRE; Shrimp Kataifi / Crispy Crumb 'w' Scotch Bonnet the prawn and the carrot version of the same dish…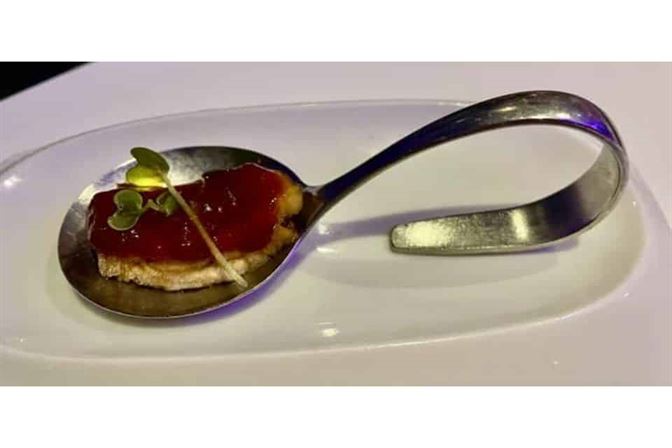 SEA; Liquid Lobster / Bone Marrow 'w' Caviar. Yep, again Jude Jude and I had something different with roast pork & sweet 'n' sour, but the feedback from Wifey on the actual dish was that it was so very good – like a lobster bisque on a spoon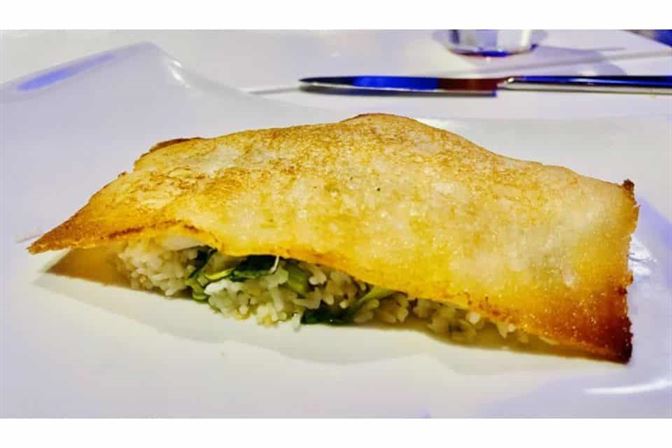 SEA; Branzino In Crispy Bread / Tamarind Spice Emulsion. Wifey was extremely happy with her choice (mainly because it comes with rice), as it surely was a stunner of a dish. And then Jhon drizzles over the Tamarind Spice Emulsion and that lifted it to heavenly heights
One dish, sadly missing a photo. SEA; Halibut Cooked In A Clear Paper / Mushroom, Potato & Bacon. The serving of this was superb by Jhon, when he pulled the cut-off top away the smell was just intense and so savoury & citrusy – and that's for me as a non-fishy. #1 ordered this and was oohing and aahing the whole way through eating it – I think he could have ordered another
Desserts @ Wonderland Restaurant, Quantum of the Seas
DESSERTS; Hobson's Choice. You basically get served FOUR to share. We got a little mushroom garden, a forbidden apple, chocolate earth (with surprise) and a candy floss surprise. You simply have to watch the Vlog and hear Jhon describe these delicacies.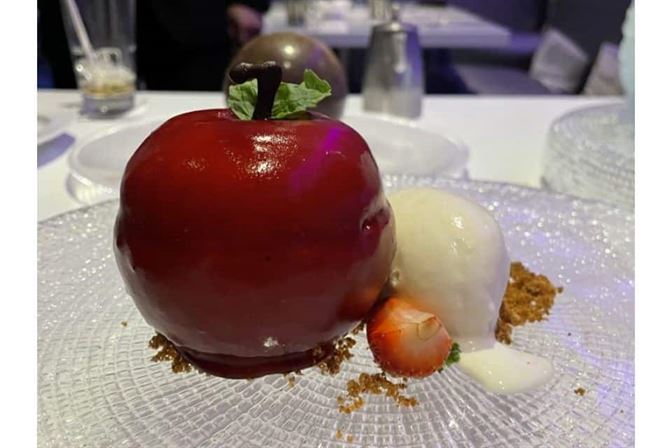 We had Head Chef come visit us a few times too. Wifey & I were super-proud to find out he is Filipino. I was then massively shocked to find out that his whole kitchen staff is him + 4, yes FOUR. A total kitchen crew of FIVE able to serve us this Michelin grade food is mind-blowing.
I will call out our amazing crew for this experience today as they made this so very special for us all;
Maitre D; Avdula
Server; Jhon
Magician; Elmor
Head Chef; Mr Philippines (we just cannot remember his name, sorry)
Avdula explained that his whole staff is carefully picked, ensuring they all have something 'magical' and unique up their sleeve. We clearly saw this in action this night. He asked Jude Jude a very simple question; "What would you like to see? Dancing, Magic, or Diving?" Jude Jude chose Magic. "Give me 10 minutes…" said Avdula. 10 minutes later he came back with Elmor and we had a tableside Magic show, just for Jude Jude. How absolutely incredible is that?
Make your Royal Caribbean cruise to nowhere booking here...
Some discount loving from our friends at Klook
Click below to get some amazing discount from our friends at Klook. Click away my friends... and ENJOY!!!
Conclusions about Wonderland Restaurant, Quantum of the Seas, Royal Caribbean
What a place, what a team, what an experience.
We'll be back to Wonderland Restaurant, that is for certain.
We eat 1st with our eyes… My goodness, these guys have NAILED that aspect in a heartbeat. You can't wait to smell and taste, the food just LOOKS so enticing. You feel like you have literally dropped down the hole in Alice in Wonderland. The decor, the attire of the staff (I love a bit of crushed velvet), how you see your menu appear before your eyes, the magic show, the plating, even down to the upturned plates & bowls adding to a unique serving style. You can only call it a truly magical experience.
The Wonderland Restaurant To begin, you must enter the menu and choose your element – Sun (sun), Ice (fire), Water (fire), Earth (earth) or Dreams (dreams). Undrinkable elixirs with amorphous mirrors, mystery, and sensual delights. With each insanely delicious mouthful, the plan becomes clearer.
Get yourself on the ship and do a Cruise to Nowhere ASAP – you should not miss out on this dining experience. It really was Wonderland…
Let's have some ISLIFEARECIPE-dia about Singapore's Royal Caribbean Quantum of the Seas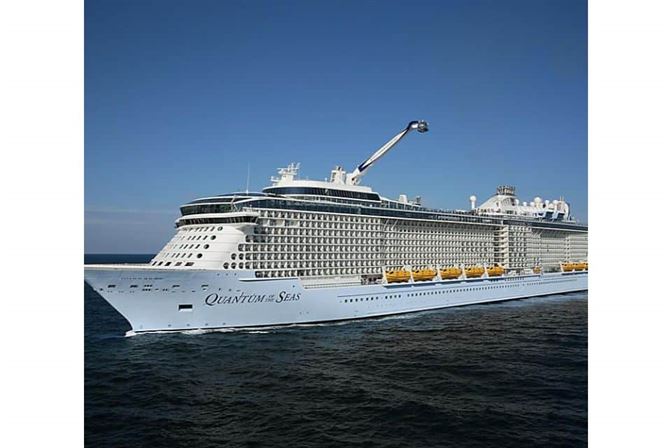 In Singapore, the Quantum of the Seas® is waiting to take you on an extraordinary trip.
The Quantum of the Seas® is the first ship of its sort from top to bottom. It's hard to think of a better example of the beauty and music of cutting-edge technology. Even if it's raining, there are activities that the whole family can engage in. Every room has a Virtual Balcony, so you may watch the world go by from the privacy of your own house. Arriving at your destination in the comfort of this ship, you may look forward to an unforgettable sea voyage.
For Royal Caribbean International, Singapore was the first port in Asia to reopen during the global cruise shutdown.
Spectrum of the Seas will relocate to Singapore on October 21, 2022, and will be headquartered there for the next five years.
The Spectrum of the Seas was developed for the Asian cruise industry. However, from the beginning of 2020, no further journeys have been planned for the ship's current itineraries.
Quantum of the Seas is billed as the world's first "smart ship" and has an on-board retail complex, laser tag, and robot bartenders. New cruise ships are designed to provide passengers access to all of these attractions without ever having to leave the ship, which is the goal of this new design.
Quantum of the Seas, Royal Caribbean Cruise Line's newest and largest ship, departs from the South Philadelphia port. The 4,180-passenger ship has a wide variety of entertainment options for all ages and interests. iFly's RipCord and the ship's North Star attractions offer guests the chance to soar into the sky.
The Quantum of the Seas will sail from March 24th to April 1st on a new route to Singapore. The ship's 2019 itinerary includes this new stop. As of this writing, Quantum of the Seas has sailed to more than 120 ports throughout the globe, delivering more than 3 million passengers. Dubai, Shanghai, and Sydney have all been featured on previous itineraries.
For four days beginning on October 18, Royal Caribbean's Quantum of the Seas will be docking in Singapore. A stopover in Singapore will be made during the ship's first Southeast Asia voyage. Adding Shanghai, China, and Haiphong, Vietnam to the schedule shows the company's dedication to providing journeys for both residents and tourists.
As of October 2017, Royal Caribbean's Quantum of the Seas will sail to Singapore on a new schedule. There was an opportunity for guests who had already booked their vacations to convert to this newer version at a reduced fee. Port Klang, Penang, Phuket, and Ko Samui in Thailand is now part of the revised itinerary. It is hoped that this new route would bring more people to Asian ports.
Singapore is one of Asia's most intriguing cities. It's always hot where you live if you're in a tropical area. Museums, temples, national parks, and opulent restaurants abound in this city's cultural landscape. For those who want to escape away from the city's bustle, there are a few distinctive attractions that are ideal.
Royal Caribbean has extended the sailing dates for the Quantum of the Seas from Singapore once again, this time until April 7, 2022.
As a result, cruise passengers heading to Singapore will also be obliged to have the right vaccinations in place.
For any new bookings made after October 1, 2021, the cruise line will require all passengers and crew members to be fully vaccinated against the H1N1 virus.
It's the Royal Caribbean Spectrum of the Seas that sets it apart from other cruise ships.
Spectrum of the Seas is one of the newest ships in the fleet, as well as a new arrival in Singapore.
In order to be a pioneer, Royal Caribbean designed the ship, which has a broad variety of cutting-edge technology and some elements of eastern culture.
Quantum of the Seas has a lot to offer, including the following:
Asia's first Sky Pad, a virtual reality, bungee trampoline adventure
Royal Caribbean's first and exclusive Suite Enclave, which features the exquisite Royal Suite Class Star, Sky, and Sea accommodations in a private area supremely positioned at the forward end of the ship. Guests booked in these luxury suites have exclusive floor access, an elevator, private restaurants, and a dedicated lounge area.
Cutting-edge and transformative venues such as Two70. Boasting stunning 270-degree ocean views by day and transforming into a multidimensional theatre by night, this transformative space flaunts six agile Roboscreens, breathtaking live performers, and mind-bending aerialists to create unimaginable visuals.
Star Moment, is a lively and energetic karaoke venue where family and friends can belt out and sing like stars.
The signature two-level Ultimate Family Suite, is an expansive, multiroom retreat complete with its own ensuite slide and cinema, which also doubles as a karaoke stage.
A bold lineup of signature activities, including the FlowRider surf simulator, the North Star, an all-glass capsule that ascends 300 feet above the ocean to deliver incomparable 360-degree views; and RipCord by iFly, the first sky diving experience at sea.
Nineteen distinct dining options serve up flavours from around the world, including Hot Pot, an authentic Chinese dining experience; Teppanyaki, a celebration of authentic oriental flavours cooked in Japan's traditional teppanyaki style; and Sichuan Red, a new specialty dining experience tailored just for Spectrum, where diners can savour a bold tapestry of authentic spices and Sichuan flavours. Signature classics include imaginative cuisine at Wonderland, top-notch, aged beef at Chops Grille, and authentic rustic fare and handmade pasta at Jamie's Italian.