Xmas Brunch @ Hao Lai Wu BBQ, Chinatown
I could make all this up and say we have planned and booked to come here… Far from it. I/we cocked up and did not book anything for Xmas day lunch/brunch. I assumed that by staying in the hotel we'd have auto-access to be able to dine there – not so it seems. But what a cracking piece of misfortune and fate turning our Xmas day food experience into an absolutely fantastic one. Plus what a bonus on the $$$ front as I reckon we saved about $800 not dining at the hotel and got way more food and beer and it was really was just superb to do something radically different. Well this year, 2020, has been a year of 'different'.
Lot's of little things caused this to happen today. It goes like this:
Xmas Brunch @ Hao Lai Wu BBQ, Chinatown
I forgot to book Xmas Day brunch at the hotel, rather I didn't think I would need to as we are staying in the hotel anyways…
We decided to wander and try out a place we had not frequented in years, Yum Cha in Chinatown so iff we went.
Wifey wanted to get a new shawl, and where better than Chinatown for that?
Whilst waiting for his Mum to finish shopping, Jude Jude was playing with a squeezy ball thing which decided to burst all over his shirt & shorts.
Now we needed to buy new ones for him and I know the place – the old shopping centre with the wet market below – that meant walking up to Sago Street.
New t-shirt & shorts later I suggested we walk up the road to see the temple before heading back for lunch – and what did we walk past???
Also as we sat there, right next door is an uber-cool VR Gaming/Escape Room place – so that is now booked for the kids for Boxing Day.
So, do you see what I mean re fate and us ending up at this restaurant today? All of the above events added together made us walk past the restaurant and check the menu and luckily have a 5-seater table on the street ready just for us. It was a brilliant lunch. Fantastic actually. We sat, chatted, laughed, played with gifts, and planned the days ahead. Clearly being stared at a lot. You could hear the minds ticking over; "Angmo must have taken wrong turn and got lost?" "Angmo have no white friends for Xmas Day…?" Bloody brilliant – seriously LOVED lunch today sitting there in Chinatown. One to talk about, not forget as it blends in with other hotel brunches that are pretty same same.
Cracking Xmas celebration. Just thanks to family K for loving it too.
High up on the recommendation list is this place. I reckon we'll be visiting again soon. At $180 all in for all that food and beer after beer and drink after drink, I can say absolutely we'll be coming back again haha. That was the per-person cost for brunch at The Pickering Park Royal (excl free-flow).
Come and see them at; 6 Sago Street, Chinatown, opposite the Buddha Tooth Relic Temple.
Let's have a look at;
Xmas Brunch @ Hao Lai Wu BBQ, Chinatown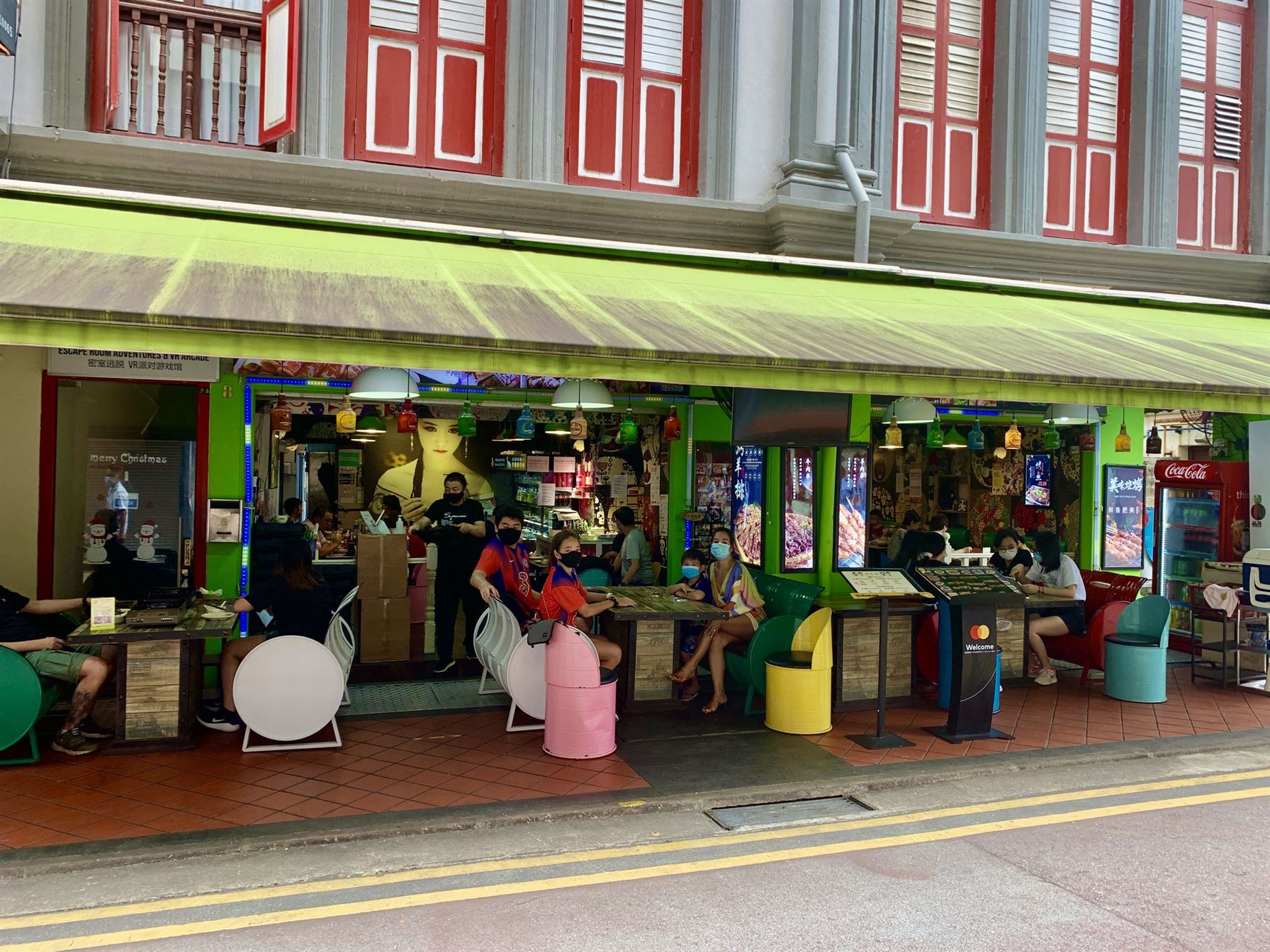 And that was the crazy Xmas brunch thrust on us literally at the time of eating need. Having nothing planned this year turned out to be one of the best, caused by fate. We loved it. Hey, you're only allowed a few people around the house and we were desperate to have time out of the condo too. Xmas Brunch @ Hao Lai Wu BBQ, Chinatown, was an excellent brunch. Great location, great food, even the music was kind cool and catchy – and all for $180. We had a blast. Not a Santa or reindeer in sight though haha. Back to the hotel after to re-group, freshen up, change and then off to dinner FFS. It's a big food day everyone. Try this place if you happen to be in Chinatown and love a bit of self-cook BBQ and/or Hotpot. It's up there with the best we have had!
ENJOY!!!