Beef Laksa
My poor little Amy was sick sick sick, yep for three days. 39.7 was the worst temperature of the first two days and then she was physically sick on day three. She did the cute baby voice (her ill voice), and rolled those puppy dog eyes; "I want some noodles, and some soup and some beef please Dad…" How could I say no, but what on earth to cook? Off to Fairprice, I trotted. I got front and centred by laksa noodles – PING!!! But Amy wanted beef. So I created this Beef Laksa. For a 6-year-old to wolf it all down after being sick all night and morning have to be a good sign yes? And she sure did that.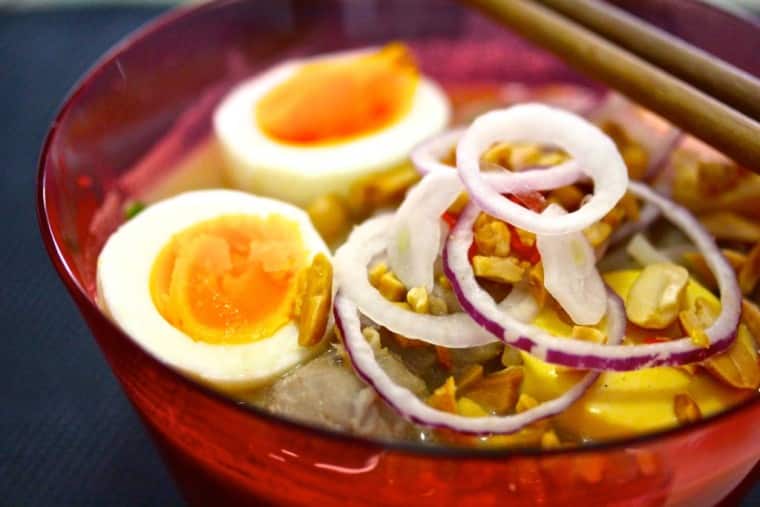 For a huge serving of my Beef Laksa, easily enough for 4-6, you will need to purchase;
2 litres beef stock;
1 small carton of coconut cream;
1 packet salted peanuts – whilst in the bag give them a good bash-up, you want crunchy not powder though;
2 thinly sliced small red onions;
1 egg per person – for perfect boiled eggs, simply stick them in cold water, set the timer to 10 minutes spin on the heat, shell them and cut them in half;
1 tablespoon of finely chopped garlic;
1 packet of baby kailan, sliced thinly;
1-2 packets of beef balls;
2 tablespoons fish sauce;
1-2 finely chopped chilli padi for those that want heat;
1-2 packets of laksa noodles;
2 tablespoons lime juice; and
1 packet of silken tofu.
I suppose you could call it fake. That's not laksa you'll be saying – but I have to say the taste when done was not far from it. Just beefy goodness. So I am still calling it my Beef Laksa. It is so so simple to make too. Seriously so so simple.
I made my Beef Laksa in a wok, but you could use a pan or soup pot of course.
Add in the beef stock, garlic, coconut cream, noodles, beef balls, tofu, fish sauce, and lime juice;
Bring that to a slow boil, and let it simmer for 10-15 minutes;
That's that done then;
Add in the greens and let them wilt for 5 minutes and you literally are done.
Serve in bowls. Put two egg halves on top. Sprinkle some onion and peanut, and the chopped chilli on top and there you have it, my version of a Beef Laksa.
BOOM. Go on give this a go. It cannot be easier, truly – and it came out so nice, just ask Amy. Beef laksa (sort-of style, type thing…) – who'd have thought it? Enjoy!!!