Gaston French Restaurant Singapore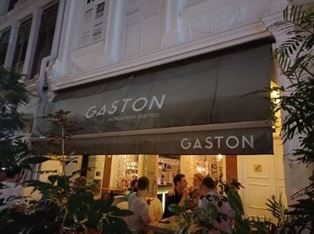 Gaston is a French Restaurant based in Keong Saik Road specialising in Burgundy food and wine. Bistro Gaston is not the only French restaurant in Keong Saik Road, there is Taratata Brasserie which covers regional French food where as Gaston offers Burgundy specific French food.
Bistro Gaston is not only a French restaurant but an all-day wine bar featuring a wide range of high-quality, low-priced wines from France and beyond. The Gaston wine list is diverse, approachable, and interesting, and most of the wines are obtained directly from the French vintners. There's plenty of wine choices for everyone, from newbies to seasoned connoisseurs, with a wide wine-by-the-glass selection of up to fifteen wines and a changing Wine Flight of the Week.
Gaston offers one of the best set lunch in Singapore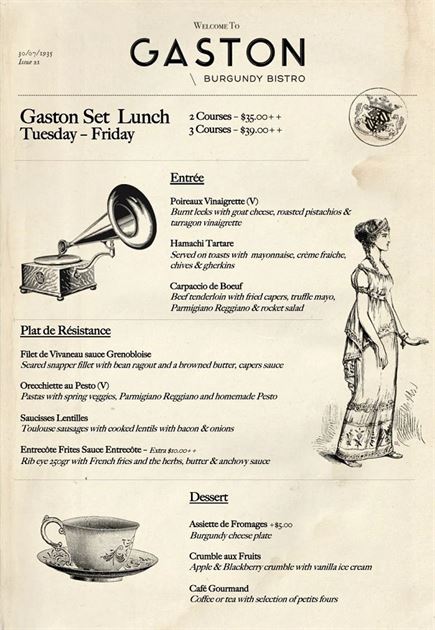 You know you have made a great choice in French restaurant for dinner when the staff offer you half a dozen oysters before you even sit down! Now that's service! It seemed the French Fin de Claire Oysters were a hit that night and the stock was low, so the staffs offer was most welcome! The 6 oysters did not last long I can assure you with a squeeze of lemon and a splash of the Mignonette Sauce.
On this occasion we wanted to experience a variety of French food as it was our first time at Gaston and we had heard lots of good feedback from friends, so wanted to ensure we did not miss a trick!
Some of our usual favourites are Fois Gras and Boeuf Tartare and we was not disappointed. The Fois Gras is made in-house that is the recipe of Chef Julius that is accompanied with served with toast and jams, you can see the image below Fois Gras en Torchan.
The Fois Gras was super smooth and creamy, it sat well with the crispy toasted bread and sweetened off by the two types of jam.
The Tartare de Boeuf a la mustard was not laid out like that, I turned it into a Mickey Mouse myself but despite my childish efforts the Beef Tartare was a knock out dish, the sourness and crunchy texture of the onions and capers balanced out the beef exquisitely.
The selection of Cheese was a bit too small for my liking but they were all very nice and morish! 
For main course we opted for a sharing Angus Rib Eye with a creamy mashed potato and to be honest I am glad we shared because were full already when it arrived, so full in fact that we opted out of dessert, so note to self next visit leave room for desserts!.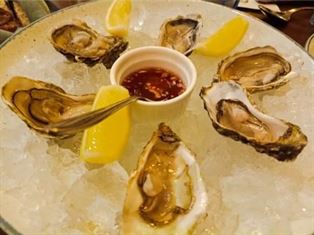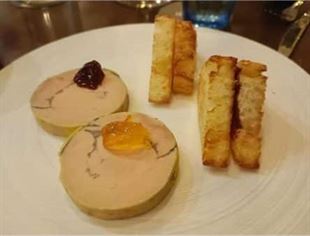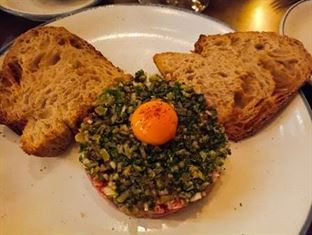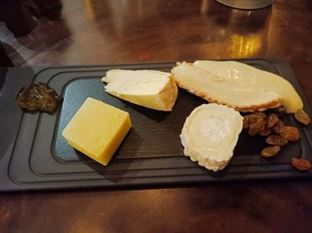 Given that Gaston is a Wine Bar we of course indulged!
On this occasion only a French Red would do and we opted for a Châteauneuf-du-Pape by M.Chapotier the Croix De Bois 2013. I can't recall the price but they still l have a 2010 available and its going for $247 per bottle to give you an indication.
Tasting notes: Black fruits and blackberry jam are prominent in the aroma. The taste is rich and unctuous, with a generous amount of toasty tannins.
Gaston Corkage rules are that if you bring one bottle you must buy one bottle, limited to one bottle per table. If you just want to pay corkage then it's $65++
I am known to like a final tipple to close off a good meal and when in Rome (or Paris) do as the Romans do, so I typically opt for a Pernod! On an occasion recently at another French restaurant I got schooled as its actually called Ricard, now I did know that but old habits die hard!
Pernod Ricard is a brand, much like people say Google It meaning search! So note to self, it's called Ricard!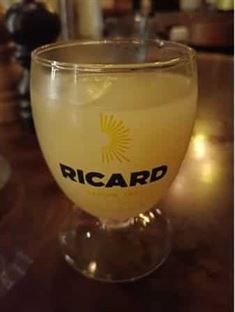 Geoffrey Daurelle is the Owner & General Manager of Gaston and was our Maître d' for the evening, as the lead on front of house Geoffrey bounced from table to table giving everyone a personalized service and promoting France and Burgundy in particular.
We talked of our trip a few years ago to Normandy and our love of French food and our experience with Calvados from our friend Thibaud whose grandmother had a Calvados license and would give him a bottle to bring back to Singapore every year, now that was potent.
Geoffrey offered us a glass of 12 year old Château du Breuil Calvados (which if you look back at the Chefs Specials picture is sitting on the shelf) and it was spectacular to say the least, a fine finish to a fine meal.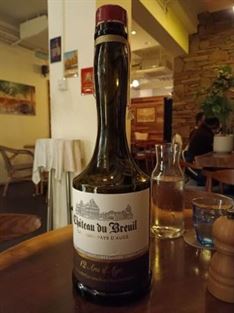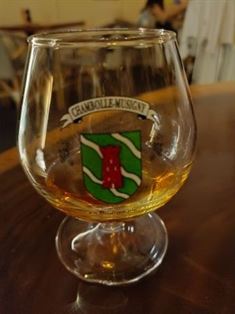 1970 Delord Vintage Armagnac
Unfortunately this 1970 Armagnac was already finished when we got there but was a sizeable bottle for anyone to finish off and what a magnificent year it was!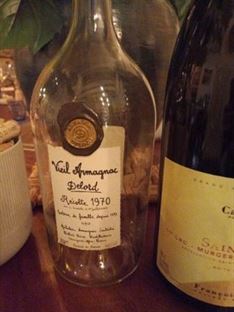 Address &Telephone Number
Address: 25 Keong Saik Rd., Singapore 089132
Phone: +65 6909 8120
Reservation: bistrogaston.sg