Tomahawk - Contemporary Steakhouse (Formerly O'maJ)
A 2022 menu update and Tomahawk Restaurant Review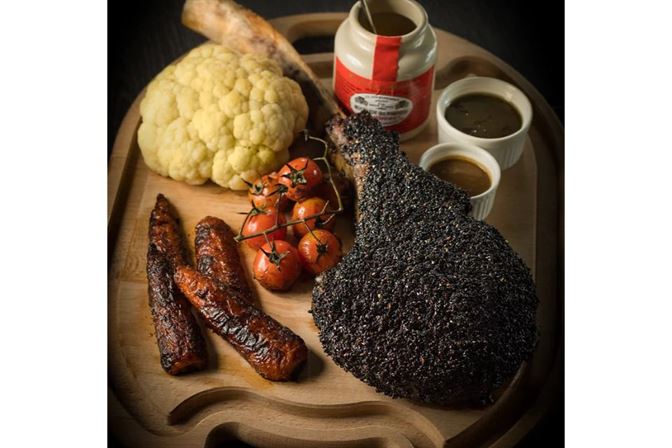 Sadly, we have not been here to O'Maj since forever what with Covid and the like and now find that it has changed the name as we heard from them when we visited. So, like Symbol formerly known as Prince, you now have Tomahawk – Contemporary Steakhouse (Formerly O'maJ)​ and it is a beauty. These guys live to the ethos of ChillaxBBQ by reverse-searing Tomahawks to Pink2Pink Perfection. So in honor of these guys, we are bejazzling our original review, including Tomahawk – Contemporary Steakhouse (Formerly O'maJ)​ 2022 menu for your consideration.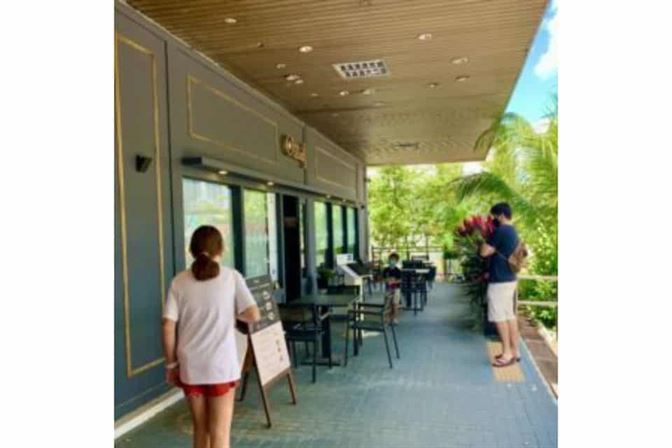 O'maj @ 273 Thomson Road; Off to Macritchie Reservoir, we go today for some adventure. Of course, we need to be fed beforehand, and I found this place on good old Google. I loved reading the about page and the history of the restaurant and the recent morph to a steak house from a pasta restaurant. Anyone who talks about Hokkaido Snow Beef and Tomahawks on their home page is a winner in my reckoning, and it had to be done. 
I feel for these guys as the road works out the front has made it impossible to see them for walk-ins. It is also a pig to find if you get a taxi and then have to walk and find it (Note; this was 2 years ago, so we assume road works have now been completed). Bless them, they WhatsApp me a video showing how to get there but it was for driving in a car, not as a pedestrian. Suffice to say, the easiest way to find them is to pretend you have arrived in a car and enter from the car park.
Is it, therefore, worth the hassle to find and dine here? Categorically yes!!! It's incredible, as you will see from the food reviews. I even took a video or two for this lunch as there is an element of table-side food theatre going on and you know I love all that stuff. It was an incredible lunch. It's up there on the $$$, but we did have a 1.6Kg Tomahawk and other wonderful delicacies from the kitchen. Be proud O'maj & crew, that was truly a superb lunch.
Let's hear the 2022 self-review of Tomahawk - Contemporary Steakhouse (Formerly O'maJ)
All I can say is "WOOF!!!" OK, perhaps it should be "MOO!!!"
Check out the 2022 Menu for Tomahawk - Contemporary Steakhouse (Formerly O'maJ)​
Let's get into the food of Tomahawk - Contemporary Steakhouse (Formerly O'maJ)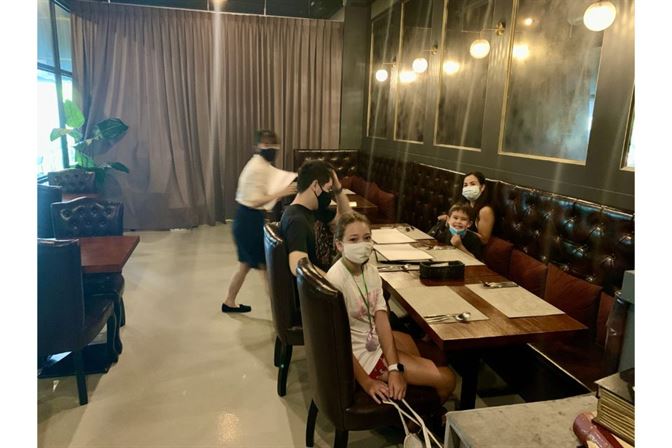 We started with some soups and were all blown away, then got smacked by the amazing Tomahawk and blown away by the desserts as well. It's an all-in experience and one we will absolutely be back for more and more and more. One of the crew mentioned that they also have a specials menu daily, so ring ahead to see what unique goodies they have on offer. We also spoke to the team on departure and they said that another name change is coming, and I love this. "Because most of our clientele eat our famous tomahawk steaks when they dine we're changing our restaurant name to Tomahawk." And in 2022, that has happened.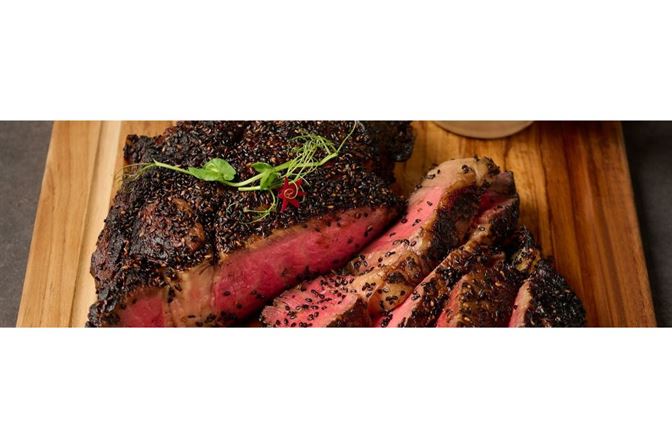 Some brilliant 'food theatre' to watch here. Flaming a Tomahawk.
I might even suggest a ChillaxBBQ group hug with these guys and explore some recipes/dining concepts together…
let's have a look, shall we…? Tomahawk – Contemporary Steakhouse (Formerly O'maJ)
Up first are the soups we ordered. They come in little coffee cups. A classic case of size does not matter, as these soups punch a flavour weight way above their size. Both these soups are best-in-breed without a doubt. They take the stage up there and are on par with the best ever mushroom and tomato soups I have ever consumed. You simply have to try these. They'll blow your mind.
And then this one follows soon after. Again I had to order two to stop a food fight. And again, an absolute stunner. This is Beefy Tomato Soup – goodness me, best tom soup ever – beef bone stock, tangy tomatoes & sour cream. You get bone marrow flavours and then slapped with zing of tart tomatoes. It's really quite incredible a little soup.
@ $15
This one is quirkily named: Muddy Mushroom Soup – button mushrooms caramelized over 3 hours with pork bone stock. An incredible flavour sits in this little coffee cup. As you get to the bottom you even get little bits of slow-braised pork rib. It's just insanely good. We ordered two to stop the fighting.
@ $15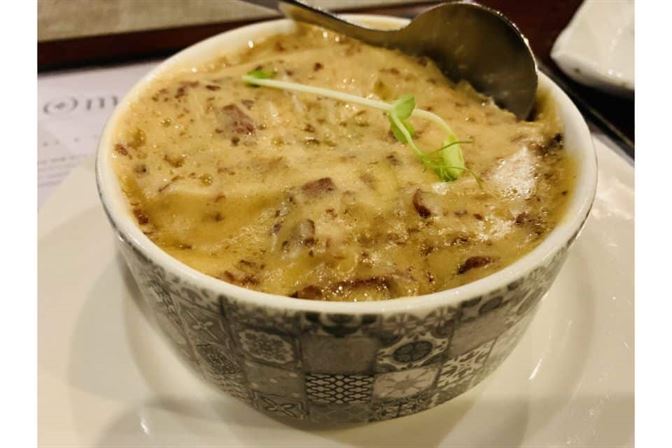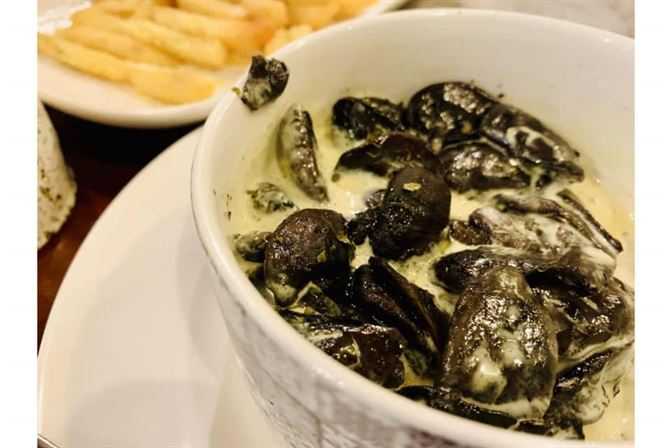 Jude Jude orders one of his all-time favourites, but this was Mad Mac n Cheese at Tomahawk. This was up there with ChillaxBBQ's 3-Cheese Fondue recipe. It was a winner in a big way!!!
The 'main event' is fast approaching now and the sides come out 1st and these are worth a call-out. Some seriously intense mushroom flavour from these bad boys. Just brilliant. Twice-Sauteed Mushrooms are shrooms caramelized over 2 hours until they are chewy and nutty. Boom!
@ $18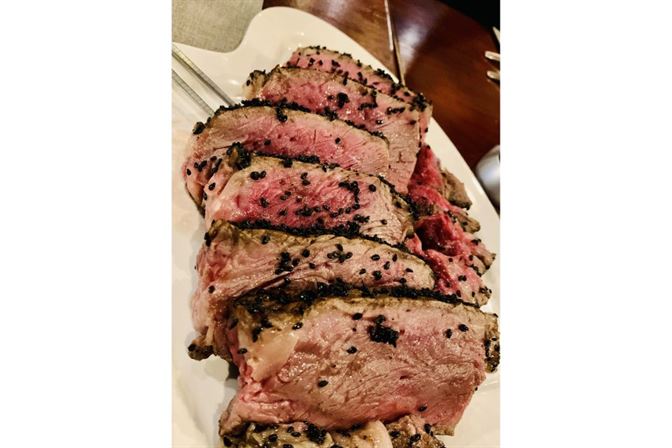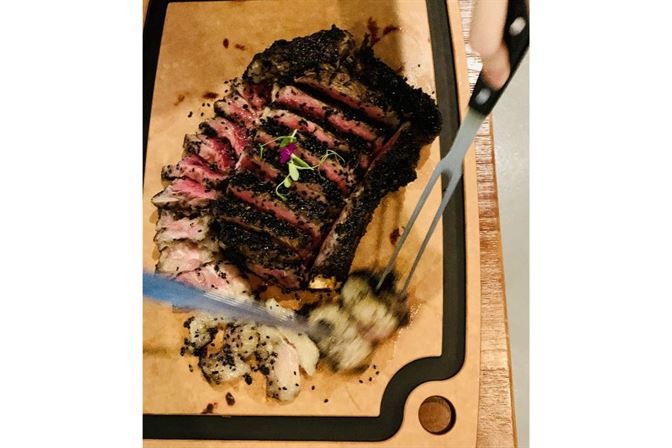 Pink2Pink Perfection. I love it. They even serve this with a personal Chef Torch if you want to char it up some more for those, not of the medium-rare disposition, of which I had 2 to contend with today. Thank Gawd #1 and Jude Jude were with me to have some form of steak decorum in such an incredible establishment!!!
So this is on the menu as Wagyu Tomahawk Rib-Eye Steak  a 6/7MB Australian Sanchoku Wagyu rib-eye, with truffle black sesame. She is a monster but perfectly cooked. A stunner.
And then the main event arrives with nearly 2Kg of prime beef real estate on this platter. It's an incredible thing to see. They use this black sesame & truffle 'crust' and bless them they ask for forgiveness for the 30 or so additional minutes to cook the steak. For me, that is a blessing as it means they have not sous-vide prior, and I hate sous-vide as you know. I am so hoping that the Chef is reverse-searing these monster Tomahawks in the oven not boiling in the bag. PLEASE!!!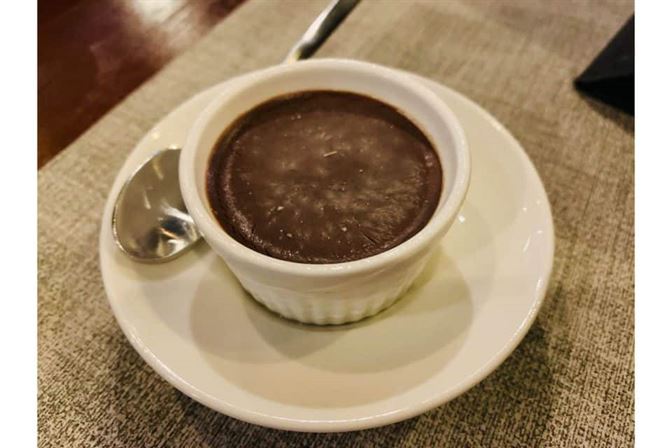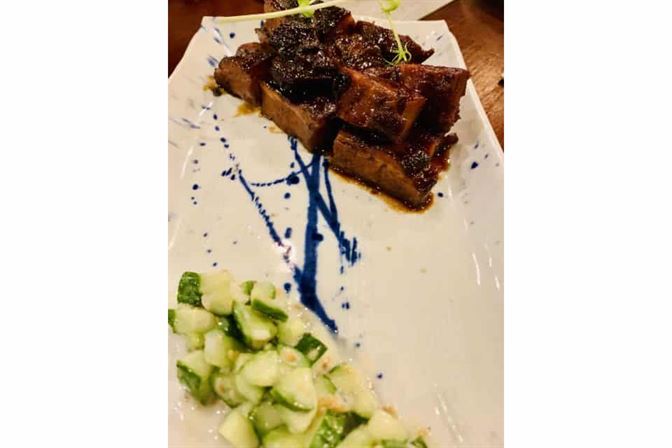 Nearing a food coma we had to pack some of the steaks for another day of tomahawk consumption therapy. It was onto the rather interesting dessert selection.
Little baby ramakins of their Premium Ice-Cream arrived for Jude Jude. This is chocolate, but not just any chocolate. This is all the way from Valrhona, France, a crew that has been making chocolate since 1922. Yeah, they are masters at their craft. This is some intense chocolate ice cream and it is off-the-charts good.
We then crack into a pork rib territory for another stunning little dish. Super-tender and a fascinating spin on Char Siu. This is Smoked Char Siu St.Louis Pork Ribs – Australian Borrowdale certified free-range pork, prepared with 21 ingredients and then hickory-smoked, served with Japanese cucumber salad. OINK!!!
You'll have to watch the video to see wifey selection of Creme Brulee. A stunner too. On par with Chef Chris Salans in Bali. Yep, this is up there!!! Absolutely superb creme brulee.
You have to watch the video again for this little bit of food theatre at tableside. A CO2 carbonator gets filled with Longan fruit. He then carbonates it with the gas. That infuses into the fruits. That then gets served up with freshly grated lime peel and a little sugary syrup (maybe maple or honey…?). What you get is pop-rocks sensation when you eat the fruit. It is BONKERS. Who doesn't love a bit of food science? This is their Fizzy Fruits – fruits made fizzy from pressurized CO2. What an awesome finish to lunch!!!
@ $16
#1 goes hard on this beauty. One mouthful and he was eyes wide-open and all goo goo gah gah about how wonderful it was. A superb marriage here of Midori & lemon. This is their Midori Lemon Sorbet – honeydew melon liquor, lemon juice, and ginger juice. Kaboom!!!
@ $8
Our conclusions of Tomahawk - Contemporary Steakhouse Formerly O'maj @ 273 Thomson Road
Save up your $ and get your bum over here for some superb table-side food theatre and absolutely stunning food. It's a special occasion place for us now.
The family had a wonderful time, dining on exquisite foods, and I mean exquisite. The soups were to die for, the tomahawk was really up there and the desserts were just exceptional. It's indeed a cracker! 
ENJOY!!!
See here for more ILIFEARECIPE steakhouse recommendations, there's nothing IMPOSSI at these joints
And enjoy some of ISLFEARECIPE recipes using this KING of steaks, the Tomahawk and cooking Pink2Pink Perfection
Tomahawk - Contemporary Steakhouse Address &Telephone Number
Address: 273, #01-06 Thomson Rd, Novena Gardens, 307644
You can book on Chope or WhatsApp/ring them at 8261 3992
Email them @  info@tomahawk.com.sg
Connect with Us on Social Media