Queuing for Food in Singapore is a national pastime! now everyone know that when you see a Hawker Stall with a long queue it much very good well Shun Shun Prawn Noodle stall is not an exception to the rule.  
Shun Shun Prawn Noodle is tucked away in Choh Dee Place located at 824 Tampines Street 81. There are a few very good hawkers bunched up here but based on todays breakfast choice we will show you this little gem of a stall. Shun Shun Prawn Noodle stall is owned and managed by Meng Soon Mix Veg. Group.
Shun Shun Prawn Noodle Dry $5.50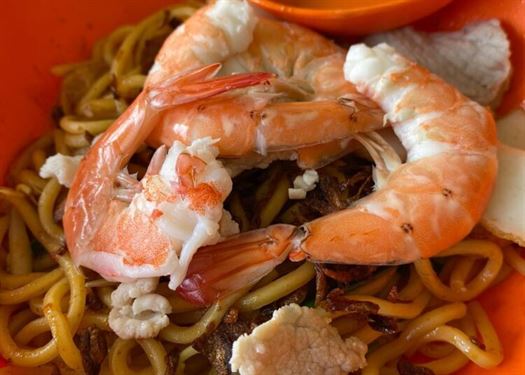 Shun Shun Prawn Noodle Menu
Shun Shun Prawn Noodle Stall
Shun Shun Pork Rib Noodle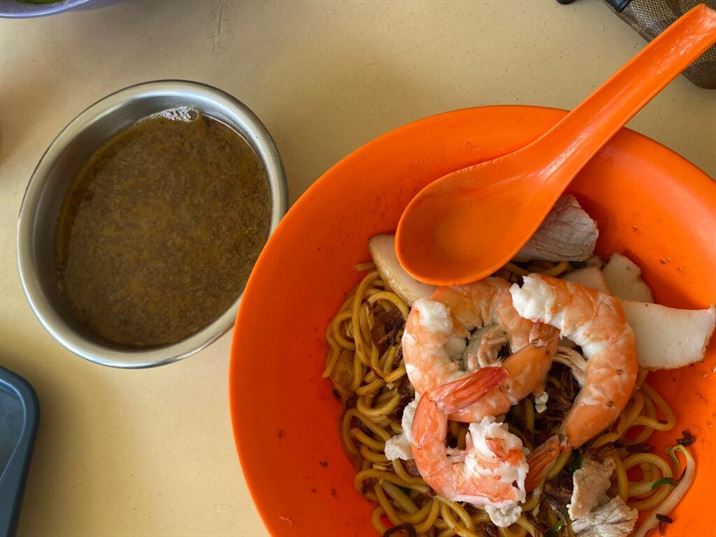 Shun Shun Prawn Noodle Review
Let's just say this was worth queuing over 20 minutes for this morning!
Unlike many noodle stall this was a little light on round yellow noodles which to be honest was a good thing, the accompanying ingredients made up for that light short fall.
Not sure why the Prawn Noodle Dry was 50 cents more expensive to be honest (note to self order soup next time). I always add a few spoons of the accompanying soup anyway! the soup set on the site in the stainless steel bowl was piping hot but too tempting not to try first. 
This thick bone stock dense soup is off the charts flavourful, its peppery yet meaty and then you get a sweetness from the prawn stock that hits you at the back end of the first slurp of the soup from the spoon. The pepper hits the back of the through with a pow and you're in foodie heaven!
Now on to the main feature. We had ordered Prawn Noodle and Pork Rib Noodle.
For the Prawn Noodle the sweet prawns still in their shells with tail attached sit comfortably on top of slithers of pork meat.
The round yellow noodles have chards of burnt shallots and blanched beansprouts (called locally towgay) which gives a sensory crunchy balance to the soft noodles. 
The Pork Rib Noodles had the same underlining noodles, shallots and beansprouts but with 5 blocks of pork rib nestled on top dusted with the charred shallots. Each of the pork ribs melted away in the mouth and the ribs were still soft from the long cooking process, allowing the meat to fall off the bone.
Prawn Noodles or Pork Rib Noodles must be accompanied by red chillis in either a Soya Sauce or a dark soya Sauce, we had both but have only attached one image above as there is no need for both. The dark soya sauce with red chillis went very well with the pork rib noodles leaving the light soya sauce Chili to make the sweet prawns more salty, a nice pairing!
In terms of some of the best Prawn & Pork Rib Noodles I have eaten in Singapore my favourite still remains Beach Road Prawn Noodle House but as they get voted year after year as the Best Prawn Mee in Singapore you know the queue at the weekend and often midweek for lunch is always busy.
Right now I am looking at Shun Shun Prawn Noodles being very highly rated in terms of what's out there in Singapore today and can honestly say it's the Best Prawn Noodles in Tampines West!
If anyone has any other options in Tampines West I am happy to take that challenge on to find a better Prawn Noodle in this part of Singapore!
Shun Shun Prawn Noodle Price List
Prawn Noodle Soup $5.00
Prawn Noodle Dry $5.50
Prawn Rib Noodle $6.50
Pig's Tail Noodle $6.50
Intestine Prawn noodle $6.50
What are the nearest bus stations to Shun Shun Prawn Noodle?
Blk 831 (bus stop no 75081) is 102 meters away around 2 mins walk, bus service no 46, 291, 293, 298 will stop in this bus stop.
Blk 827 (bus stop no 75089) is 115 meters away around 2 mins walk, bus service no 46, 293, 298, 2N will stop in this bus stop.
Blk 897 (bus stop no 75099) is 145 meters away around 3 mins walk, bus service no 291 will stop in this bus stop.
How to get to Shun Shun Prawn Noodle in Singapore by MRT?
Shun Shun Prawn Noodles Operating Hours
Monday 7am–2pm
Tuesday Closed
Wednesday 7am–2pm
Thursday 7am–2pm
Friday 7am–2pm
Saturday 7am–2pm
Sunday 7am–2pm
Shun Shun Prawn Noodle Address
Located in:
Choh Dee Place
Address: 
824 Tampines Street 81, #01-38, Singapore 520824
Connect with Us on Social Media