'Rooks' Apple Turnovers 'w' Asian Twist
Come on all you Brits. We all remember and love Rooks, right? I remember being a little lad and being taken by my Mum, Nan and Grandad to et sliced meats, pork pie, sausage rolls and amazing smoked saveloys. I then remember being a teenager doing my A-levels at Chatham House Grammar School in Ramsgate and walking down to the High Street and grabbing lunch at Rooks including their incredible apple turnovers. Do you? And then in Jan 2021, I created a little snack for my kids. Remember the blog? The cheese and bacon puffs? Well, a very good of mine, Diane Hall, laid down a cooking gauntlet stating on Facebook.
"Remind me of cheese, bacon and tomato turnovers from Rooks! Apple turnovers were the best. Re-create and I will head on over lol!"
The challenge was accepted and today was the day with a free lunch with no work calls – now there's a 1st. And so I created;
'Rooks' Apple Turnovers 'w' Asian Twist
You will need to make 8 of these beauties;
4 sheets of flaky pastry – just buy the frozen sheets;
4 Granny Smith apples or equivalent – peel, core and cut into cubes;
2 Tbsp of Melaka" href="https://islifearecipe.net/sinpopo-joo-chiat-road-katong/" data-wpil-keyword-link="linked">Gula Melaka or brown sugar;
2 Tbsp of Cinnamon Sugar;
2 Tbsp of fresh lime juice;
1 egg beaten;
A 2″ knob of salted butter, melted
Raw brown sugar for sprinkling on top
Here we go from words to pictures to words…
Throw the apple cubes in a pan and add in;

1 cup of water
Gula Melaka
Cinnamon sugar
Lime juice

Get that on the heat, bring to a boil and lower to a simmer;
Reduce the liquid until the apples are softened and your whole kitchen smells of Xmas – set aside to cool;
Spoon on some of the apple sauce, as in the picture, trying not to get too much juice, whilst leaving about 1″ to the pastry edge for the turnover sealing (something I clearly learned from this 1st go as you can see from the picture);
Use you beaten egg to smear some 'glue' all around the 'clean' pastry edge;
Take your other two sheets of flaky pastry and cut 8 more circles of pastry out;
Pop them on top and push them down on to the egg 'glue' and then use a small fork to crimp the edges together making them more sticky and to prevent any filling leakage – see the one bottom right above as an example;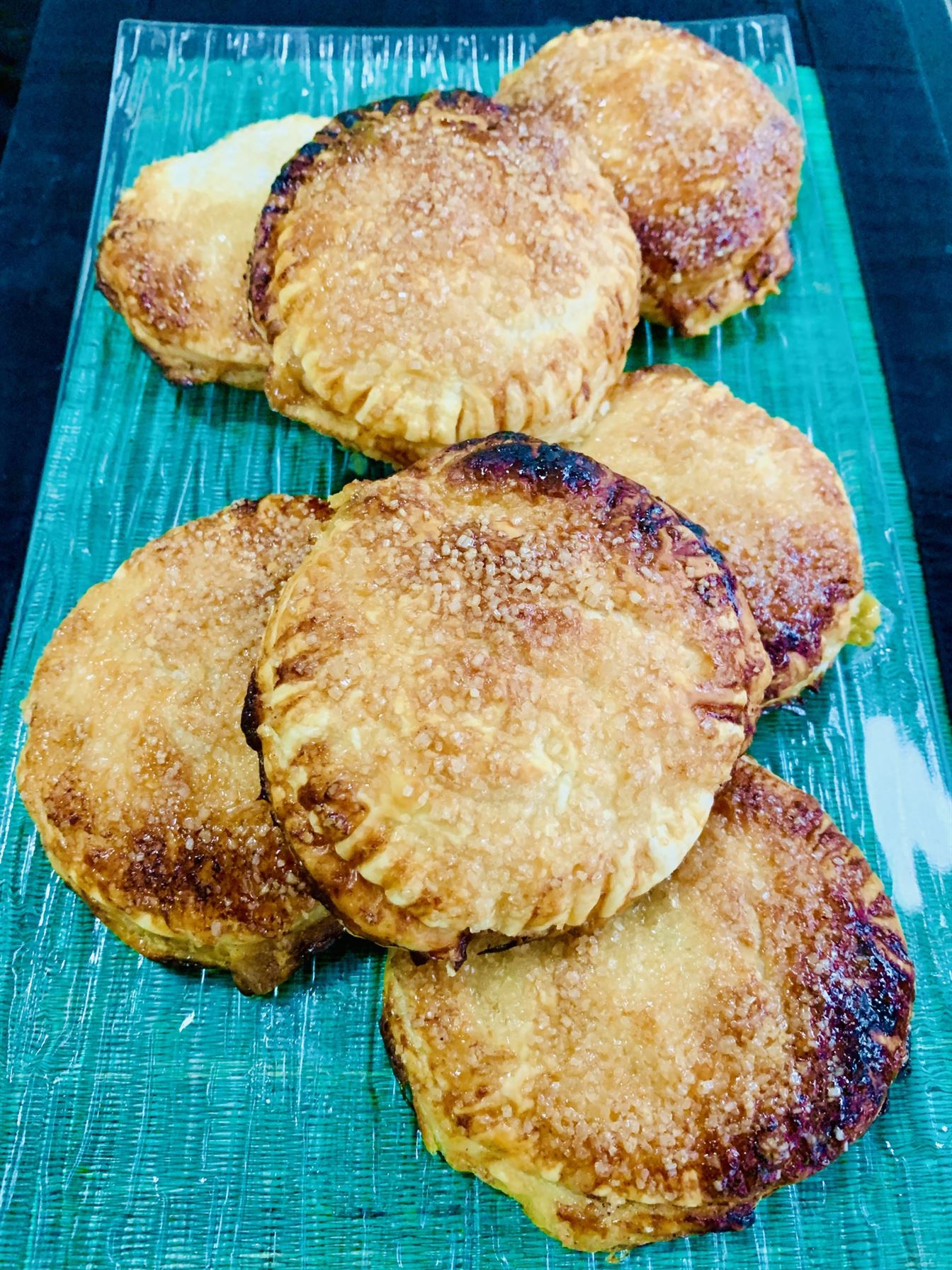 So, to Diane Hall, I thank you for the challenge to make these. They came out bloody good. I promise to make these for you and the fam one day. You brought so many memories of family and youth back in the days of Margate and Ramsgate living and Rooks eating. It was brilliant fun to do and my kids and wifey now know what a Rooks Apple Turnover (sort of) looks like and tastes. BOOM!!! 'Rooks' Apple Turnovers 'w' Asian Twist!
ENJOY!!!
Connect with Us on Social Media