ChillaxBBQ Spanish-Style 3-Cheese Iberico Salami Toasties
Did I read that correctly? Did I read 3 kinds of cheese, toasties and Iberico Salami all in one sentence? Well, that is how ChillaxBBQ roll. It was a Spanish themed ChillaxBBQ for our client, Shalynn's, 30th Birthday. We had an amazing array of Spanish stuff on offer but I still wanted to do toasties. #1 sorted me a hunk of Iberico Salami (simply amazing). Of course, I bashed on the door of our mate Chris @ The Cheese Shop down Joo Chiat and here is what made up the basis of ChillaxBBQ Spanish-Style 3-Cheese Iberico Salami Toasties.
These were super crunchy. They were amazingly cheesy, with some poke in there too. Stringy, stringy melted cheese oozing. And then salty, meaty kicks from the Iberico Salami. Find me a better sarnie, go on! Bloody amazing. I let the kids have a quick tuck in. Yeah, they ooooh'd and aaaah'd, of these I was very proud. Quality ingredients, some creativity and careful prepping & cooking and BOOM. Quality outcomes on the plate. These literally flew off the platters. A cracking dish, our ChillaxBBQ Spanish-Style 3-Cheese Iberico Salami Toasties.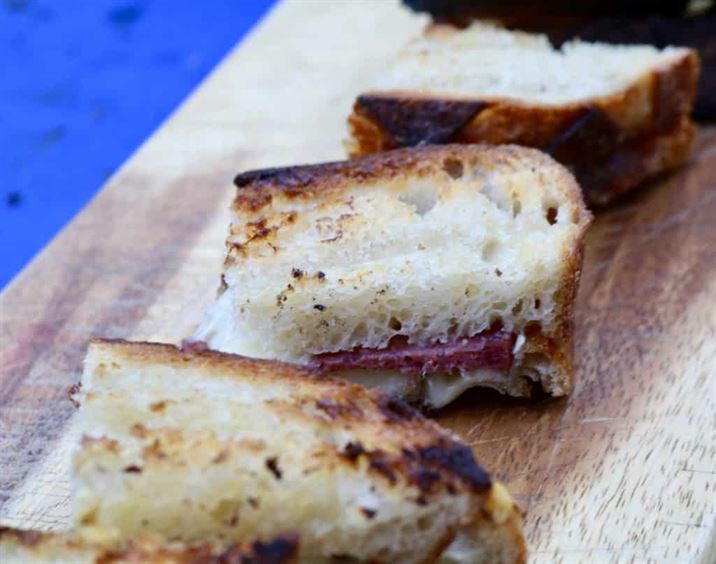 We have been asked for the recipe for these by Shalynn and friends so here we go, you lucky people. Here comes ChillaxBBQ Spanish-Style 3-Cheese Iberico Salami Toasties.
Easily enough for 4 people's worth of a filling snack-attack here;
1 large SourDough loaf (we get ours from The Cheese Shop – but they come from Mr Kneady down Bedok – brilliant);
1Kg of our 'secret' cheese mix (mention ChillaxBBQ Spanish Toasties to Chris – and get it grated and mixed in one bag), which is;

Mahon; is the Spanish one;
French Gruyere;
Swiss Emmentaler;

1/2Kg of a real decent Salami or Chorizo (you want it to 'melt', and fat ooze into the cheese and bread;
A packet of quality salted butter.
NB – I know there is only one Spanish cheese, but I am sticking to Spanish 3 cheese toasties – if you disagree, you can piss off. Ha Ha!!!
Maó cheese is a soft to hard white cheese made from cow's milk, named after the town and natural port of Maó, on the island of Menorca which is known for its cheese production and is home to one of the most respected dairy plants in Europe. Go figure!
There you go. Simple as right? But the results are to die for, believe me. Here come the instructions;
Cut the SourDough into 1/2″ slices;
Butter them all on one side (not massive amounts of butter);
Now on a chopping board put half the slices butter side down;
Take a good handful of the cheese and pack it down on the un-buttered slices, making sure you cover all the bread;
Thinly slice your Salami or Chorizo, and lay that atop the cheese in one layer. Cut some pieces again to make sure you cover the slice;
Place the other slice on top, making sure it is butter side up;
Give them a good push down to 'glue' all the goodies together;
Get your BBQ coals hot, or your griddle pan;
As we were BBQ'ing at Shalynn's I popped them in a BBQ fish griller making sure they don't slide about when flipping;
Now you will see why the butter is on the outside as that will melt and then crisp to a golden brown – there are your toasties right there;
Keep toasting, not burning, as you need the melting in middle without charcoal on the outside – so gently does it.
When you have finished toasting, like in the picture, take a sharp knife and half them and serve on a platter. Nothing else is needed.
Stand back and watch them get devoured. Food-Porn.
These really are just so very good. Thanks as always to our mate Chris and crew at The Cheese Shop for making our lives easier with the blend choice for us. We would choose no other. It makes ChillaxBBQ Spanish-Style 3-Cheese Iberico Salami Toasties, a simple but bloody stunning dish. Go on go visit Chris and DIY. Or easier = bell the ChillaxBBQ crew, we'll do it all and relax with vino and – ENJOY!!!
Is Life a Recipe YouTube Channel