A must try Restaurant on Singapore's East Coast is Kota88 Siglap
Kota88 2022 Review Update - new food from the Kota88 Siglap Menu
Family K revisits in 2022. We try lots of new things. Our conclusion was that it was OK. Nice. Not fall-off-chair-amazing, but really nice. It was very busy again at Kota88 Siglap, so I do recommend a booking if I were you. One quirky little thing I only just noticed as I type this up. Every dish is $xx.88, hey presto Kota88… too funny!!!
Telur Kecap Soy – AKA Chicken egg marinated in soy. So sweet and savoury. A lovely little snack attack.
@ $3.88
Always a favourite and this was a good one. Perfect crunch from the frying but not oily in any shape or form. Mailig Goreng, or fried pork luncheon meat.
@ $8.88
This was a cracker. Super-smoky BBQ meat with honey sweet Cha Sio. Winner. Kombo Cha Sio & Sio Bak.
@ $16.88
We also added the rather special Fried Wanton or Pangsit Goreng. Yummo.
@ 4.88 (5pcs)
Tauge Cah Ikan Asin, or stir-fried bean sprouts with salted fish. Not one for me, but sure looks pretty and it was was consumed very fast. Always a good sign.
@ $7.88
Cah Baby Kailan, is a family K favourite and this was on par with any tried before. Sautéd baby Kailan with garlic. Hey, can't just be meat all the time.
@ $8.88
Babi Asam Manis or the Kota88 sweet and sour pork. This was a belter. Very tender pork, beautiful crunch on the batter and a more sour than usual sauce which is why I loved this. This rocked!!!
@ $13.88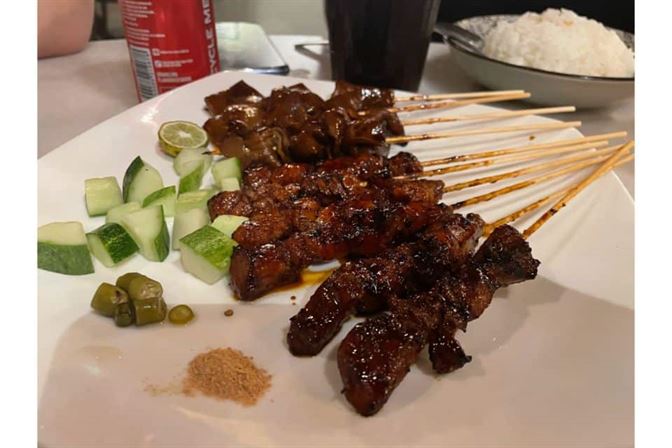 Sate Babi (mix 'n' match 10 sticks). Really nice way to be able to choose a variety of different satay sticks. Choose from; Babi Manis (sweet marinated pork), Babi Asin (savoury marinated pork belly), Ati (pork liver),  Usus (pork intestine), and Kulit (pork skin).
These are Chinese Indonesian style pork satay served with shredded galangal, green chilli shallot pickles and sweet soy sauce.
@ $15.88
Kota88 Siglap Menu 2022 Update
And now it's back to the original Kota88 Review that we did.
At Kota88 Siglap you will be dining on some of the very best Asia-fusion food ever, and it really is Asian fusion because it is Chinese mixed with Indonesian. Bring that bad boy home please, whoop whoop!!!
What is Kota88? Well, according to the menu it is a word derived from the Indonesian word for city. But also in Indonesian slang, it is used to describe Chinatown in Jakarta. Maybe a city in the city? And Chinatown was the closest in the city to the seaport where all the trading took place. I am liking this. This is hybrid food in the making. Peranakan mixture-esque. But they call it Masakan Tionghoa Indonesia, Chinese Indonesian Cuisine. This is a mix of Chinese dishes with local Indonesian culinary styling. Kota 88 get their inspiration from that heritage of Chinese immigrants in Jakarta.
I just don't get it. We have walked past this many times, why have we never entered. I am blown away as we walk in because the decor looks so cool, again very Peranakan museum type thing. Even the crockery is historic. Bugger have we missed out for a few months since they opened. Not any more!!!
This place absolutely cracking, as in seriously good food and atmosphere. Believe me, this place gets mobbed and it was rammed last night. Huge family tables, as we did with 8 of us (pre-Covid). This is family food fun and a new one on the Kennett family list of must go back for more, and it's a 5-minute walk from home so big advantage for us.
Let's have some ISLIFEARECIPE-dia Kota88 Review FAQ's answered, shall we?
Let's hear from Kota88 and then to the food...
I bet you're starving, so here we go to the food...
I got Ollie to go and take some snaps of the kitchen and the jump. A very attentive Head Chef was standing on duty there, almost not moving the whole service we were there. And what did he espy on the jump? Yep, this is going to be GOOD. When you have sauces like this ready to go you just know it is going to be amazing food because they have so proudly displayed these.
Here he is. Now that is one big kitchen. Hustle and bustle down the back to the right. I think the grill station is there. Loads of activity happening. We are eagerly awaiting the outcomes of our chosen dishes now. We can't wait.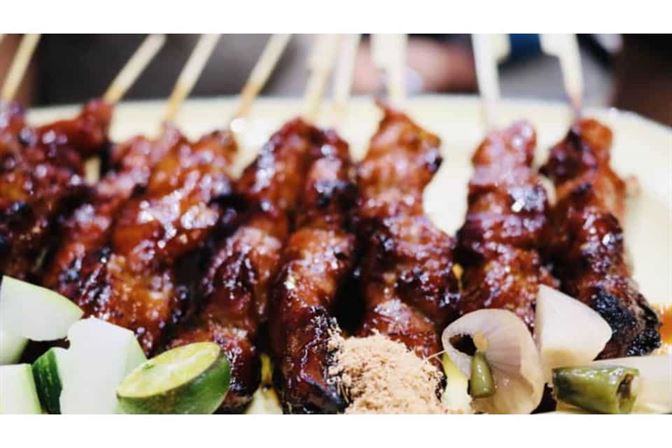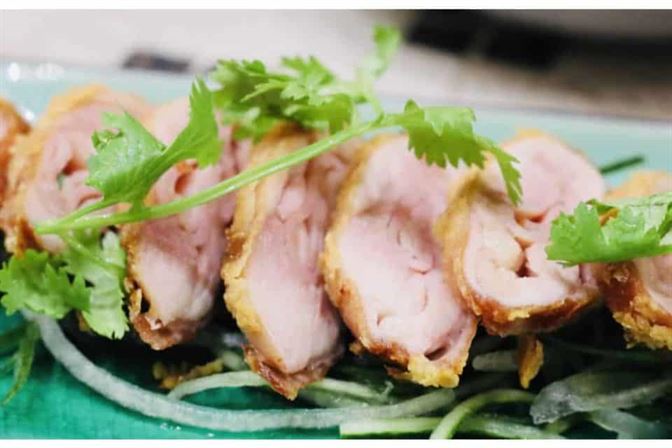 10 sticks of pork satay up next at Kota88 restaurant. 5 sweet and 5 savouries. Mary said she felt like she was in The Philippines at Payag Restaurant. Juicy BBQ style, not the dry type you get down at Lagoon Hawker for example. Sate Babi.
@ $15.88
Here's the final savoury option from today's delicious dinner for this Kota88 review. Ayam (chicken) Lapis (layers) Ham. Some rolled chicken with smoky ham, in some form of batter and then deep-fried. This is a cracker. It comes with a chilli dipping sauce. Just brilliant. Succulent chicken with lovely flavour pops all over the place. Yes, indeed I liked this one.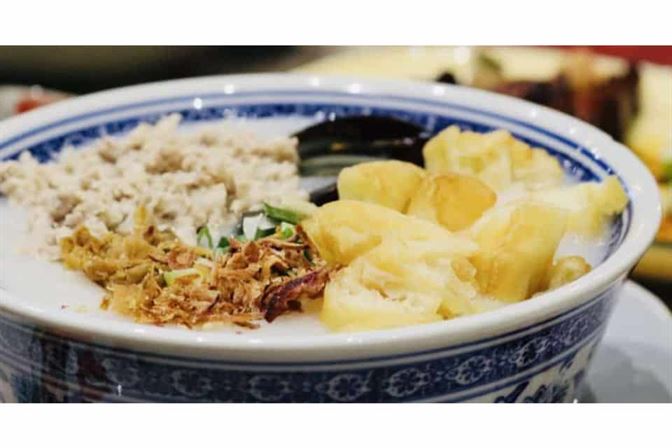 Ayam Goreng Nanking for the sharing plate for Amy, Jude and I is following fast. Like a flattened chicken fillet, breaded and fried and served with a fruity sauce, almost like Japanese Bulldog sauce. Beer food and a half this. Soooo good.
Here comes the second congee dish for wifey. This is Century Egg Congee. And the verdict was that she really liked the texture as it was not watery but sticky, the seasoning was perfect and she needed to add no extra seasoning. Mary said to me to think of another word for delicious and that is it. So I assume something like sublime. In basic summary, yes she loved this.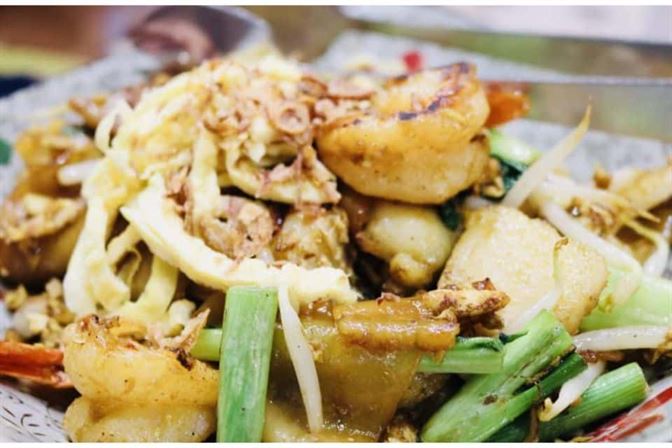 BeBe also goes for a congee dish for the evening. So congee dish her Chicken Silk Congee. I will pass a comment to wifey's view of her congee as apparently, they both thought they were exactly the same dish.
Up first comes Jimboy and Jhea's Kwetiau Seafood Goreng. Well, I have to say it looks damned fine. The seafood was really good and so very fresh it seems, and we have a 50/50 split on the noodles. Good was given in favour of the female contingent.
@ $9.88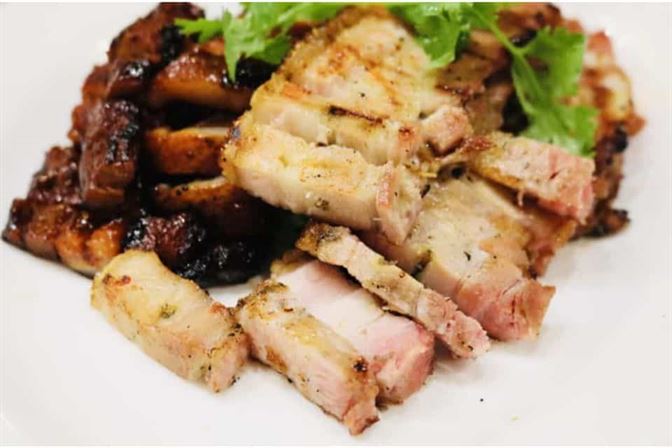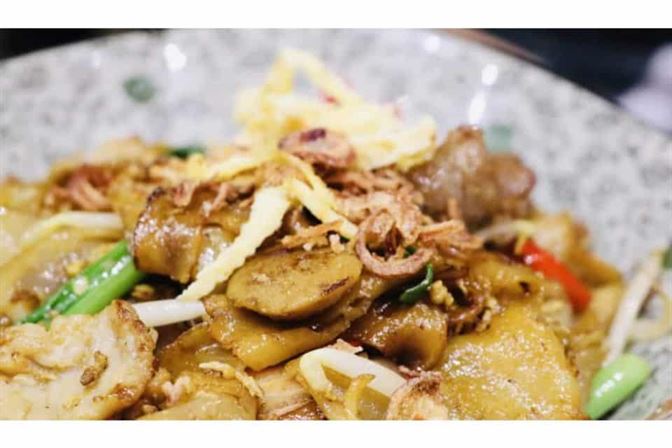 Amy, Jude and I get sharing on the signature BBQ roast combo. Finally, ChillaxBBQ has some competition. The roast pork was juicy, sweet, and smoky. Seriously just bonkers good roast pork. The char sio was also an off the charts option. Honey-sweet porky goodness. Oh wow, so so good. Kombo Cha Sio & Sio Bak
@ $16.88
Ollie goes large for the Kwetiau Goreng Special Kota88. And is verdict was that it was a really light version of the traditional Singaporean style. Not so much sauce and fat. It was a hybrid of dry and soup noodles, which he really liked. A great deal of variety in the meats within from beef, pork, chicken, fish cake and the like. All in all delicious and lovely.
@ $9.88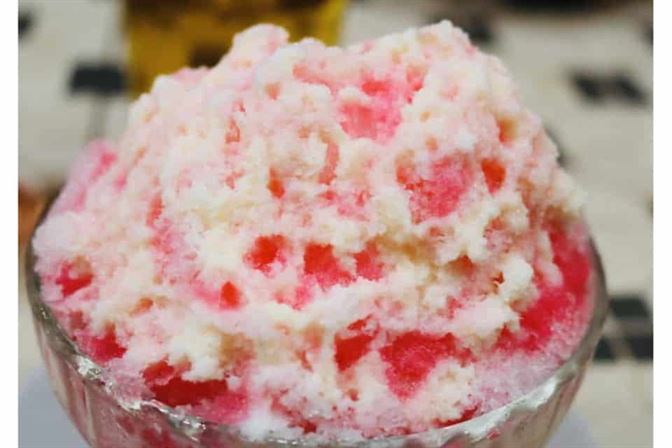 Ollie pushed it out with this version. Yep shaved ice, evaporated milk, milo and half an avocado pear. OMG. I had a couple of bites of this, and I tell you it works so well together. How I don't know, but it really works.
And then finally let's get stuck into some ice Kerchang, or as they call it Es Campur. Bandung evaporated milk, and the usual surprise of jellies and jack fruit beneath. Very nice, super refreshing!
Kota88 Siglap Review, our conclusions
So that was that. Our first experience of Kota88 @ Siglap was superb. Again I really cannot work out why we have not been before, but I made a bunch of excuses for that. And now I look at myself in 2022 and again we have not been for an age – something I think I'll be fixing this weekend with another Kota88 review.
Excuses that are now inexcusable funnily enough. It was a fantastic dinner with family Kennett.
A testing audience too with a mixed cultural bag of English, Japanese and Philippines. And Kota 88 came out strong with regards to the feedback on the food. We'll be back that is for certain. You should go to Kota88 restaurant, and ENJOY!!!
To compare Kota88 Siglap to other Siglap Restaurants let's have a look at our previous reviews from ISLIFEARECIPE