Baan Aayra, Bintan – night #2
Baan Aayra, Bintan – night #2. Yes we did. We went back for more. We could not resist the place. Hands down this was the best dining experience from the family reckoning from our stay at Nirwana Resort. When we say hands down, we mean by a country mile, that this is the outstanding place to eat here when visiting. We all agreed 100% this would be our last night meal. We ended up ordering half and half for this experience, with some of the food being a must have a again, some essentials for the kids (as non spicy but bloody delicious), and some new experiences too. Read on…
We repeated;
New this dinner at Baan Aayra, Bintan – night #2 was;
I asked Mary – go on tell me what you thought of the dish. The key stand out was the freshness of the fish. Something we can't get in Singapore as all food is import, but this really was a key take away for her. The sauce was not spicy, but perfectly accompanied this fresh, fresh fish – winner in her reckoning. Yet again well done Baan Aayra, Bintan – night #2.
Baan Aayra this was supposed to be Broccoli, snow peas, Spring onions, tomatoes and ginger – sorry to say there was not a whiff of a snow pea or Spring onion on this dish, as you will see from the above photo. Still don't get me wrong it was very very tasty, but I think honesty is best policy – at least advise the consumer that there are no peas or Spring onions available, and do you still want to order…
Rather unique this, in my reckoning. You get the basic dish and season it according to your very own taste buds with the condiments you get with the dish. So little dishes of sugar, fish sauce, cut green chili and chili flakes. Over to you Ollie. What transpires is a dish for you – you choose how you want it, what a great idea. And he did, see below. I did like this one, the beef was tender, noodles al dente, sour, sweet and spicy – yes!
More salty – add more fish sauce;
More heat – add more chili flakes;
More sweet – add more sugar, etc.
In fact Ollie did exactly that, he poured the whole dish of fish sauce in and it became way too salty, so in with more sugar and chili to balance that out and hey presto a home-made fix, a home-made version of the dish – one which was his taste bud centric and I have to say damned fine to eat having grabbed a spoon or two.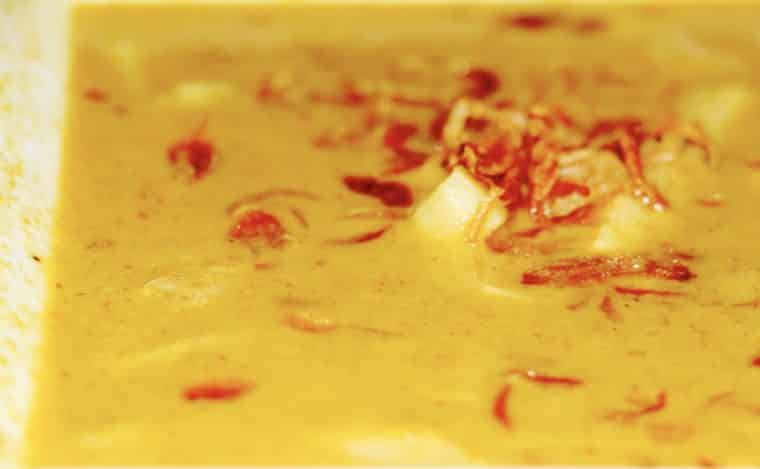 This curry truly did knock me for six. I have not had a yellow curry forever. I don't know why I really don't. I always go green or red if eating in a Thai place. But for some reason tonight, maybe fate, I chose the yellow. And thank goodness I did. If you like spicy, slightly on the salty side curry this is your baby. I shared this to Ollie and Mary and both concurred without a shadow of a doubt this was an amazing dish. I even ordered some extra rice to polish this bad boy off. It was just one of the most amazing curry experiences, let alone Thai curry experiences – I now wish Baan Aayra, Bintan – night #2, has Baan Aarya, Singapore so I can go once or twice a week. This is a must folks if you happen to frequent this place – you just HAVE TO!!!
Baan Aayra, Bintan – night #2, you reconfirmed the vote of family Kennett, as you guys being #1 restaurant on Bintan. Our new selections rocked as much, maybe even more than night number one when we ate with you. Exceptional. THE stand out for me, was the mind-blowingly good Chicken Yellow Curry – my goodness. If I could order that in bulk, I'd bath in it. It was seriously one of those dishes you will never forget and now becomes the bench-mark for me for other Thai restaurants. Simply the best I have ever sampled, and if I were you holidaymakers on Bintan, and I was there one day, it should be a must on your list of choices to eat. Simply a wonderful restaurant with wonderful food, GO – ENJOY!!!