Jewel @ Changi Airport, and lunch @ Tonito's
When Singapore build stuff they truly do build it well. I'll drag out a photo now that I took when I visited the JV on behalf of Telstra, something like 4 years ago before construction had started. The JV is Changi Airport Group and Capitaland. And man oh man have they built something to impress from those original model ideas. Just watch to see how concept to reality has happened. What a transformation. Whilst there I espy a new logo restaurant. Tonito's Latin American Kitchen. Decision made guys, this is where we are having lunch today. Here comes Jewel @ Changi Airport, and lunch @ Tonito's.
I am going to steal some text here from the website of the restaurant we visited for lunch. I had to eat here. As soon as I saw Latin American Kitchen I was hooked. I am thinking Cubanos (and guess what was on the menu. Hell yes!!!). "TONITO" is the little brother of TONO Cevicheria which is a Peruvian concept in the OLA Kitchen Group. I must be trying TONO as well now. Dear me I am hooked.
We sat and ate at the tall stools on the terrace while enjoying the view of the World's largest indoor waterfall. How good was that Created by Peruvian Chef Daniel Chavez, and helmed by a team of local talents nicknamed "The Youngs", the food is reflective of the recipes collected from his travels around Latin America? The menu has a wide selection of Mexican "Tacos and Quesadillas", Peruvian "Anticuchos", Latin American sandwiches like Argentinian "Choripanes" and Venezuelan " Pepitos".
Folks, you know me. This is a Die Die Must Try. I'll be here again very soon. It is just quality food, and the style I love. I remember eating a load of Latin American food at Street Food Congress, the time I met Anthony Bourdain. And yes that food style from that region is everything I love. It is UBER quality and I want MORE!!! We'll be back that is 1,000% a certainty.
Jewel @ Changi Airport, and lunch @ Tonito's – we ate like Kings, Queens, Princes and Princesses. Awesome lunch.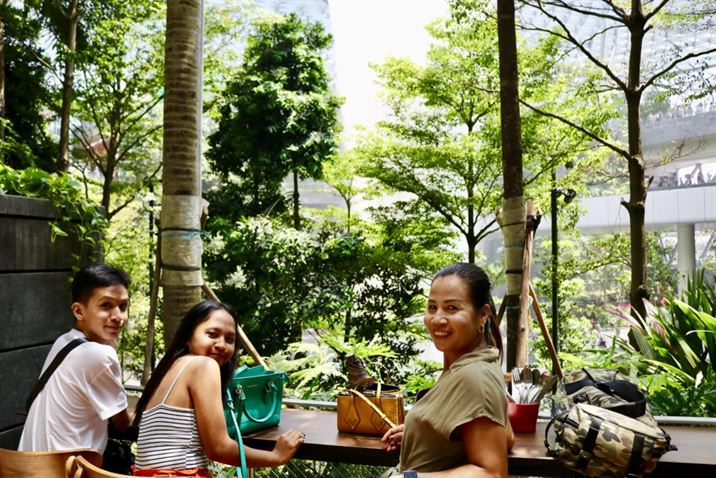 So Tonito's that was superb thank you. Chef Chavez be proud mate because that was just brilliant and we will be seeing you soon. No shopping next time, just eating! Superb food and a menu that this fat boy needs to plough through. Yummo!!!
And there you have it in a nutshell Jewel @ Changi Airport, and lunch @ Tonito's. Well, at least our very short foray in the place. Literally, a drop Jude off at school, spin down there for a quick run around and lunch, then back to pick Jude up and do some food shopping for the other blog I just did. Singapore, well done. Truly well done. That is seriously impressive. I can't wait for the soft launch to be over, for all to be open, and the crowds to have dissipated. This will shortly become a crazy concept of a cool place to visit in Singapore. Wait a minute it's a hybrid airport, shopping centre, restaurant and Gardens By The Bay. Strangely enough that bloody works so well. Global awards to come I am certain. Amaze-balls. And you simply must eat at Tonito's. Holy cow that was one delicious lunch. Go see Jewel and go eat at Tonito's (maybe mid-week if you can) and – ENJOY!!!
Is Life a Recipe YouTube Channel
(Visited 210 times, 1 visits today)