Thai peanuts – beer food
Easy peasy lemon squeezy – well actually lime, but we'll get to that. Here is my Thai peanuts – beer food. This is a cracker fellas. Get some beers in the fridge and sit down to this salty, sour, spicy little number. It's so flipping easy, but so so so good, believe me you are going to love this one!!!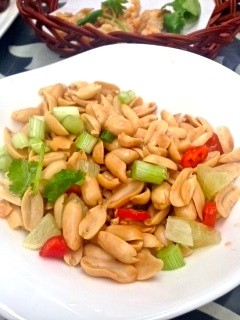 All you need to do to make my Thai peanuts – beer food, is to take a bowl and throw all these ingredients in, give a stir and then serve, with a beer of course. It could not be simpler fellas;
A packet of salted peanuts;
2 finely sliced Spring;
1 finely chopped chili padi;
2 tablespoons of lime juice;
1 lime peeled, de-pithed and then chopped in to small pieces; and
A few coriander leaves roughly chopped.
Yep that is it. Salty, spicy, sour and beer-ry – ding dong!!! This is my Thai peanuts – beer food. Enjoy it fellas. I can see the share price of beer companies going up and up after this one. Get in to it. ENJOY!!!