How did we find Siri House @ Dempsey? Well we were on our way to Dempsey to go to the Museum of Ice Cream and needed somewhere for lunch. I asked Jude Jude for any preferences and he said ask Google. I then saw a restaurant called Siri House – it clearly was meant to be haha.
We sat outside being wafted by the strategically placed fans. I say strategically placed as they do not interrupt the views of the jungle you are sitting with wildlife and birds jumping and flying about. It is just a stunning setting for brunch or dinner, or hey just some beers and cocktails.
The food was exquisite, as you'll see from the small variety we scoffed on today. I am calling out though – my dessert. Off-the-charts good!!!
Get 10% to 30% off Siri House with Chope
Frequently asked questions about Siri House @ Dempsey answered by ISLIFEARECIPE-dia
Let's hear from Siri House @ Dempsey
I call that quirky, and I just happen to love quirky.
Let's have a look at what we ate & drank today at Siri House @ Dempsey, shall we?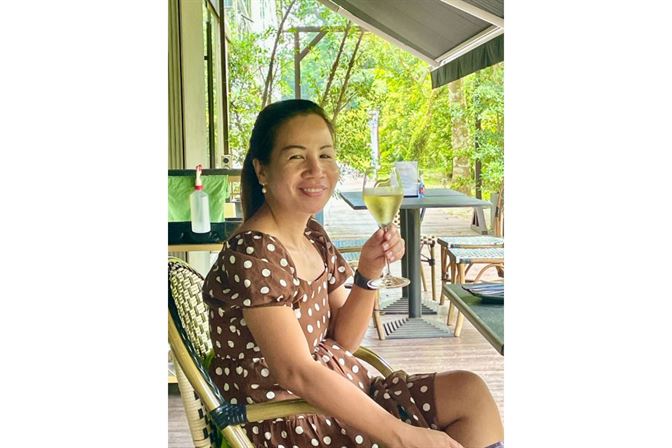 Wifey gets her Bubbles face on.
Happy Wife = Happy Life
@ $20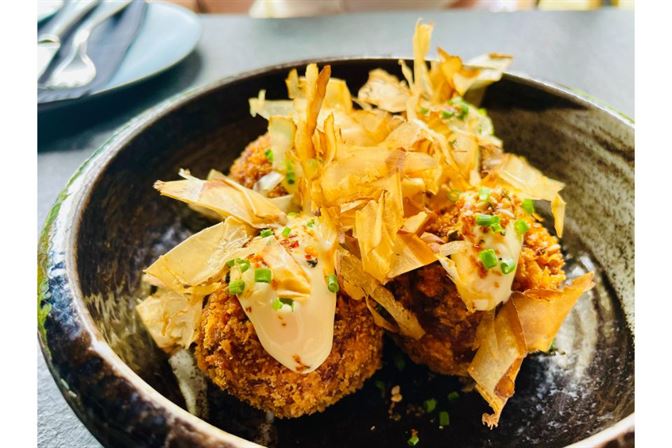 Arancini off the Brunch Small Plates menu. 
Octopus, Chorizo, Mozzarella, Jaew Mayo, Bonito Flakes, Furikake
Strawberry demolished this. Always a good sign of a great dish. Stuning plating too.
@ $21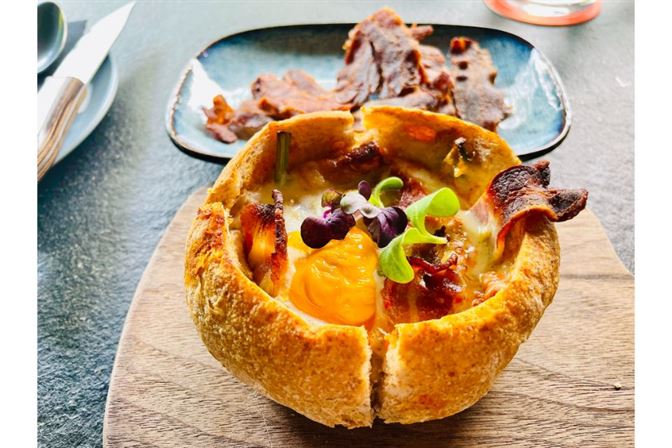 Champion Roll off the Brunch Big Plates. Yes, it was HUGE. I think they should call this 'Breakfast in Bread'.
Crusty Sourdough Bun, Baked Egg, Sauteed Mushrooms, Streaky Bacon, Thai Asparagus, Gouda, Mozzarella, Arrabiata Cream Sauce
WOOF!!! Kept me going all day!!!
@ $26
Siri House Sicilian Pistachio.
STOP THE DESSERT BUS!!! I love savoury, not sweet, so sometimes really struggle with choices. But, I saw this today and nearly fell off my chair.
Brown Butter Crumble, Cured Egg Yolk, Shaved Parmesan, Sicilian Pistachio Ice-Cream.
I am, finally, in dessert HEAVEN!!! WOW!!!
@ $17
Siri House @ Dempsey Menu 2022
Siri House Drinks & Cocktails Menu 2022
A Siri House special to call out...Dining at Dusk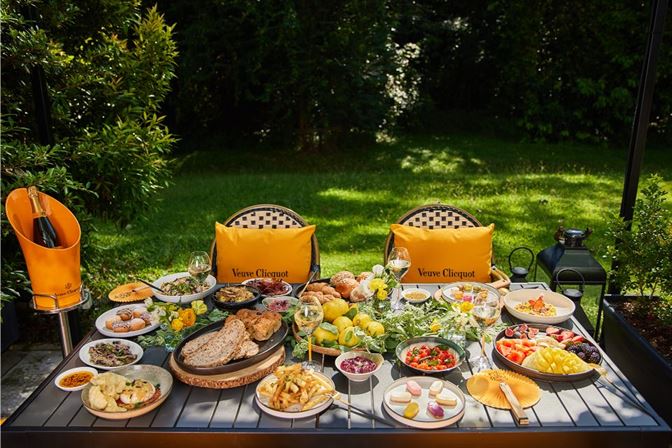 In conjunction with Veuve Clicquot, Siri House @ Dempsey delivers a stunning new outdoor private dining experience with a breathtaking view of nature and the night sky.
Veuve Clicquot Champagne is the perfect accompaniment to the savouring and drinking of this magnificent nibbling meal, which is ideal for a lazy evening of dining and drinking.
It doesn't matter what the occasion is, they've got everything you need to make it a memorable occasion. In addition to Veuve Clicquot's Yellow Label and Rosé, they also provide La Grande Dame and Yellow Label.
Our conclusion of Siri House @ Dempsey
This place was excellent. The staff were just wonderful.
We sat on the edge of the jungle with breezy fans wafting cool air over us.
The drinks were exquisite and the food was sublime – a wonderful lunch was consumed today.
A major stand out for me was the ice cream dessert I had. Would you ever think to mix these ingredients? But holy cow, what a match made in heaven this was. A knock our dessert. Super-savoury and I LOVED it.
Sicilian pistachio ice cream on burnt butter crumble with shaved parmesan and cured egg yolk. HALLELUJAH!!!
INSANELY GOOD. We'll be back here that's for certain. We sure did…
ENJOY!!!
How could we not share a few other ISLIFEARECIPE restaurant reviews of the neighbours for more Dempsey Hill Dining
Connect with Us on Social Media