BBQ Recipe - Awesome for 2023, cooked for Father's Day
Father's Day ChillaxBBQ | Excellent BBQ Recipe 
A Father's Day & BeBe Birthday celebration was planned this day and ChillaxBBQ stepped up to the plate to 'cater' in our usual fashion – just no BBQ due to the lockdown regulation at the moment of 'gatherings'.
A new recipe in honour of Papang bless him, my father-in-law who sadly passed away. So in his honour, I recreated his infamous Mud Crab BBQ recipe for Wifey to remember him by – I hope I did him proud.
I have also just purchased a new toaster grill to practice my new ChillaxBBQ concept of toasties and lunch boxes. Check those bad boys out.
The menu today from ChillaxBBQ;
Baked lobster 'w' citrus and garlic butter
Baked prawns 'w' butter & honey
Blackmore Wagyu Sirloin Pink2Pink
Blackmore Wagyu Short Rib Toasties 'w' Coarse Cheddar
Avocado Smash 'w' Garlic Butter Prawns Toasties
For Papang's Mud Crab Recipe;
In a big pot add about 2 litres of coconut milk
Throw in 3-4 chopped up Mud Crabs
Bringing to a boil and turn to simmer
 in;
And before that was a Lucky Lockdown Brekkie for the Kidlets;
If you want a Chef-Table experience around your house or even just a lunchbox delivery to your home, give us a call.
ENJOY!!!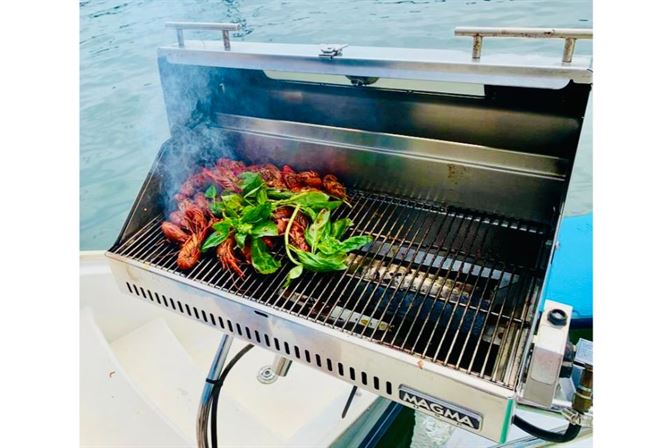 BBQ through the Ages: From Cavemen to Backyard Barbecue
The beloved culinary tradition known as barbecue, or simply BBQ, has been around for generations. Summertime and outdoor parties have come to be associated with the mouthwatering smell of smoked meats, the sizzle of sizzling burgers, and the sight of grill marks on flawlessly cooked steak. But where did this well-liked culinary technique originate? Let's explore the evolution of barbecue.
The History of Barbeque
The pleasure of cooking meat over an open flame was first experienced by cavemen, who are thought to be the originators of the earliest form of BBQ. Humans and their culinary techniques both underwent evolution. The Chinese used ceramic ovens for slow-cooking meats, while the ancient Greeks and Romans used huge outdoor pits for roasting whole animals. The Taino natives of the Caribbean invented a method of cooking flesh over a fire on wooden frames, which they called "barbacoa."
The Barbecue Custom in America
The development of Barbeque as we know it started in America in the 17th century. The colonizers in Virginia hosted the nation's first known BBQ in 1619 as part of a celebration of their arrival. Fish, oysters, and other regional specialties were on the menu, but the main attraction was a whole barbecued pig.
BBQ became a crucial aspect of frontier living as settlers migrated west. Early in the 1800s, barbecuing was a well-liked way to commemorate Independence Day, and by the middle of the century, BBQ contests were becoming a regular occurrence at state fairs and farm exhibitions.
The Increase in Outdoor BBQs
Through the 20th century, BBQ's appeal grew, and by the 1950s, backyard cookouts had cemented their place in American society. Families can now enjoy a barbecue at home more easily thanks to the development of portable grills, and chains and eateries serving barbecue, like Kentucky Fried Chicken and McDonald's, have made it more widely available.
BBQ is still a cherished custom in America and other countries today. There are countless variations and styles to sample, ranging from the traditional pulled pork made in the South to the fiery Korean barbecue. There is nothing quite like the flavor of flawlessly cooked BBQ, regardless of whether you are an expert pitmaster or a backyard grill enthusiast and master of BBQ recipe creation.
In conclusion, the story of BBQ is one that spans centuries and cultures, and it is rich and intriguing. BBQ has changed and altered throughout history, from the days of the cavemen to modern-day backyard barbecues. No matter whether you like your barbecue to be tangy and spicy or sweet and smoky, there's no disputing that this time-honored cooking technique has endured, delivering so many BBQ recipe.
Connect with Us on Social Media