Kilo @ Pact, Orchard Central
At the bottom end of Orchard Road in Singapore, within the shopping centre of Orchard Central sits a unique dining experience in my eyes!
(Note; apologies re photo quality to you and the restaurant as these are not doing it justice. Because we were on a sofa shopping experience to Orchard Road I left my camera as in no shape or form did I think we'd bump in to somewhere like Kilo on this trip!)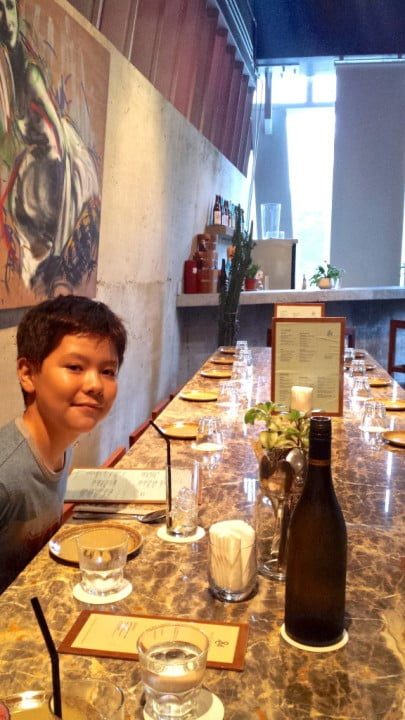 They describe themselves "Kilo at Pact is not just a restaurant and bar…"
It's sort of a cool gent clothes shop, sort of a bar, sort of a restaurant, and sort of split across two sides of a walk way from the elevators of the car park to enter in to the shopping centre. We sat on the long table as the rest were booked as you'll see from the picture of Ollie above.
What they don't mention in too much detail is that is a fusion place and a fusion place of some difference.
Not only do they combine Japanese and Vietnamese and Thai it seems, but they also combine Japanese with Japanese for example in one dish. First time I have really seen that, and man oh man was it effective. I shall absolutely be trying some of these ideas and combinations. But seriously give these guys a try, we'll absolutely be back! Modernistic concrete structures, almost minimalistic in approach and style – it looked so cool and I think we felt cool too being there.
181 Orchard Road, Orchard Central, 02-16/17/18/19 – basically Desigual on the corner of Orchard Central, there is an escalator, take that and you are there. Book through seraphina@kilokitchen.com
Only one criticism – for a Saturday afternoon what was not good was that they had no figs ad that killed 2 of the dishes we ordered, and no chocolate ice cream which wiped a 3rd off their dessert menu.
But I'll explain more now why you still should go despite a couple of hiccups.
We went tapas sharing stylee so we got loads to sample from…
Crispy Quail Eggs
With chicken skin and Sriracha
So the take on Japanese was the Yakatori skewer approach, and the take on Thai was the Sriracha. I believe in the Sriracha they had added mayonnaise to make it that lighter colour as normally it would be deep red in colour. The latter is a hot sauce from Eastern Thailand, and is a combination of chili peppers, distilled vinegar, garlic, salt and sugar. The little eggs were boiled, shelled, coated in breadcrumbs then deep fried on the skewers. Bloody nice. We had two lots of this – Amy like to make the eggs 'naked.
Salmon sushi & crispy chicken skin – along with sushi rolls in paper
This was one of those Japanese fusion dishes I mentioned before. Sort of a yakatori mix of the deep fried chicken skin, within traditional Salmon Sushi. I loved this too as instead of rolling in Sushi mats he/she had rolled in paper then sliced on the diagonal and hey presto this is what you get when you serve – how nice does this look. Little bits of goats cheese, avocado, seaweed in there too. I had two of these even though I am not a lover of that there seaweed. Absolutely delicious – looks amazing!
Spicy Pomelo Duck Salad
Mint, rocket, Spring Onions & Spicy Mayo
Boom this one was just delicious! Spicy hot, ducky duck, balanced with the rocket and this delicious mayo. Little English radishes added in to give it some colour contrast and crunch too. We really really liked this one.
Zucchini Pancakes
Iberico, rocket, and goat cheese
Again amazing combinations of flavour, and the presentation was exquisite. The pancakes had the finely chopped zucchini within, fried to crispy little platforms for the rocket salad, the cheese and delicious salty Iberico ham. Drizzle a little balsamic reduction. Bring it on.
Basil Ice Cream
Finished off with an incredible desert of basil ice cream – yes you heard me right basil. DING DONG!!!
It being Japanese, of course it was all washed down with some lovely cold Sapporo.
Thank you kilo – we'll be back – loved the experience.
Many more to choose from the menu.
Much more to explore and eat.
Connect with Us on Social Media