Viva Mexico @ Cuppage Terrace: cracking TexMex food
Viva Mexico at Cuppage Terrace near Orchard Road is a place you have to attend if you like Mexican-style food. We came today and were blown away by the quality of the food. It's just off Orchard Road, behind Robinson's Shopping Centre.
There is a parade of restaurants there called Cuppage Terrace next to Orchard Road. Today we chose Mexican from the amazing array of choices – Japanese, Indian, and even Harry's are in the mix.
You must come here. This is the food you want to eat when you are off your Asian taste buds. It is just bloody good food full-stop, and then add the fact that it is Mexican it goes up another level.
What did we eat today at Viva Mexico at Cuppage Terrace?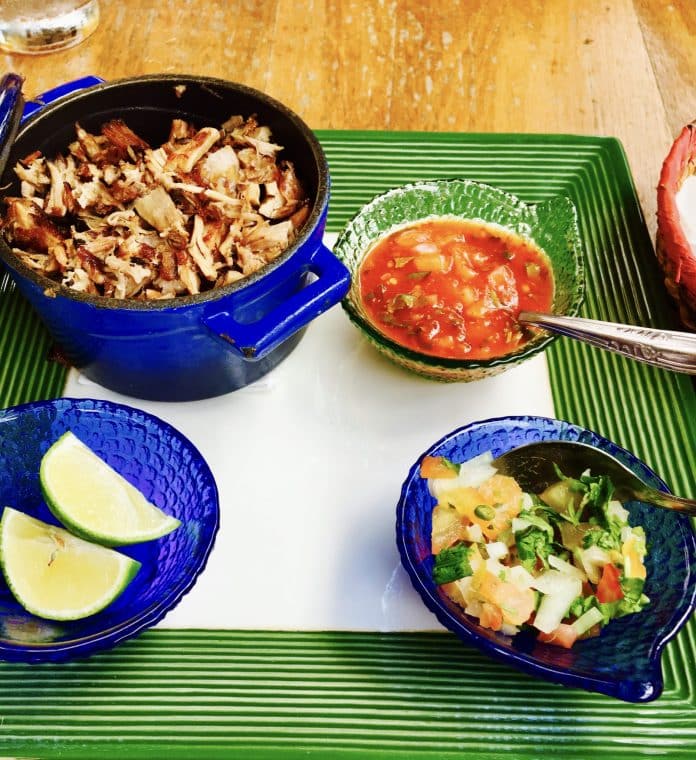 This is my Pork Carnitas. Slow roast pork, I think it was like 8 hours, with a spicy sauce, cactus salad, squeeze of lime and roll that up in a corn tortilla. I tell you what, this is OMG food. I'd have this again and again. Simply delicious!
OK, OK agree it does look a little radioactive. But this soup is up there with the best ever to cross these lips – this is their Chili Poblano Soup. SO creamy with a slow-burn hint of the chili in there. Wow, this is so so good.
I know let's get some garlic mushrooms too, as clearly, we have not ordered enough already. Aiyo. But I tell you these are Shiok on steroids. A little chili in there too, BOOM!
And to my Mary's Veracruzana Fish. I assume because the dish originated in Veracruz maybe? She was raving about this, even the rice was outstanding. Tomato, olive, and onion sauce with fresh fish fillet. Again BOOM!
There you have it my friends. Dinner this day at Viva Mexico at Cuppage Terrace. OK priced, bloody good Mexican fare. We will surely be back here, it is so good. Even the beer is not too badly priced at $12++. This is a must-try, and I do believe they have a few more outlets across the island too. Give it a go, because I guarantee you will – ENJOY!!!