Big Bus Tours Christmas Special
Big Bus Tours are the best way to see the Singapore Christmas Light-Up
Don't be sweating as you walk up and down Orchard Road. Hopping in and out of the shopping arcades to cool off in the aircon. Straining your necks looking up and bumping into people as you walk. No need to get a Grab and sneak peek from the windows, hoping it might stop in the traffic long enough for you to wind a window down for a photo. No. do NONE of these options.
I suggest you get down to Big Bus Tours Singapore and 'Hop-On Discover Hop-Off Explore'. OK, this time you don't 'Hop-Off' as it is an hour tour onboard from Suntec up to Tanglin down Orchard Road and back to Suntec. Celebrate Christmas in sunny Singapore!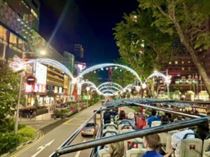 What's the scoop with Big Bus Tours?
You basically book online and get your allocated date and time. There are 2 tours a day; 1930 and 2030, and what looked like 4 buses in total with about 40 pax per bus. All open-top so you are literally in the open-air looking at starry skies and then minutes later in touching distance of the amazing lights from Tanglin Mall all the way down to the bottom of Orchard Road.
Watch the VLOG to see what happens on our little trip. You hop on an open-top, double-decker bus and cruise past iconic landmarks such as the Singapore Flyer and the Esplanade, before driving past The National Museum of Singapore and Fort Canning. You then approach Tanglin Mall and espy a single Christmas tree. As you turn the corner, BOOM, be ready to be enthralled by the 100,000's glittering lights lining the next 3Km or so.
The 2021 Orchard Road theme:
"Christmas in Bloom", and this year's street light-up celebrates a journey of hope and resilience, and draw inspiration from Singapore's botanical richness – where flowers bloom, so does hope so they say.
Red and rose gold poinsettias, and blooming white Christmas roses accent the over-street arches of lights. Using a combination of neon and fairy lights, the result is a mesmerising effect as you slowly cruise along Orchard Road. This is embellished by all the shops and arcades having their own spectacular displays including one that is running a 'cartoon' some 100′ in vertical length up a building.
Finally, enjoy Singapore at night as the Big Bus drives through Bras Basah and back to Suntec City. We took 2 loops around the world's largest water fountain – the Fountain of Wealth – for double good luck, before bidding the bus captain goodnight!
You won't be disappointed if join the crew of Big Bus Singapore Christmas Light-Up Tour!
Big Bus Tours Cost:
It is super-affordable for the family and something guaranteed to keep those kids off the electronics for a good couple of hours.
@ circa \$30 per person for the full hour, I was more than happy for the unique experience and family entertainment.
Think about it. One whole hour of captive audience kids. For sure they are staring at electronics again, just light-bulbs this time. It was wonderful to see the amazed faces literally lighting up as we drove down Orchard Road in the open air. The same sort of face you get from kids on National Day when those fireworks start to go off.
Big Bus Tours Meet Up Information:
Location: Suntec City Mall, BIG BUS & DUCK Tourist Hub, Unit #01-330
Ticket counter operating hours: From 9:00 am till the last departure time
I would suggest you be at the meetup location 30 minutes before your preferred tour time – it gets super-busy
Big Bus Tours – How To Get There:
Nearest MRT: Esplanade MRT (CC) Exit A
Public Bus: 36, 97, 106, 111, 133, 502, 518, or 857. Alight at Bus Stop (02151)
Conclusion: what is the Big Bus Christmas Light-Up experience like?
One word; Brilliant.
I really had my doubts. Sitting on a bus for an hour??? Yeah, right. I had my share of sitting on double-decker buses when commuting from South West London to Mayfair for work. Do I really see this as enjoyment? it's not really high up there on my personal bucket list I have to admit.
BUT… It was such a great hour, time well spent. You get to see a side of Singapore you never do from public transport or taxis, and of course, with the lights on it is even more special. You can almost tough the lights sat there at 2 stories up on an open-top.
I suggest you book your Big Bus Christmas Light-Up Tour and book now because it's selling out fast. It was packed solid when we were there on four buses, and when we got back there was a huge queue for the next tour to start. It is such a memorable family experience. Family Kennett really did have such a great time onboard. You are guaranteed to – ENJOY!!!
Are you visiting Singapore, a cutting-edge metropolis? Ready to show you around? Big Bus Tours are raring to roost! The finest of Singapore can be found on our open-top bus tour, which includes everything from shopping sprees to supertrees and infinity pools. Book now and toast the city of the future with a Singapore Sling.
Book your own Big Bus Christmas Light-Up Tour here
Connect with Us on Social Media