Day One of the Cruise to Nowhere | Quantum of the Seas | Royal Caribbean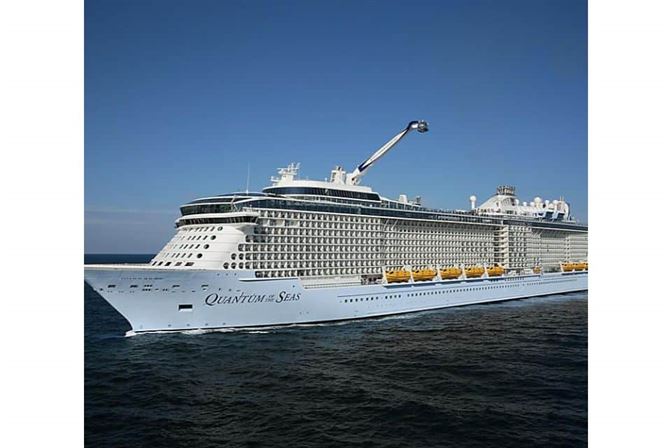 With some desperation to get off Red Dot, we finally booked up a Cruise to Nowhere, a Royal Caribbean cruise to nowhere. 4 days later we walked off kicking ourselves that we have not done a cruise to nowhere Singapore before and are now already planning our second cruise. Some advisory for your own

Cruise to Nowhere

.
When it says 4 days and 3 nights Cruise to Nowhere, it is actually about 2.5 days and 3 nights for your cruise to nowhere. The reason for that is that you get on board about 1600 on day one and depart on day four at something like 0700. See what I mean? 2.5 days and 3 nights for your cruise to nowhere Singapore.
A must is to get the drinks and wifi packages. The meal upgrade is your choice. We did use that and dined at 4 of the upgrade restaurants so I think we got our monies worth. To be very honest, just dining at Wonderland Restaurant was worth it – what a WOW experience that was – see a separate blog coming soon about. that but it is a must when you do your Royal Caribbean cruise to nowhere Singapore.
The other must do, is to get on board sharpish. Do your safety drill. Get to your room. Dump your bags and go sit with a beer and get busy on the App. Book your meals and events ASAP as they get booked out for the duration really quickly. We had to visit guest services to sort out our dining at the premium restaurants as they were all showing as fully booked on the App. Make sure you do this – especially for; premium dining, wakeboard, bumper cars, sky-dive, North Star etc…
There really is so so much to do on your cruise to nowhere Singapore, but you need to get it booked ASAP due to the mad rush.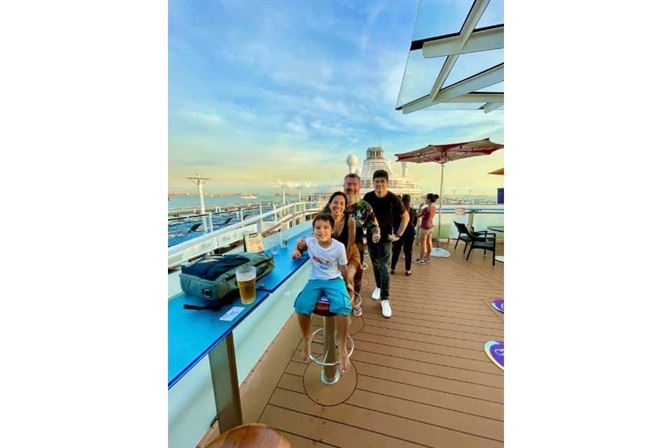 The family bar chart photo. Having fun at the North Star Bar with George & his top bar crew.
The staff/crew are incredible, like truly incredible. Well with about 80% of them being Filipinos what do you expect. It's silver service all the way. So friendly, so helpful – just the best. #BeProud Royal Caribbean and Quantum of the Seas, you have hired so very well.
This was an amazing Cruise to Nowhere with amazing people looking after us all the way. A major call-out to the crew of Royal Caribbean cruise to nowhere Singapore.
A big call-out is the scale of the ship. It is about 1Km round if you jog the top deck, so if I started that on my cruise to nowhere Singapore 2021, I'd finish it in my cruise to nowhere Singapore 2022. It is also about 16 stories – yes SIXTEEN. It's like a floating condominium with restaurants, bars, shops, theatres, swimming pools, gyms, and so much more entertainment – as you will see when you watch this series of Vlogs of our trip.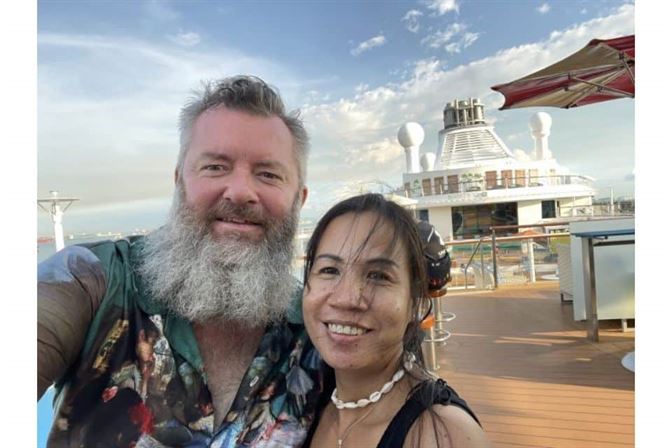 Wifey and I perfectly chillax'd, having a cold one or two and hitting the APP big time…
Cruise to Nowhere Day #1 is just about our arrival, boarding, 1st impressions and some high-level views of what's on offer. Watch on for Day #2 and Day #3 and the special Vlog on its own for Wonderland (that's gonna be EPIC).
If you have not done your Cruise to Nowhere yet, we HIGHLY RECOMMEND you do. It is just fabulous. It's indulgent. It's fun. It's so different.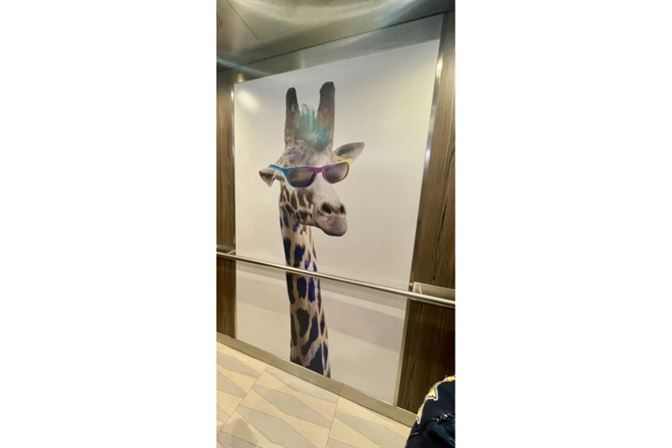 Even the lifts are funky, or is that just Amy's reflection?
I now need to go to the gym though to lose the 3 or so stones of extra weight I just piled on.
Nite nite Singapore. We're off for dinner and we'll be sailing soon too.
How much is a cruise to nowhere with Royal Caribbean Cruises?
One question that comes up time and time again when you tell people about the Quantum of the Seas Cruise to No Where is "What is the Quantum of the Seas Price?"
On initial booking you may think 'goodness that's punchy' but when you calculate back that food is all inclusive (if you don't upgrade your package) and that is pretty much 24×7 dining in many location aboard, plus inclusion of all soft drinks it all of sudden becomes palatable. You can make your own choice to upgrade to all you can drink alcohol, getting Wifi, upgrading to the premium restaurants etc etc… of course at additional cost but if you binge you will come out happy – and that is exactly what we did!!!
We were a family of 5 for the Cruise to Nowhere and booked two cabins.
3x alcohol drink package $822 (yeah punchy)
2x room Wifi $332
5x dining upgrade to premium restaurants (and we hit all 4) $650
2x Staterooms (nothing special) $1,900
Grand Total of $3,704 (that's Singapore Dollars) for 3 nights 4 days (actually 2.5 days 3 nights)
And here are two more reviews for you to enjoy about our Singapore cruise to nowhere...
Make your Royal Caribbean cruise to nowhere booking here...
Some discount loving from our friends at Klook
Click below to get some amazing discount from our friends at Klook. Click away my friends... and ENJOY!!!
Let's have some ISLIFEARECIPE-dia about Royal Caribbean Quantum of the Seas Singapore
Quantum of the Seas® awaits you in Singapore for an unforgettable cruise experience.
It's a revolutionary ship from bow to stern: Quantum of the Seas® is the first of its kind. Think of jaw-dropping performances that combine cutting-edge technology with elements of art and music. Activities that the entire family can participate in, regardless of the weather. Additionally, every room has a Virtual Balcony so you can watch the world go by from the comfort of your own home. When you board this ship, you'll be whisked away to the perfect ocean vacation, where every day will be spectacular.
As the remainder of the Asian cruise sector continues to struggle to recover, Singapore is the first port of call that Royal Caribbean International resumed sailing from during the worldwide cruise closure.
Beginning on October 21, 2022, Spectrum of the Seas will be based in Singapore.
For the Asian cruise industry, Spectrum of the Seas was built. However, the ship has not been offered any voyages since early 2020.
Royal Caribbean's new Quantum of the Seas is touted as the world's first "smart ship" and includes features like an on-board shopping complex, laser tag, robot bartenders, and a waterpark. The new cruiser aims to offer guests access to all these attractions without having to leave the ship.
Royal Caribbean Cruise Line's newest and biggest cruise ship, Quantum of the Seas, sets sail from its home at the terminal in South Philly. Onboard this 4,180-passenger vessel are a multitude of attractions designed to thrill all different types of travellers. Guests have the opportunity to fly skyward on RipCord by iFly or experience a weightless sensation in the ship's North Star attraction.
Royal Caribbean's Quantum of the Seas has a new itinerary to Singapore, with a cruise from March 24th to April 1st. This is the newest addition to the ship's itineraries for 2019. Royal Caribbean's Quantum of the Seas has been on a world tour since it was first launched in 2014, bringing over 3 million passengers to more than 120 ports around the world. Itineraries have included destinations such as Dubai, Shanghai, and Sydney.
Royal Caribbean's Quantum of the Seas will be docking at Singapore for a four-day stay on October 18th. The ship will stopover in Singapore as part of its inaugural Southeast Asia cruise. The announcement of this new itinerary marks the company's continued commitment to providing voyages for locals and visitors alike, with ports in Shanghai, China and Haiphong, Vietnam also included on the itinerary.
The Royal Caribbean Quantum of the Seas Singapore is a variation of the ship's original itinerary from October 2017. Guests who had already booked their trips on the original itinerary were offered a price option to switch to this newer version. The new itinerary includes visits to Port Klang, Penang, Phuket, and Ko Samui in Thailand. This new route is meant to increase the number of travellers to Asian ports.
Singapore is one of the most fascinating cities in Asia. With a tropical climate, it is hot all year round. The city's cultural scene offers museums, temples, national parks, and extravagant restaurants that are worth exploring for hours on end. However, there are other unique attractions that are perfect for getting away from the noise of the city to enjoy some peace and quiet.
The Quantum of the Seas sailings from Singapore has been extended by Royal Caribbean again, this time until April 7, 2022.
Passengers on Singapore-bound cruises will also be required to be properly vaccinated.
Additionally, the cruise line will require all new reservations made after October 1, 2021, to be completely vaccinated for all customers, as well as to have all staff members properly vaccinated.
What distinguishes The Royal Caribbean Spectrum of the Seas?
In addition to being a new ship in Singapore, Spectrum of the Seas is among the fleet's newest.
The ship was created by Royal Caribbean to be a pioneer, offering a wide range of technologies and a few hints of eastern culture.
Quantum of the Seas has a lot to offer, including the following:
Asia's first Sky Pad, a virtual reality, bungee trampoline adventure
Royal Caribbean's first and exclusive Suite Enclave, which features the exquisite Royal Suite Class Star, Sky and Sea accommodations in a private area supremely positioned at the forward end of the ship. Guests booked in these luxury suites have exclusive floor access, an elevator, private restaurants, and a dedicated lounge area.
Cutting-edge and transformative venues such as Two70. Boasting stunning 270-degree ocean views by day and transforming into a multidimensional theatre by night, this transformative space flaunts six agile Roboscreens, breathtaking live performers and mind-bending aerialists to create unimaginable visuals.
Star Moment, a lively and energetic karaoke venue where family and friends can belt out and sing like stars.
The signature two-level Ultimate Family Suite, an expansive, multiroom retreat complete with its own ensuite slide and cinema, which also doubles as a karaoke stage.
A bold lineup of signature activities, including the FlowRider surf simulator, the North Star, an all-glass capsule that ascends 300 feet above the ocean to deliver incomparable 360-degree views; and RipCord by iFly, the first sky diving experience at sea.
Nineteen distinct dining options serve up flavours from around the world, including Hot Pot, an authentic Chinese dining experience; Teppanyaki, a celebration of authentic oriental flavours cooked in Japan's traditional teppanyaki style; and Sichuan Red, a new speciality dining experience tailored just for Spectrum, where diners can savour a bold tapestry of authentic spices and Sichuan flavours. Signature classics include imaginative cuisine at Wonderland Restaurant, top-notch, aged beef at Chops Grille, and authentic rustic fare and handmade pasta at Jamie's Italian.
Connect with Us on Social Media