the RITUAL Cafe
Sometimes work brings such good fortune. Today was one of those days. A friend here in Singapore, that I am hoping is also to become a customer/partner, invited me to his new launch of Asia Fintech Center, part of ZA Tech. A fascinating company that is leading the way with fintech, insurtech and digitalisation of insurance. It's just brilliant. The man at the helm of that in Singapore is George Kesselman. As part of the launch, he invited a select few customers and partners to his wife's, Cassandra, cafe cum bar for dinner. And what a dinner it was. So this review had to be written, despite the fact that in effect I was actually working – this was a quality Omakase style dinner.
I have been here once before, but that was just for a coffee catch-up. Tonight the doors were closed to the public and the Chef was given free rein. And that free reign was a WOW, as you will see. This is a must-visit place folks. The food is off-the-charts. Ignore the next door monstrosity that is McClown, and get your bum firmly sat in here for quality food and a lovely glass of vino to wash it down.
The Ritual @ Bukit Timah Road
Let's hear from The Ritual themselves, with their strapline of cafe|bar|community (I like that);
"The Space; Integrating Mind, Body and Soul. While we live in a fast-paced and stressful environment, we want to create a safe space for anyone to practise healthy rituals that allow oneself to live a balanced life. A hideout created along Stevens Road and Bukit Timah –gather your tribe for good conversations, drinks, and time.
"The Food; Simple yet Wholesome. We design the menu to be simple, wholesome and most importantly inclusive. We do our best to create sauces, dips and all dishes from scratch. Using only Himalayan salt and no artificial flavouring, we hope to bring our guests' favourites in a healthier version. There are freshly baked pastries and breads, salads, protein bowls, brunch items and desserts. We have both plant-based and gluten-free options. If you are a regular and would love to see something on our menu, drop us a note and let us know!"
How good is that?
So get a Grab and come see them at; 383 Bukit Timah Road – maybe book in advance on their Facebook page;
https://www.facebook.com/theritual.sg
But, for now, let's get into that Omakase menu that we dined like Kings and Queens on tonight… You are gonna love this.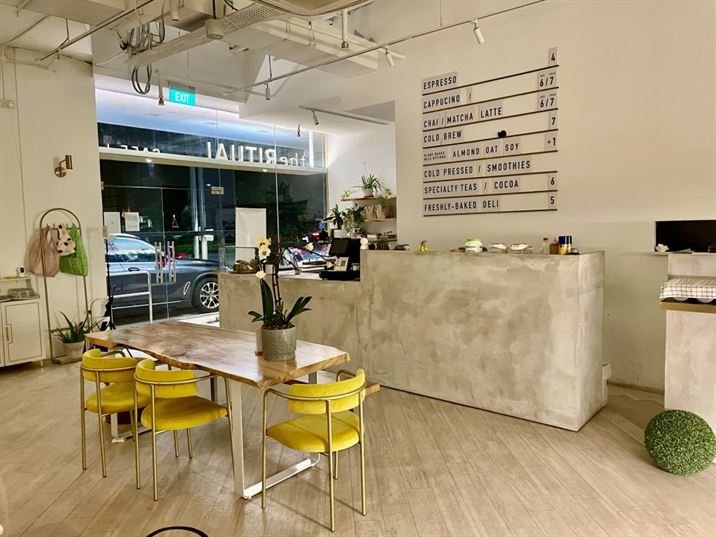 The review won't do the food justice. The Chef & crew smashed it out of the park this evening. Exquisite food. Such variety. It was so very good. George & Cassandra be super-proud of what you have here. The Ritual @ Bukit Timah Road was a shining light tonight. I loved everything, including the wonderful company, all the staff and of course the food. I cannot thank you enough. A die die must-try folks
ENJOY!!!
the Ritual cafe - Singapore
Address: 383 Bukit Timah Rd, #01-09B, Singapore 259727
Phone: +65 6208 7496
Connect with Us on Social Media