Shalynn's ChillaxBBQ Spanish Fish n Chips
We just did a ChillaxBBQ on the weekend 28/10/19 for a lovely lady turning 30, that decided to have the ChillaxBBQ crew along for her party. What was great to hear was that this was a referral from a previous ChillaxBBQ customer, our new BFF Richard. Shalynn requested a new 'theme' for us which was a complete Spanish BBQ Menu, and in the spirit of ChillaxBBQ doing 'Food Spotify' we did indeed to that foodie play-list. One menu item that she really liked was the Fish n Chips, and she asked for the recipe. So here it is, and as we have never done this dish in this style before it is now called Shalynn's ChillaxBBQ Spanish Fish n Chips.
Not the best photo, sorry, as this taken with no flash and by the light of a head-torch.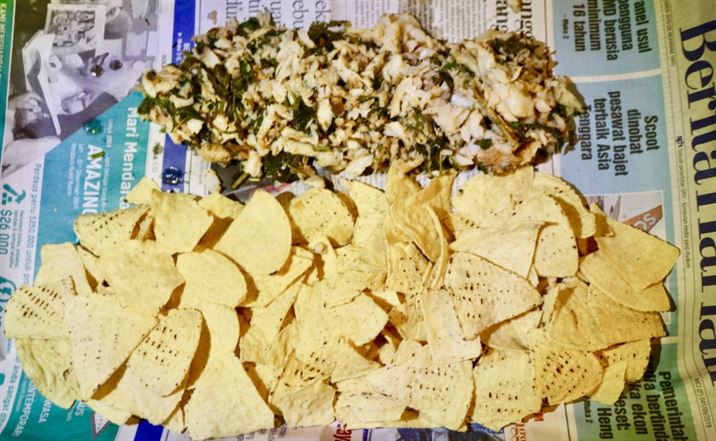 Here are a previous Fish n Chips with citrus and fresh herbs – a much better photo to give you what it really looks like. Just the dish below is tinkered to give it a Spanish flavour so the recipe is a newbie. I just wanted to clear the photo quality up for you…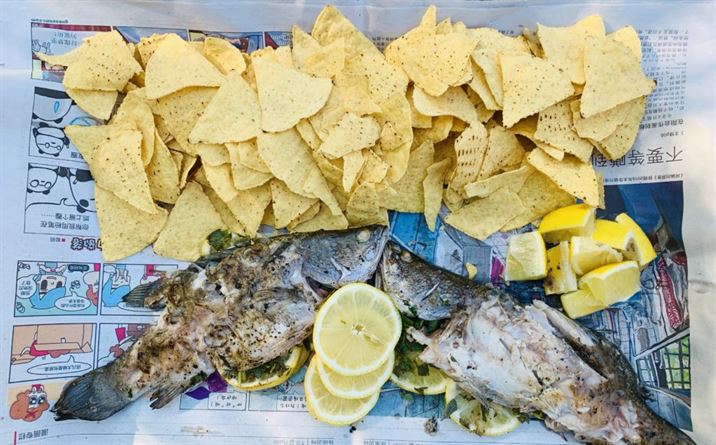 Here we go with Shalynn's ChillaxBBQ Spanish Fish and Chips.
You will need the following to have enough as a side plate for 15 or so, or for two to four hungry souls;
2Kg firm white fish fillets (I used Dory, but Snapper or Cod would do);
5 fresh lemons;
3 packs/bunches of fresh;
Smoked Paprika;
Sea Salt & Cracked Black Pepper;
4 small fresh Banana Leaves (I have the luxury of running out the front gate of the condo and grabbing some).
It's actually pretty simple so follow steps, 1, 2, 3 …
Wash the banana leaves and place half down on a sheet of silver foil. Trim them so they fit the foil, slightly over-lapping and side by side;
Rinse the fish fillets, pat them dry and lay them on the banana leaves, again side by side – almost like a square;
Drizzle over some Olive Oil;
Give a good sprinkle of sea salt and cracked black pepper all over the fish;
Dust all over with a decent covering of smoked Paprika – more or less depending on how spicy you like it;
Squeeze one lemon over the fish;
Put the 5 fresh herbs on a chopping board and get chopping and mixing them together – make sure you remove any woody bits of course;
Sprinkle all the roughly chopped herbs over the fish;
Slice the remaining lemons and lay them on top of the herbs;
Place the remaining banana leaves on top and fold over silver foil to make a parcel.
Now, this you could then BBQ straight over the coals for about 10-15 minutes per side, or even pop it into the oven @150 degrees for 20-25 or so minutes. I did use a BBQ fish griller cage thing as it keeps it all tightly together and easy to turn. After about 10 minutes cooking in the BBQ per side, have a quick check of how the fish is. It should be no longer opaque or pinkish, but white all the way through.
Plating is a piece of cake or rather fish;
Get a serving platter and line it with newspaper – yep Fish n Chips in the UK get served in newspaper;
Remove the lemon slices;
Break all fish up and pile it on the serving platter (you can also plate this on spoons as we have done with fish before);
Open up some salt & vinegar flavour corn chips and sprinkle those next to the fish;
Give the fish one final squeeze of fresh lemon juice and serve her up;
Make sure to explain to the guest that the chips are their edible spoons for eating the fish.
There you have it Shalynn your very own recipe. This is Shalynn's ChillaxBBQ Spanish Fish n Chips. It's super-moist fish like it just jumped out of the pool die to be cooked in those banana leaves. It is so flavourful with the fresh herbs, kicks of fresh citrus, and then some heat and smoke from the Paprika and BBQ. You also get the superb textural mix when you use to crunchy chip to dig in. What a cracking dish. Have a go yourself of just give the ChillaxBBQ crew a call and sit back and – ENJOY!!!