Homemade Fish and Chips Recipe
Have a watch of the prep and cooking process of Homemade Fish and Chips Recipe
Not the best video footage, I'll grant you, because I was basically messing about with Strawberry Blonde. But there are some important learnings, prep and cooking stages contained and explained within. But, just in case you can't be bothered to watch, here you go.
OMG, I feel like I am home in Margate at the seafront at Pete's Fish 'n' Chip shop. The smells from Kitchen Kennett today took me wafting back to family days back in Blighty. As a kid, it was a special treat on a Friday to get a monster battered and fried Cod fillet, chips and mandatory salt & vinegar. Well, I had just ordered a jamboree box from Kevin at our ChillaxBBQ Partners & BFF's at The Alaska Guys, so I say bah humbug having fish only on Friday… Fish is any and every day. And today that ideology became Homemade Fish and Chips Recipe.
I have never made this Homemade Fish and Chips Recipe before, so it's a first for me today. I have watched my Mum and Nan do this countless times though in their kitchens back in the UK when I was a kid, so I have been virtually taught and never forgotten. My turn now, as I am all grown up and old enough to operate hot oil. I think… Don't tell Mum…
Give Kevin and the rest of The Alaska Guys a bell @ 6342 1266
Or, pop down to the shop as they are still open and they are your local fishmongers Eastsiders… 201 Telok Kurau Road. You will not be disappointed.
I just realised. You could have got all the contact details off the box in the picture. Hey, a picture paints a…
So I am going to be cooking this Homemade Fish and Chips Recipe with Pollock as it is a nice firm white fish perfect for frying, and this is cut into cubes already. So I am doing fish nuggets. I have never cooked with Pollock before. NO, I not cooking with this Pollock…
I am cooking with this Pollock…
It is indeed Daddy-Pedia time; The Alaska Pollock or Walleye Pollock (Gadus chalcogrammus) is a marine fish species of the cod family. I thought so just looking at it. It is a schooling fish, so quite intelligent then, widely distributed in the North Pacific. Around 3 million tons of Alaska Pollock are caught each year in the North Pacific from Alaska to Northern Japan. It is the World's second most important fish species in terms of the total catch. And it is super-affordable according to Kevin. Delicious too.
Homemade Fish and Chips Recipe
Enough for 5 people here, so a perfect family Stay@Home dinner:
First and foremost you'll need a deep-fat fryer or deep-pan to do the job;
1-2 Litres of cooking oil, any will do;
400g Pollock or any other firm white fish – my Pollock was already cubed, so it is fish nugget time;
1 Japanese Wagyu Sirloin, or equivalent – cut into thin strips;
1 cup plain flour;
1/2 cup corn starch;
1 egg;
1.5 cups beer;
1 Kg bag of cleaned white potatoes – leave the skins on but clean thoroughly;
1 fresh lemon cut into wedges;
Sea salt. & cracked black pepper.
Prep the Batter;
Get your mixing bowl and whisk ready;
In the bowl goes the cup of plain flour, the egg, the beer and a good pinch of sea salt & cracked black pepper;
Give that a really good mix until the batter comes together and there are no lumps.
Best to watch the video for consistency as it is hard to describe, but you want it liquid but viscous so it will stick to the fish;
If too thick add some more beer, and if too thin add some more flour – seriously, watch the video;
Set aside.
Prep the Chips – no, not two 80's motorbike Cops for a daily briefing – real chips;
Once you have them washed you want to cut a little of the rounded top and bottom off;
Cut in half across the middle;
Then cut slices and then across those slices to cut the chips;
Pop all those in a pan in some cold water to stop the potato browning;
Set aside.
Prep the Fish & Wagyu;
Pop your corn starch in a bowl;
Season it with sea salt & cracked black pepper;
Dust the fish pieces and the Wagyu;
This protects the 'delicate' from the hot oil;
Hey, I'm delicate, perhaps I need a dusting;
Set aside.
OK, all your prepping is now done, folks. Well done! Ready for the fun part? It's frying time. This is when your house will start to smell like the good parts of an English seaside. No donkeys, effluent or rotting seaweed smell though. Wow, I miss Margate. No, just fresh-fried fish 'n' chips. I am so proud and happy of this recipe. We even talked about it on our family Zoom at the weekend. Fond kid memories – BIG TIME!!!
Here we go – the shop is open, it's frying o'clock and time to finish the Homemade Fish and Chips Recipe;
First up we're going to blanch the chips – or the first fry;
My Mum and Nan thought me virtually how to do this – I used to watch them all the time so learnt this;
Get the oil to 150/160 degrees and pop the chips in and fry them off until the potato softens up – you are NOT crisping them yet;
Take them out, drain and set on some kitchen towel.
Fish nuggets up next;
Up the oil heat to 190 now and when at the heat;
Pop the fish in the batter and mix around for a good coating;
Use your hands to pick them. up and let most of the batter excess drip off and then pop them (carefully) into the hot oil;
Make sure nothing has stuck together;
Fry those until the batter is crisped and golden-brown;
Take them out, drain and set on some kitchen towel.
Up next is the little man's Wagyu;
Keep the oil at 190;
Repeat the process of dropping the slices in the batter and get a good coating;
Again, using your hands to drop them in the oil as it allows the excess batter to run off;
Fry these off until the batter is crisped and golden brown;
Take them out, drain and set on some kitchen towel.
Now back in with the chips at 190;
Fry these for the second time until golden brown and crispy;
Take them out, drain and set on some kitchen towel.
PLATING!!!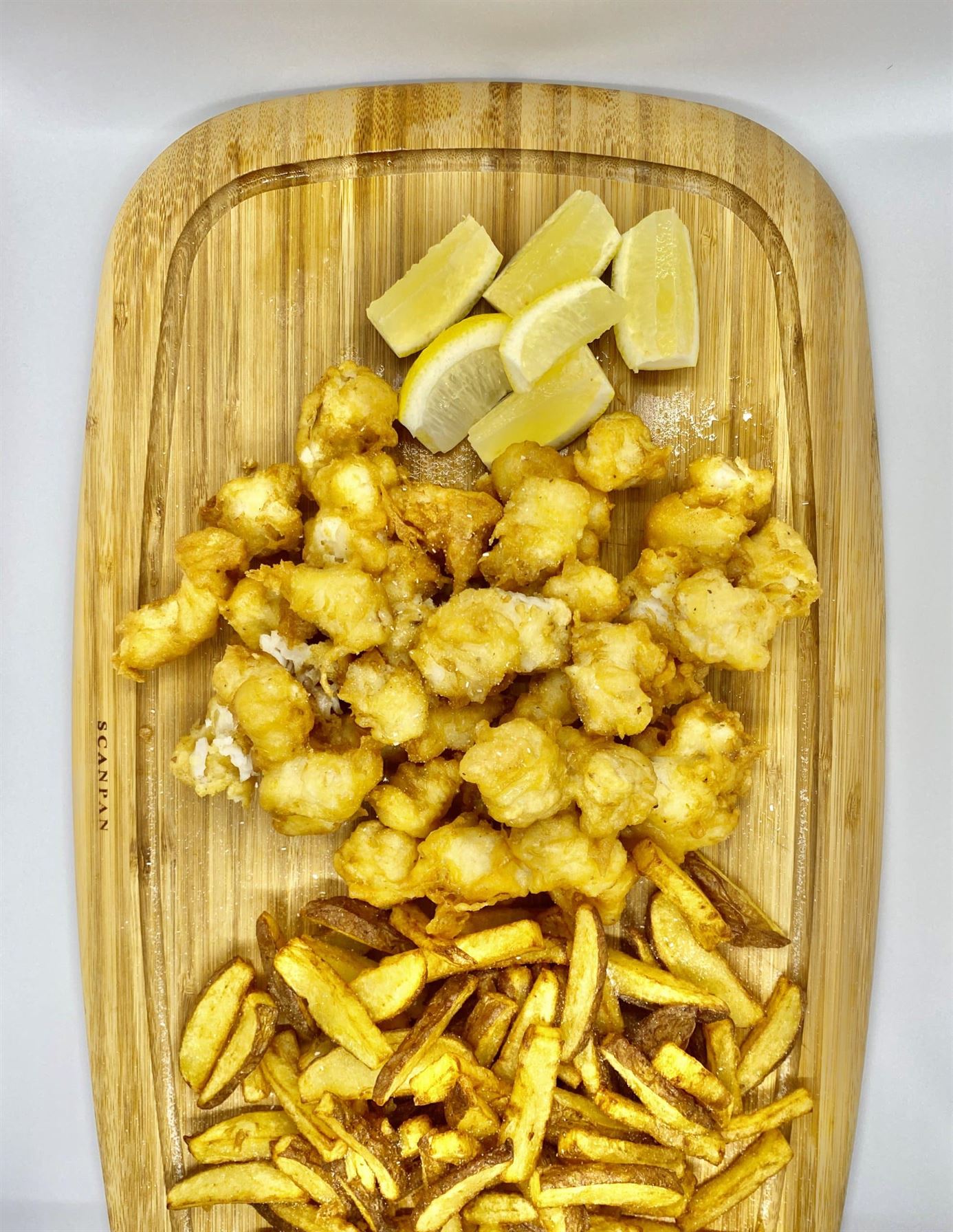 I CREATE YOU IN HONOUR OF MY MUM & NAN (RIP) & MARGATE
The homemade Fish and Chips Recipe is a cracker. Come on everyone, have a go. You could shallow-fry as well as deep-dry, but if you do have a deep-fryer use that as a preference. Thanks so much to Kevin and The Alaska Guys for sending that random selection box of goodies as that surely got the juices flowing today. Really proud of this one. It's my heritage on a plate. Memories are flooding back through taste, smell and texture (by the way the batter was INSANELY good). We also had 'bits'. Remember them as a kid? The little fried dribbles of batter. OMG. On a spoon, a little vinegar and salt = heaven. Jude, Jude fell in love with this. #1, Strawberry Blonde and Wifey all loved it too. I am a happy cook and a very happy Daddy. Have a go folks. It's a trip down memory lane for us UK coastal types – ENJOY!!!
Connect with Us on Social Media