Fish & Chips – Home Made!
Another home made one here. I was literally wandering around M&S foodcourt and spotted some UK style frozen cod fillets. I bought it with no idea what I was going to prepare until later I was wandering around Cold Storage – PING goes the creative juices and therefore was created Fish & Chips – Home Made!
.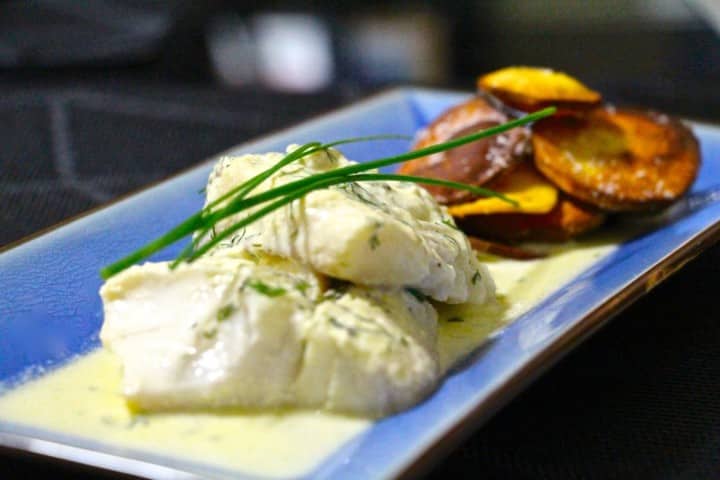 You may view this recipe as a little tricky perhaps, as there are three discreet elements to it. But I will make as simple as I can, by going through each stage. You are basically going to poach the fish in a liquor and serve with a sauce, and then deep fry some chips. 1,2, 3 – OK maybe not so daunting. Here comes Fish & Chips – Home Made.
I used 5 small cod fillets which fed 4 easily, but this is more of a starter than a main, so I have posted this in my small stuff. Here we go;
1 – Making the poaching liquor;
1 packet of finely chopped dill;
Three quarters of a cup of double cream;
Three quarters of a cup of milk;
1 cup of water; and
A good pinch of sea salt & cracked black pepper.
2 – Making the sauce;
1 packet of finely chopped dill;
A good lump of Cheddar cheese – up to on strength, but a coarse one works well with this;
1/2 cup double cream;
1/2 cup milk;
1 knob of salted butter;
1 pinch sea salt; and
2 teaspoons of water.
3 – Making the chips;
4 sweet potatoes, peeled and sliced as finely as you can along the spud to form circular discs;
1-2 litre of cooking oil;
1 deep wok, or pan;
Good sprinkling of sea salt when finished; and
A few sprigs of Chives for a garnish when finished.
Get the liquor ingredients in a fairly large pan, and bring to a light boil. Reduce to simmer and pop in the cod fillets. Leave them poaching on a low simmer for about 5 minutes on one side, and then carefully flip them over with a spatula to poach the other side for 5 minutes. Take the pan off the heat and set aside;
Place all ingredients for the sauce in a pan and bring to a slow boil as you don't want to burn the cream at all, reduce to low heat – you want this to gradually melt the cheese, and thicken slightly to a glossy, sweet, creamy cheese sauce with the occasional blast of dill – this is seriously good. Set this aside;
And here come the chips. Put the oil in your wok and get that to a high temperature. Test it by putting a edge of a piece of potato in the oil. If that starts frying you are ready to rock. Gradually add in the sliced potato – not too many at a time as it will cool the oil and stop the frying process, also allowing the spuds to start to soak up the oil not fry in it. Give them an occasional stir with a slotted spoon to make sure they are not stuck together. You want to keep these frying until they float and turn a light brown crisp. Take them out with a slotted spoon and lay them on some kitchen towel to drain off most of the excess oil. Toss them in a bowl with a good pinch of sea salt;
It's plating time. Take a serving nice platter – I used blue to show off the white fish fillets and sauce. Drain the fish fillets from the liquor using a slotted spoon and pile on the platter. Spoon over the sauce, but don't drown it. Add some of the deep fried and salted chips. Lay a couple of sprigs of chives on top of the fish to be fancy like – you have finished. There is Fish & Chips Semi-Naked Chef Style.
Looks fancy. Tastes real good. To be honest it is actually pretty simple to do, if you follow 1-4. As Amy said; "Hey it's Daddy's fish and chips!" So a slight tweak to Fish & Chips – Home Made. But hey both work. Impress you're loved ones, or someone you're courting, or even just the kids. It's a cracker.
ENJOY!!!
Connect with Us on Social Media