Fish & Chips – Home Made!
Another home made one here. I was literally wandering around M&S foodcourt and spotted some UK style frozen cod fillets. I bought it with no idea what I was going to prepare until later I was wandering around Cold Storage – PING goes the creative juices and therefore was created Fish & Chips – Home Made!
.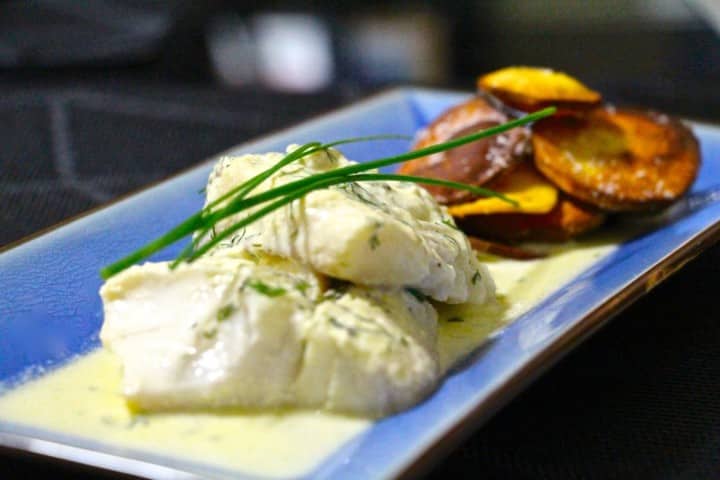 You may view this recipe as a little tricky perhaps, as there are three discreet elements to it. But I will make as simple as I can, by going through each stage. You are basically going to poach the fish in a liquor and serve with a sauce, and then deep fry some chips. 1,2, 3 – OK maybe not so daunting. Here comes Fish & Chips – Home Made.
I used 5 small cod fillets which fed 4 easily, but this is more of a starter than a main, so I have posted this in my small stuff. Here we go;
1 – Making the poaching liquor;
1 packet of finely chopped dill;
Three quarters of a cup of double cream;
Three quarters of a cup of milk;
1 cup of water; and
A good pinch of sea salt & cracked black pepper.
2 – Making the sauce;
1 packet of finely chopped dill;
A good lump of Cheddar cheese – up to on strength, but a coarse one works well with this;
1/2 cup double cream;
1/2 cup milk;
1 knob of salted butter;
1 pinch sea salt; and
2 teaspoons of water.
3 – Making the chips;
4 sweet potatoes, peeled and sliced as finely as you can along the spud to form circular discs;
1-2 litre of cooking oil;
1 deep wok, or pan;
Good sprinkling of sea salt when finished; and
A few sprigs of Chives for a garnish when finished.
Looks fancy. Tastes real good. To be honest it is actually pretty simple to do, if you follow 1-4. As Amy said; "Hey it's Daddy's fish and chips!" So a slight tweak to Fish & Chips – Home Made. But hey both work. Impress you're loved ones, or someone you're courting, or even just the kids. It's a cracker.
ENJOY!!!
Connect with Us on Social Media