Spruce@FireStation – Upper Bukit Timah Road
Yet more exploring for the family which, in turn, leads to more food adventures. And today is no exception. We were off, for the 1st time, to explore Bukit Batok Nature Reserve (have a look on ninakennett.net for that experience) or as Jude Jude and I renamed it Boutique Buttocks. As this was so far away and almost needed a passport for us, I thought it best to book ahead. I saw Spruce@FireStation – Upper Bukit Timah Road which was just across the road from the nature reserve. Perfect. AND, it used to be a fire station – how cool is that?
Sadly though this was 1st and last experience as they have to vacate this location in a week. But one of the lovely servers spoke to us as we left to ask if we were regulars and advised us that they have two other locations – so perhaps we'll explore one of the next.
Spruce@HillV2; 4 Hillview Rise, 667979. Tel: 9759 5790
Spruce@PhoenixPark; 320 Tanglin Road, 247980. Tel: 8168 7127
Let's have a little word or two from them 1st;
"Spruce is a Singapore brand that has a strong foothold on the local F&B scene ever since our inception in 2009. Proud to have amassed a steady following throughout the decade, the Spruce name is synonymous with bona fide burgers, brunch favourites, and an impressive collection of wine, whiskey, cognac, beer, and cocktails. Our trio of destination venues each exudes a different atmosphere. Be surrounded by nature and tranquillity in the scenic Spruce@Phoenix Park, or immerse yourself in the history of Spruce@Fire Station, alternatively, Spruce@HillV2 offers dining in a suburban shopping mall. Whatever ambience you may be seeking, Spruce is the go-to place for a wonderful meal and chill out drinking session. Come on over for the Spruce experience today!"
Nice!!!
I have to say the food was really really good. Nothing flash or fancy, just absolutely bloody good. We'd absolutely plan to be going back to one of the above. Really delicious and fresh food. Loved it. perfect 'fill us up' lunch ahead of our walking expedition to follow. Every one of us really enjoyed our chosen dishes today. Great work Spruce – some bog critics in the Kennett family guys. And the location & place itself was brilliant. Sad it's going.
Let's have a look-see, shall we?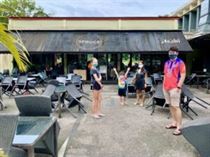 Spruce@FireStation – Upper Bukit Timah Road was ACE. It really is such a shame though to hear of its closing. We really did enjoy this space, the location and the food. A wonderful lunch. Guess we'll just have to go exploring another day and try one of those other locations. If you get there I am certain you will also – ENJOY!!!