Brekkie Subs 'w' leftover Old Chang Kee
As you know Jude Jude and I love our little Saturday boy's mornings. Off to ballet with Strawberry Blonde and then boy's time making cars, planes and cutting recipes from magazines as we munch on brekkie from Old Chang Kee. Love it. This Saturday we were so busy with the making stuff that we didn't even have time to visit The Secret Garden. Anyway, how is that relevant to brekkie this morning. Well, we had some leftover Old Chang Kee cheesy chicken balls from Saturday and I repurposed them this morning to make;
Brekkie Subs 'w' leftover Old Chang Kee
100% #BillWallaceFriendly in fact 1000% #BillWallaceFriendly as yes from the fridge and actually leftovers… So sustainable!!!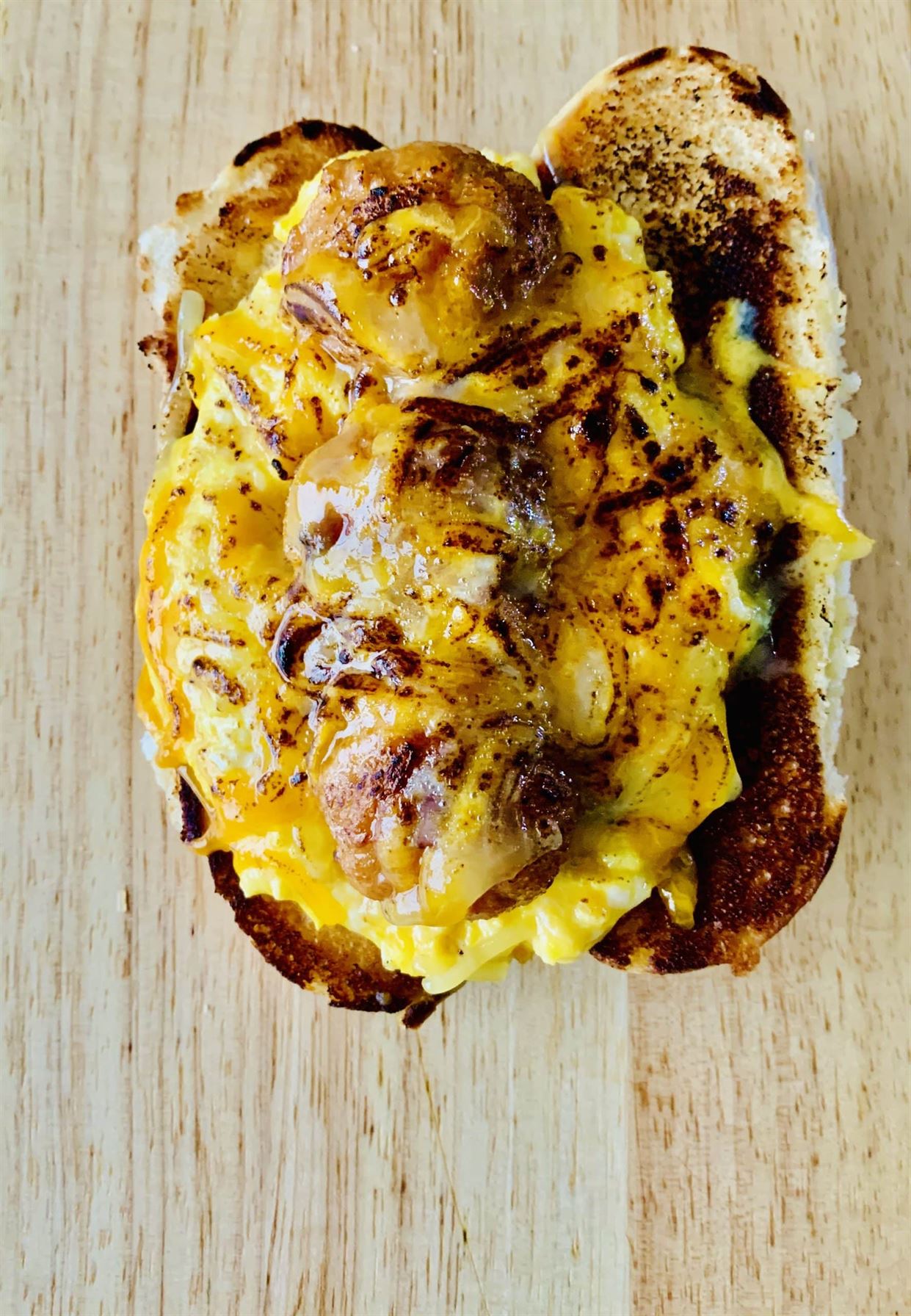 Done in the blink of an eye in 2 pans; one frying pan and one saucepan.
Here we go;
Get the frypan on the heat and add a good 2″ knob of salted butter;
When that is hot throw in 3 Old Chang Kee cheesy meatballs and a hot-dog bun cut in half;
Toast off the hot-dog bun in the butter until nicely browned and pop it on a platter;
Fry off the Old Chang Kee cheesy meatballs until they crisp up and brown too – set aside;
In your saucepan make 2 eggs worth of scrambled eggs;

2″ knob of butter in a pan and crack in the eggs;
On the heat and stir with a plastic spatula;
Off the heat for a bit and stir, then on the heat for a bit and stir, off the heat…;
It should nicely melt the butter and the eggs should start to come together;
When it is nearly done (still a little wet looking but holding together) off the heat;
Season with sea salt & cracked black pepper;

Spoon those amazing eggs over your toasted hot-dog buns;
Place you three Old Chang Kee cheesy meatballs on top of the eggs;
Sprinkle some grated cheese over the top and melt that off with a hand-torch or in the grill;
Serve!!!
And that is that. Brekkie Subs 'w' leftover Old Chang Kee. A great way to keep the kids happy for brekkie and to up the ante getting in a few more food groups down their throats. Also, a splendid way to get rid of those leftovers, be sustainable and be #BillWallaceFriendly. Sadly no Wagyu today for #Kiddle or #Knibbs, but the welfare won't be round as the kids LOVED brekkie today. Have a crack – ENJOY!!!