Mashed Potato Salad Recipe
This is one of those recipes that came from a dream. I wanted to do a potato salad for the National Day BBQ but wanted it to be a little different. Hey, Presto I created a new dish, and for you, lucky people here comes – ChillaxBBQ mashed potato salad recipe.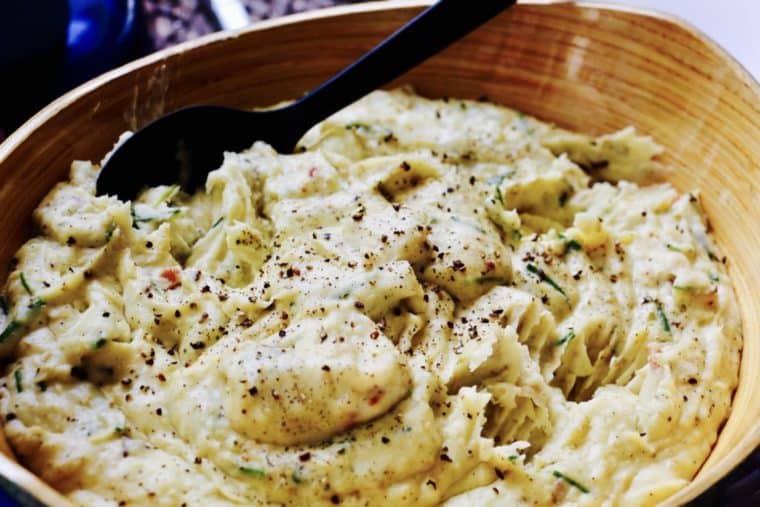 So how did I make this huge bowl of deliciousness?
3 bags of washed white potatoes (leave the skins on;
2 packets of fresh chives, chopped into 1/2″ pieces;
1″ knob of salted butter;
1/2 packet of streaky bacon;
1/2 cup of salad cream;
1/2 cup of mayonnaise;
1 jar of clotted cream;
2 good pinches of dry-rubbed tarragon; and
A really good pinch of sea salt and cracked black pepper.
Boil the potatoes in salty water until you can easily push a fork in;
Drain the pot and put the potatoes back in;
Get the bacon in the oven and bake until crispy, and then cut into small pieces;
Add in all the ingredients above apart from the bacon and chives;
Out with your hand blender and get that to a smooth consistency – no lumps please;
Stir in the bacon and chives; and
Finish off with another good pinch or two of cracked black pepper.
You have to give this a go. It s an absolutely brilliant dish to accompany a normal BBQ. So easy to make, and it gets everyone talking when you explain it is a potato salad. It's unique. Another first from us, is our ChillaxBBQ mashed potato salad recipe. Give it a go, or call us and we'll do it for you. It.s a belter – ENJOY!!!