Jewel & Tonito's for round #2
Do you remember my previous blog of our trip here when Jimboy & Jhea were with us? Well, this time it is with the rest of the gang who have not been here with us yet. So for Mary and me, this is Jewel & Tonito's for round #2, but for Ollie, Amy and Jude it is round #1. We had to go back to Tonito's for them as this place is now becoming one of our favourite family restaurants, and it is literally just down the road for us. It just happens to be in an airport ha ha.
Also for Jewel & Tonito's for round #2 we had a few other firsts.
We met the Head Chef & Owner of Tonito and his Head Chef. How about that. Small worlds are that I had a sneaky little look at Daniel on LinkedIN (invited him too of course) and we share heaps of mutual connections already. Of course people like Javier from Kilo with Latin America heritage. So it was lovely to meet both Daniel Chavez and Kelvin Khok respectively. I assume Kelvin is one of "The Youngs"? Be proud guys, simply brilliant food and atmosphere. We have all visited now as family Kennett and that includes 1 English, 2 English/Japanese, 1 English/Philippines, 3 Philippines. And we ALL love your place. Just brilliant. For those who missed blog #1 of our trip give a little CLICK HERE.
I'll say it again. If you have kids, get yourself down here, and seriously grab some food at Daniel's – it is just superb!!!
On Jewel & Tonito's for round #2 we also ventured to the very top. All the walk-ways, maze, sky-net walkways and all that are still closed until June, but the very top is something absolutely unique. You are sat inside, but you almost feel like you are sat outside, somewhere in Europe on a lovely Spring day. There was even 'street' entertainment, and you even have umbrellas up whilst sitting indoors. Well done Changi, you are indeed the BEST airport, this is a crazy good family experience. Let's have a look today then.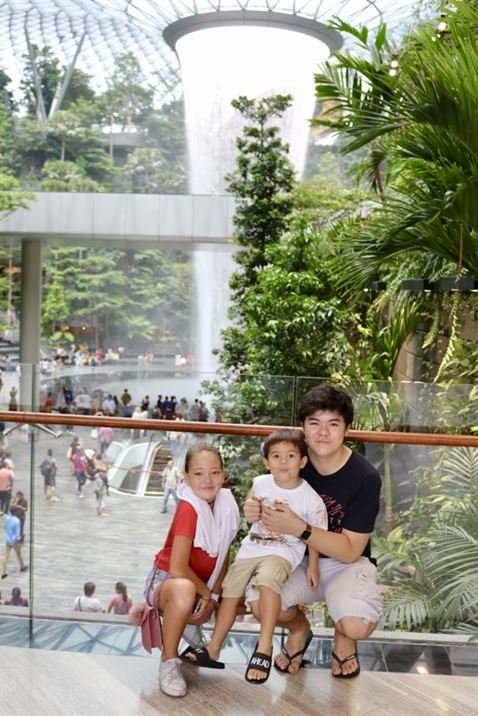 And there you have it, folks. Jewel & Tonito's for round #2. Easily becoming our favourite place to stop, shop, mooch and munch. Chef Daniel and Kelvin – genius gents, just genius. Changi Airport just mind-blowing. It gets better every time we come back. Apart from the dreaded Pokemon. See you in June when the sky-walks open. Another brilliant family fun day out to come to a blog near you soon. Get your bums down here guys, it's ACE. Follow my lead and you will absolutely, ALL – ENJOY!!!
Is Life a Recipe YouTube Channel
(Visited 149 times, 1 visits today)