Milk Fish recipe wrapped in Pandan leaves
Here is a new recipe for you. Milk Fish recipe wrapped in Pandan leaves, which is very Filipino Food in style. Mary had asked me to cook Milk Fish for a BBQ we were going to be attending, so I made up this little recipe for her. It's pretty simple, and it apparently turned out to be really nice.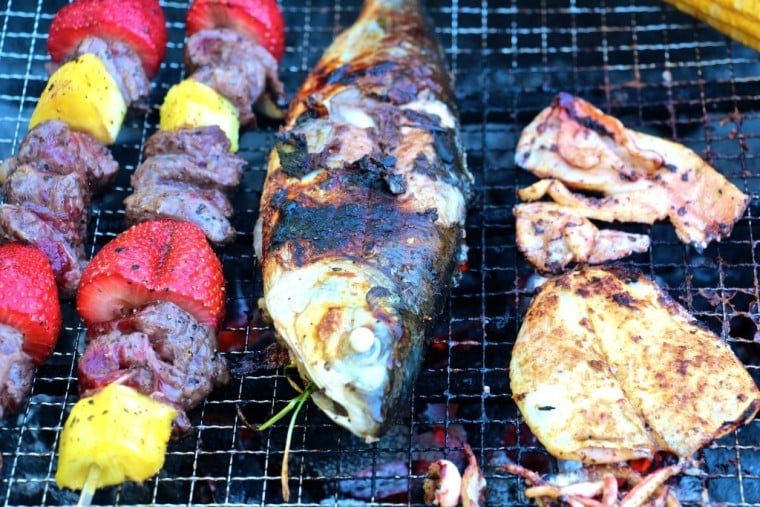 You can leave the fish in foil if you'd rather, and just have it steamed. But as we were BBQ'ing, and my Mary loves her fish with charred skin, I took off the foil and Pandan leaves to get the skin onto the coals. Crispy, and charred skin is yummy!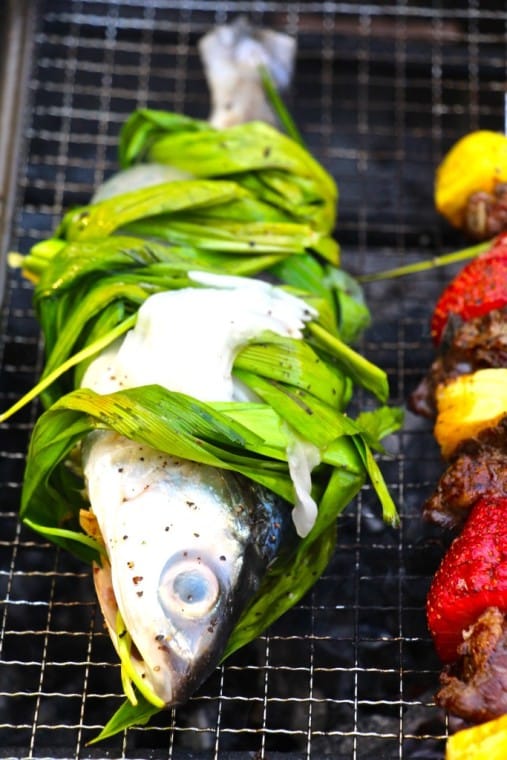 To make this Milk Fish Recipe wrapped in Pandan leaves you will need;
1 Milkfish. Get it cleaned by the fishmonger; and
Some fresh coconut jelly
Stuff the Milk fish cavity with;
2 stalks of lemon grass. Peel a few outer layers off, and with the flat side of a knife give them a bash to release the flavour;
1-inch knob of roughly chopped young ginger; and
A small bunch of ripped coriander.
Lay the fish onto a large piece of silver foil, drizzle it with olive oil, and sprinkle both sides with some sea salt and cracked black pepper. Evenly wrap round a couple of Pandan leaves and roughly tie a knot, Repeat that process all the way down the fish to cover it. Place the coconut jelly on top of the fish and bring the edges of the silver foil to the middle to create a sort of tent shape to allow the steam to flow around. Seal the foil to avoid the steam escaping. This is your steamer to make Milk Fish Recipe wrapped in Pandan leaves.
I cooked the fish in the foil on the BBQ for about 15 minutes a side. This made the coconut jelly melt and absorb into the fish, the fish to cook, and the pandan leaf flavor to steam into the fish. When fully cooked through take it out of the foil, remove the leaves, and grill it straight on the BBQ to crisp the skin. I simply served the fish with some plain white rice – Filipino style. Milk Fish Recipe wrapped in Pandan leaves – ENJOY!!!
Milk Fish: A Delicious and Nutritious Seafood
Milk fish, also called Bangus in Southeast Asia, is a well-liked and incredibly healthy seafood that is eaten all over the globe, with many a Milk Fish Recipe. It is a variety of whitefish that lives in the Pacific Ocean and is renowned for its delicate texture and a mild taste. Milk fish is a fantastic addition to any healthy diet because it is a great provider of protein, vitamins, and minerals.
In many Southeast Asian nations, including the Philippines, where it is the national species, milk fish is a common food and my wife has countless versions of Milk Fish Recipe. It is a flexible ingredient that can be cooked in a number of different methods, such as grilling, frying, and steaming. Before being grilled or cooked in the Philippines, it is frequently marinated in vinegar and garlic, which gives it a tangy and flavorful taste.
Milk salmon is not only scrumptious but also very nourishing. It has a lot of protein, which is necessary for repairing and maintaining muscles and organs. Additionally, it contains a lot of omega-3 fatty acids, which are crucial for protecting the heart and lowering inflammation in the body.
In addition, milk fish is an excellent source of calcium, phosphorus, vitamin D, vitamin B12, and other vitamins and minerals. While vitamin D is necessary for healthy bones and teeth, vitamin B12 is crucial for keeping a healthy nervous system. Additionally crucial to bone health are calcium and phosphorus, which the body also requires for a number of other processes.
Due to its abundance throughout much of the world and its ethical and sustainable farming practices, milk fish is another choice for sustainable seafood. It is also a seafood choice that is reasonably priced, making it available to a variety of customers.
In conclusion, milk fish is a tasty and incredibly healthy seafood that is loved by a lot of people all over the globe. It is adaptable, sustainable, and teeming with vital minerals needed to uphold good health. Milk fish is a delicious addition to any dinner and is guaranteed to satisfy your taste buds while offering a number of health advantages, whether it is grilled, fried, or steamed.
and are essential minerals that the body needs for a variety of functions.
Milk fish is also a sustainable seafood option, as it is abundant in many parts of the world and is farmed in a responsible and sustainable manner. It is also a relatively affordable seafood option, making it accessible to a wide range of consumers.
In conclusion, milk fish is a delicious and highly nutritious seafood that is enjoyed by many people around the world. It is versatile, sustainable, and packed with essential nutrients that are important for maintaining good health. Whether grilled, fried, or steamed, milk fish is a great addition to any meal, and is sure to satisfy your taste buds while providing a variety of health benefits.