Bacon, edamame and cheese sandwich
Yes, the usual food emergency occurred again today. We had had a lovely afternoon at East Coast Hawker on the beach. We arrived home to get Jude settled – yes this was a few years back that I created this dish. But then "Oh no, we have no food…" So I created this open sandwich, my bacon, edamame and cheese sandwich.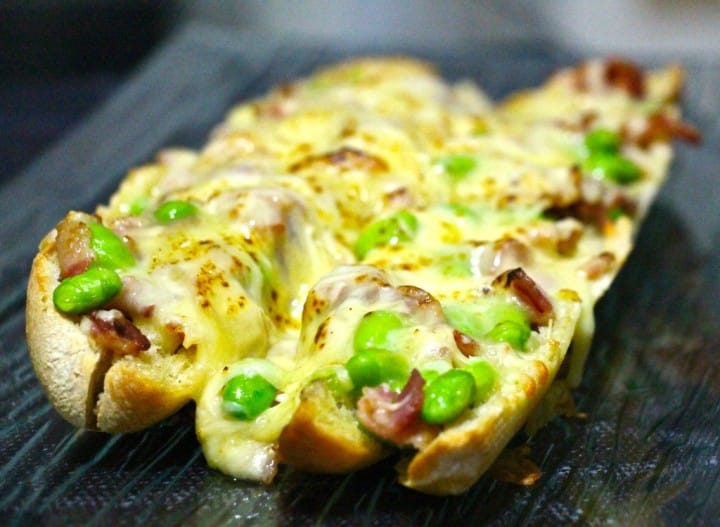 My Bacon, edamame and cheese sandwich came out looking pretty damn good. It also tasted pretty damn good too. The kids loved it too. They wolfed down a whole 3/4 of a baguette plus toppings, can you believe it?
You'll need;
1 French stick;
3/4 of a small pack of edamame. Shell them and cook for 2-3 minutes in some salty boiling water and drain;
3 finely chopped garlic cloves;
2 packs of smoky streaky bacon cut with scissors in to small pieces;
2 cups of grated cheese – I used cheddar and mozzarella;
A sprinkling of grated parmesan cheese;
Sea salt and cracked black pepper; and
Here we go;
Cut the French stick lengthways, but stop before going all the way through;
Carefully open it to retain a 'hinge' and flatten it down;. An open sandwich;
Drizzle this with olive oil and give a good sprinkle of sea salt and cracked black pepper;
Get a frying pan on the heat and drizzle some oil;
Add in the garlic and bacon and fry that off a wee while until the bacon starts to brown;
In parallel have your edamame a boiling away a couple of minutes in that salty water;
When the bacon is done take off the heat, and drain the edamame beans and add them in to the bacon, and stir it all through;
Take the bread and spoon on the bacon, garlic, edamame mixture so all the bread is covered;
Give the light sprinkling of the parmesan and then cover with the grated cheese mix;
Pop it in the oven @ 250 until the cheese has melted and is starting to brown.
Out of the oven. Serve whole on a chopping board, with a knife for everyone to carve off a slice. It's easy to do. It looks great. And believe me it tastes delicious. This was a new one for me, my Bacon, edamame and cheese sandwich. Have a go. It's a cracker – I just know you will – ENJOY!!!
Is Life a Recipe YouTube Channel