Roasted Sweetcorn with Buttermilk, Cream & Cheese
Roasted Sweetcorn with Buttermilk, Cream & Cheese
A wonderful cardiac recipe is this. One to get that old heart pumping. Roasted Sweetcorn with Buttermilk, Cream & Cheese is a cracker to serve with the main meat course and would easily pair with chicken, pork or beef. It would even get in bed with fish I would think. It's a belter and it is seriously no-fail simple. I have made this recipe so so simple that any could do it. Your kids and big kids will love it. Try it.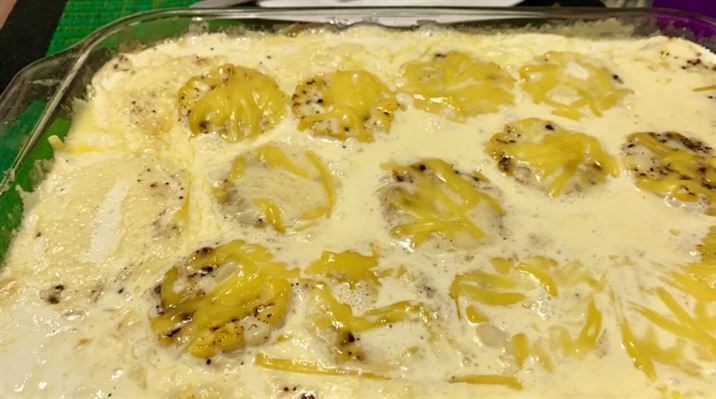 Here we go with Roasted Sweetcorn with Buttermilk, Cream & Cheese – enough here for 6 peeps as a side dish.
3 whole sweetcorn on the cob
1 carton of buttermilk (enough to cover the corn as in the photo)
1 container of fresh double cream
2 packets of mixed 3 cheese from the supermarket – or push the boat out and go see Chris at The CheeseShop @ Joo Chiat
Sea salt & cracked black pepper
And we're off. Now don't blink, as this is one quick and easy recipe;
Clean all the sweetcorn by removing the outer husk and getting rid of all the weird spindly stuff
Cut into 2″ pieces and throw in a roasting tin
Pour on the buttermilk
Pour in the double cream
Give a good pinch all over of sea salt & cracked black pepper
Sprinkle the cheese all over
Throw that in the oven on 150 for 30 minutes – this will cook the sweetcorn in the buttermilk and melt the cheese to gooey…
Serve!!!
There you go. I told you Roasted Sweetcorn with Buttermilk, Cream & Cheese was easy. How could you go wrong with this recipe? It's throwing it all in and sit back and wait cooking. Nice. So give this a go. I guarantee the family will love this, especially the kids. Maybe a good way to get them problem kids eating their vegetables perhaps? Have a go. It's a good one from the ChillaxBBQ kitchens – ENJOY!!!
Is Life a Recipe YouTube Channel
(Visited 15 times, 1 visits today)