Yep friends – usual scenario of we're home, it is 1900 and we have nothing at all for the kids to eat.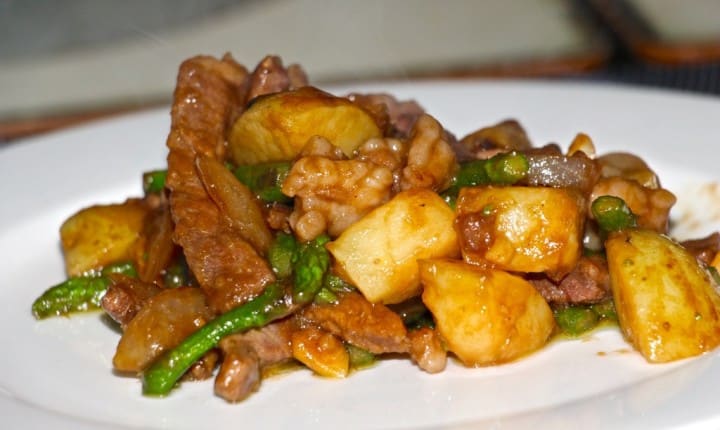 What to do?
What do we have?
What would they like?
Here is what happened, a dish was created, a dish the kids christened 'Swift Beef'. I have to assume because it is so flipping quick.
Easily enough for four;
300g of finely sliced beef – I used rib eye, sliced to bite sizes pieces
(tip – buy a HUGE lump and benefit from the aggregation price, bang her in the freezer and then simply slice off what you need as and when!)
5 medium sized potatoes with skin on and washed – simply cut in to cubes
1 packet of asparagus, lose the hard ends and cut in to 2 inch lengths
1 red onion chopped in to small cubes
4 garlic cloves chopped finely
3 tablespoons of oyster sauce
So flipping easy this – ready – don't blink, great or take a break.
Pan full of salted water to the boil and bang in the potato cubes – boil on medium heat until cooked (sort of firm but not fluffy) – set aside.
Get your wok out and add some olive oil, bring to hot.
Add in garlic, onion and sweat for a bit. Throw in the asparagus. Cook for 2-3 minutes. Add in the oyster sauce and beef and fry that off until thew beef is cooked – NOT overcooked though. Pinkish.
Add in the potatoes and ensure they are warmed and coated in the sauce.
Serve.
Yep you got it – that is it – how simple – how easy.
It is really lovely – ENJOY!!!