The Botanic @ Raffles City Review


We finished our little trip to see Amy's Gold Winning Entry for the "Draw My Stamp" competition at the National Library. As we were nearing dinner, but not quite I thought we could wander and have a drink and sit somewhere 1st. So I took us off to Loof, the rooftop bar over from the iconic Raffles Hotel. A nice little family sit and chat and look at the photos of dinosaurs.
Across the road is Chijmes and Raffles City and I was thinking perhaps Carnivores for dinner, post watching the dinosaurs show. But that was seemingly full for dinner. Salt by Chef Luke was always our favourite for Raffles City food destinations, but that has moved since. So where do we go? I chose somewhere new, we went to The Botanic @ Raffles City.
The Botanic @ Raffles City is actually the restaurant that has replaced Salt. So they have some major expectations to live up to from this rather demanding foodie family. But the board at the front looked pretty damned good with the photos of the food on display. Let's crack on. 1st let's see what they have to say about themselves, as the genre is a little confusing from the decor. What are they?
"Established in November 2018, The Botanic draws inspiration from nature, showcasing a variety of plant-based sharing dishes with vegan, vegetarian and gluten-free options alongside free-range, organic meat and seafood offerings.
An expression of terroir, the menu celebrates organic, free-range produce from the region with its use of superfoods, whole grains and novelty dressings. Dishes also showcase eclectic Asian flavours and Mediterranean inspirations, taking guests on a journey to discover food and drink that not only satiates the palate but also nourishes the soul.
The Botanic also presents to you a sustainable, organic and biodynamic wine list and an invigorating selection of fruit-based cocktails and mocktails to enhance the dining experience in a nature-inspired setting."
If I had read this before we entered I may never have entered. Seeing words like vegan, vegetarian, gluten-free and whole grains would normally turn me away. Would have turned us away in fact. But the photos did look good. Were sat down now. The serving staff were Filipinas and just lovely. And one server was originally from Salt and recognised us. I like, We're staying. Let's give The Botanic @ Raffles City a good crack, here we go;
See what I mean re the genre. Western for sure. Sort of trying to be a little French/Parisian with some added Mediterranean beach in there. I notice too Angmo Chef in the kitchen. This is going to be interesting.
Now, this setting really does remind me of Parisian days. Little round tables, food and family crammed on. But those memories were of much colder, darkened days, and lots of Gitanes smoke filling the air too. I am liking this so far. The marinated olives we started with were cracking. Let's be having it then… Bring it on… I love our family dinners. Mary spots squid and octopus aka pulpo. Amy goes straight for strip-loin. Jude and Ollie both plumb for the Wagyu. Yeah, did I mention the family of foodies?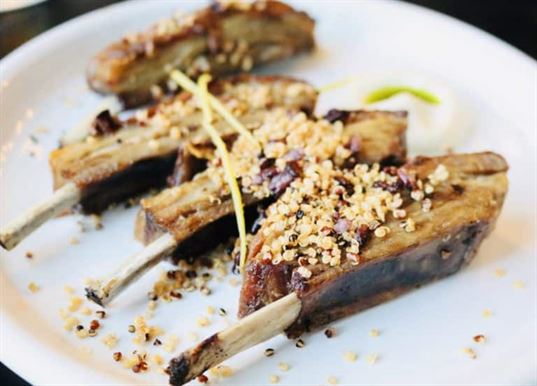 We all love a bit of lamb. And when I saw lamb ribs on the menu it naturally became a must-try. In the menu it states this; Lamb ribs, black garlic, grains. Makes you wonder. Then it rocks up. Looks OK. Not sure re the Quinoa on top but I'll give it a go. I am also thinking, at 1st glance, that this is going to be a bit chewy…
But how wrong was I? We ended up ordering THREE of these. I will go out on a limb here to say I have never had a lamb dish like this. I have said to meat dishes before that they were like butter, due to how tender the meat was. But this, this little lamb rid dish, was like lamb butter. How it stayed on the bone was beyond me.
I picked up my first rib and popped it in my mouth to tear a piece off and begin chewing… I ended up sucking a piece off that melted in my mouth. If I needed to chew it wasn't that much, but then you also got the crunch of the Quinoa to boot.
The flavour of the lamb was out of this world. Again, I kid you not, this really is one of the most amazing lamb dishes I have ever had the good fortune to eat in my 51 years. It is die-die must try. You have to come dine here and eat this. If only for this dish it is worth it.
We will be back for more. In fact, we had to order more today, we just had to despite being completely full. Great work The Botanic. This is a winning dish in any lamb competition in my humble opinion, holy cow. Be proud of this one!!!
Olives, the lamb – goodness gracious me, what a start. Whatever next…?
Raffles City Food at its Finest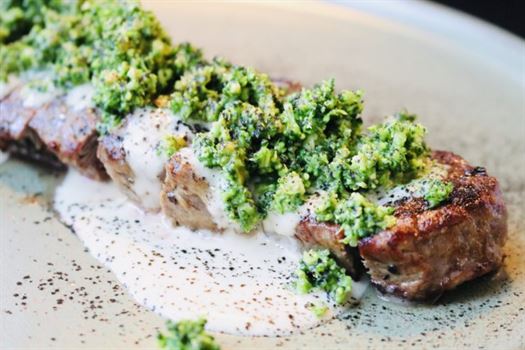 Well next was Amy's Striploin that we managed to coerce to have Medium-Well not cremated. Described in the menu as Australian striploin, broccoli, mustard, burnt lime. What a beautiful dish. I did grab some of this, and it was cracking. Very complex actually with all those flavours and textures bouncing around. Stunning!!!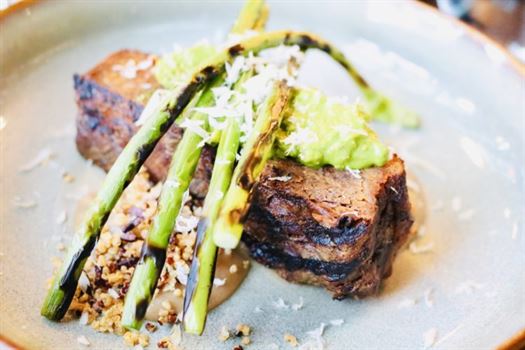 Wagyu brisket, shallot, horseradish, buckwheat, porridge, egg yolk. How could we not try that? Jude and Ollie saw the word Wagyu and were sold immediately. This was a real hybrid in my reckoning. 
Sort of a slow-braised steak, almost Chinese style and then charred on the BBQ. An absolutely stellar tapenade on top to give sour and citrus, with even some anchovies. 
Then below was this sauce of indescribable flavours with a crunch of Quinoa again. Hell yes. Loved it!!! What a cracking steak, and a unique one to boot. Amaze-balls.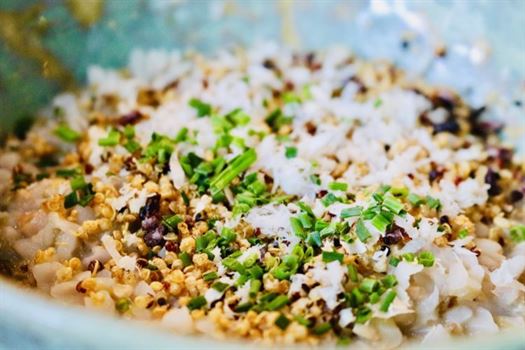 Here is that porridge. It's bonkers, but bonkers good. Savoury, crunchy, buttery. Just superb. Another unexpected dish to be honest. I really was not sure when it was served up with my steak, but after a few mouthfuls, I was an absolute convert. Could I be a vegan? not a chance! I still need that accompanying steak in a big way!!! But boy the porridge was ACE!!!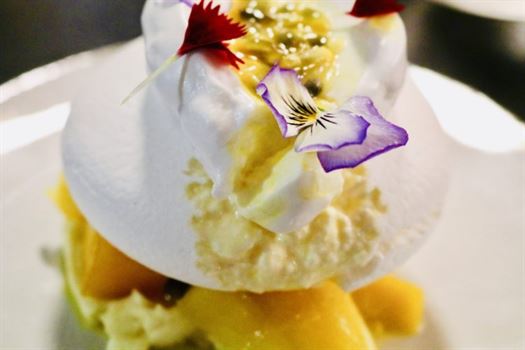 Amy goes large for dessert whilst I try to finish plate #3 of the lamb ribs. Come on, you know me and desserts? I need a savoury one! But when this rocked up I really was like, WOW that is a stunner. Must try! It did not disappoint. I loved the balance of sweet and sour, again the textures as well as stunning plating. Top drawer! This is simply named; Soft meringue, honey mango, passion fruit.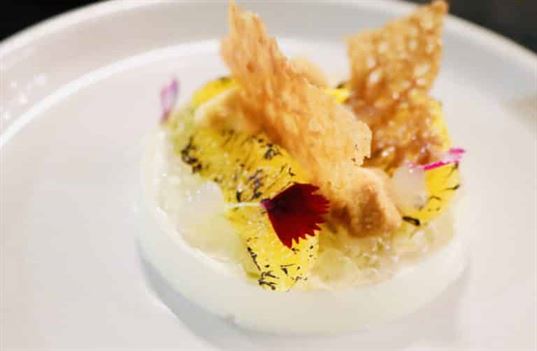 And then #1 get stuck into his dessert. Another piece of artwork for the plating. Just look at that. And yet another stunning tasting dish to end an incredible dinner at a new location for us. Off-the-charts delish!!! Ginger Flower Pannacotta, charred orange, lemongrass, botanics.
The Botanic Review Conclusion
And that was that sadly. Dinner was over at our newly found little Raffles City food jem. I loved being so surprised, I truly did. As we all did, in fact. Ollie was even mentioning that this really is not the kind of place we frequent, and in my mind, I was thinking really… But yeah I sort of agree. Anything mentioning Quinoa, Vegan, Vegetarian anywhere near its menu would have an immediate No-Entry sign up for me.
So I am very pleased we ignored that and did have dinner at The Botanic @ Raffles City. It was an incredible dinner thank you. Be proud of the food and your staff at front of house. If you made that lamb rib dish a main course I think you'd have us 2-3 times a week ha ha. Stunning dinner and a must-return for foodie family Kennett now. You have to try if you are near Chijmes or the Raffles City area – do it!
Sadly The Botanic is now Closed Down Permanently