Din Tai Fung: Seriously for the price, for taste, for ease, for the casual and family atmosphere, you really cannot beat Din Tai Fung. I think this is now voted as the best Chinese restaurant chain in Singapore (actually it is Taiwanese – but don't tell anyone!!!). We have been in so many different branches of this place all over the island of Singapore, and it is always of exceptional quality and exceptional taste. It is just so so good as a restaurant.
We started off going here when Nina and I first stepped foot in Singapore and were living behind The Paragon Shopping Centre, on Orchard Road. In the basement area, there was where we had our first adventures with Din Tai Fung. A place the kids have loved ever since. We all have loved this place ever since, including Baby Jude as well.
We usually have exactly the same choices from the Din Tai Fung menu. Why spoil something that is simply perfect? Here is what we usually consume whenever we eat here;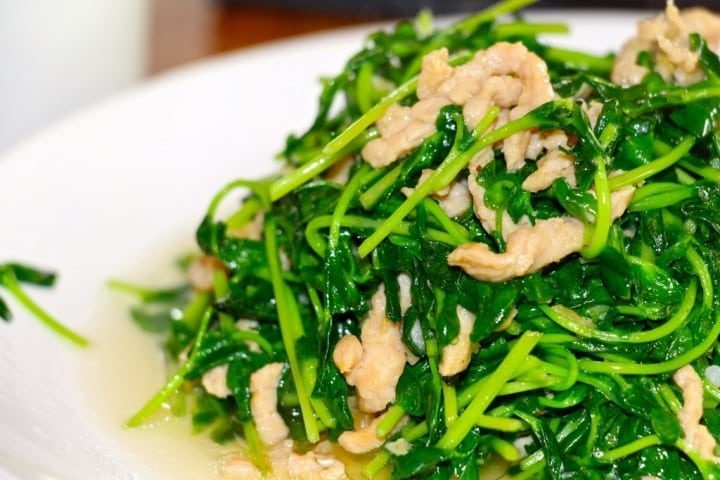 Stir-fried Dou Miao with Pork Strips. Simple and simply divine – best veg dish I have ever had…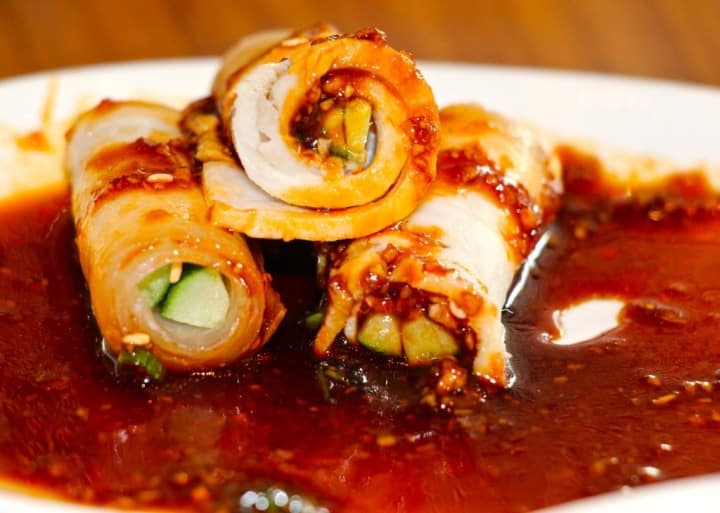 Fragrant pork belly rolls, wrapped around cucumber with this jammy, sticky, spicy, garlic, sesame, Spring oniony, nutty sauce – BOOM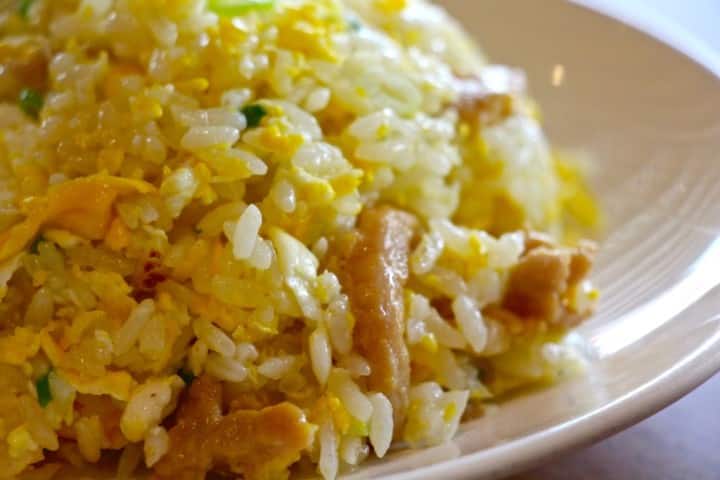 This is simply the best egg fried rice ever. Sounds so simple doesn't it, some egg fried rice with pork strips. But man oh man the flavour is exquisite. How do they do this? How do they turn the simple to amazing?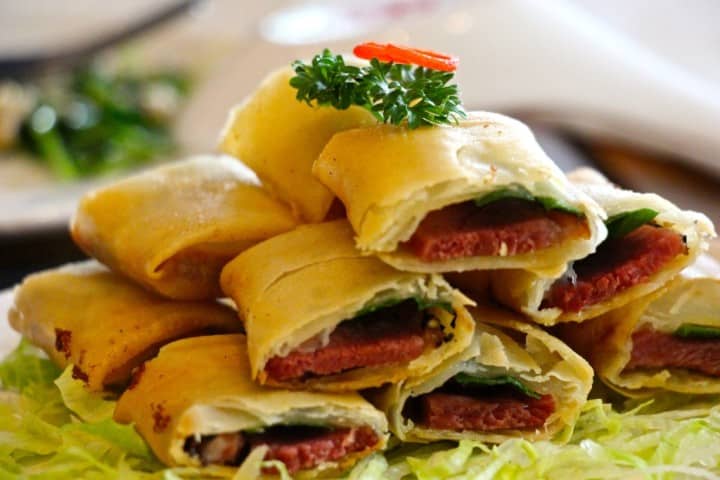 Smoked duck pancakes. Come on now. This is deep-fried to crisp and crunchy perfection, so you know it's going to be good. The pastry skins also have Spring Onion in them which just lifts the flavours to the roof. Delicious.
In fact, they are sooooo good they warrant a little more explanation as to how the hell they make these little parcels of goodness that are the signature dish of Din Tai Fung.
They religiously follow the same 6 steps before they hit your table. Literally, they have little weigh scales and templates to make sure each one is exactly the same;
Silk smooth dough is made in very small batches, to keep it all nice and fresh;
The dough is rolled out and cut into identical pieces. In fact, so precise are they, that they weigh each individual piece to ensure it sits within the parameters of 20.8-21.2 grams. Now that is precision is it not;
The individual pieces are then hand-rolled with little rolling pins to form the silky smooth 'skins' for the dumplings;
The skins are then stuffed with premium minced pork (plus a few secret ingredients) and gelatin, which melts when steamed to form the soup you get in the skins – ooh yummy!!!;
The dumplings are then pleated by hand, a minimum of 18 times, and finished with a little twist on top; and
They are then steamed and served piping hot in the steamer trays – in batches of 6 or 10.
Our conclusions of Din Tai Fung
Din Tai Fung near me is fricking awesome!!! It's a must on anyone's food agenda. Singles, couples, families you just have to eat here. It's almost an order from yours truly.
As Tina Turner screams; "Your simply the best…" We love you DinTaiFung. Long may you reign. Ken Hom of The New York Times, wrote this about his experience; "Devouring this dumpling is a great experience, with an explosion of rich, steaming, hot soup oozing onto the groove of your tongue." Yep he got that right, and so can you – ENJOY!!!
To make a Din Tai Fung Reservation Singapore, you need to rock up in person and get in that queue or click here for Din Tai Fung Reservation online.
Din Tai Fung Near Me? There are so many Din Tai Fung Locations now across the planet.
There absolutely should be a Din Tai Fung near me, as they have over 160 branches now in 13 territories. That's a massive amount of Di Tai Fung locations. Spoilt for choice.  They have Din Tai Fung Singapore, Din Tai Fung London, Din Tai Fung Europe, and even Din Tai Fung America.
People also asked about Din Tai Fung
| Question | Answer |
| --- | --- |
| 1. What makes Din Tai Fung's Xiao Long Bao special? | Din Tai Fung's Xiao Long Bao is renowned for its delicate skin, flavorful broth, and expertly crafted filling, creating a memorable dining experience. |
| 2. Are there vegetarian options available at Din Tai Fung? | Yes, Din Tai Fung offers a variety of vegetarian dishes, including vegetable dumplings and noodles, catering to diverse dietary preferences. |
| 3. How many countries does Din Tai Fung have a presence in? | Din Tai Fung has a global presence in over 15 countries, showcasing the widespread popularity of its Taiwanese-inspired cuisine. |
| 4. What other signature dishes should I try at Din Tai Fung? | Apart from Xiao Long Bao, don't miss out on Din Tai Fung's Steamed Chicken Soup, Shrimp and Pork Wontons, and their delectable noodle dishes. |
| 5. Does Din Tai Fung take reservations, and how can I make one? | Yes, Din Tai Fung accepts reservations. You can make a reservation online through their official website or contact the specific restaurant location directly. |
| 6. Has Din Tai Fung received any Michelin stars? | Yes, Din Tai Fung has been awarded the prestigious Michelin star multiple times, attesting to the exceptional quality of its culinary offerings. |
| 7. What is the price range for dishes at Din Tai Fung? | Din Tai Fung is a mid-priced restaurant, with most dishes typically ranging between $10 and $20, offering a balance of affordability and quality. |
| 8. Can I order Din Tai Fung for delivery? | Yes, Din Tai Fung provides delivery options through platforms like Foodpanda. Check the specific restaurant's delivery details for availability in your area. |
| 9. Are there any seasonal or limited-time menu items at Din Tai Fung? | Yes, Din Tai Fung often introduces seasonal and special menu items, providing diners with exciting new flavors and experiences throughout the year. |
| 10. What is the history behind Din Tai Fung's success and global expansion? | Din Tai Fung, founded in 1958, gained international acclaim for its commitment to culinary excellence, resulting in a global expansion and recognition as one of the world's top restaurants. |