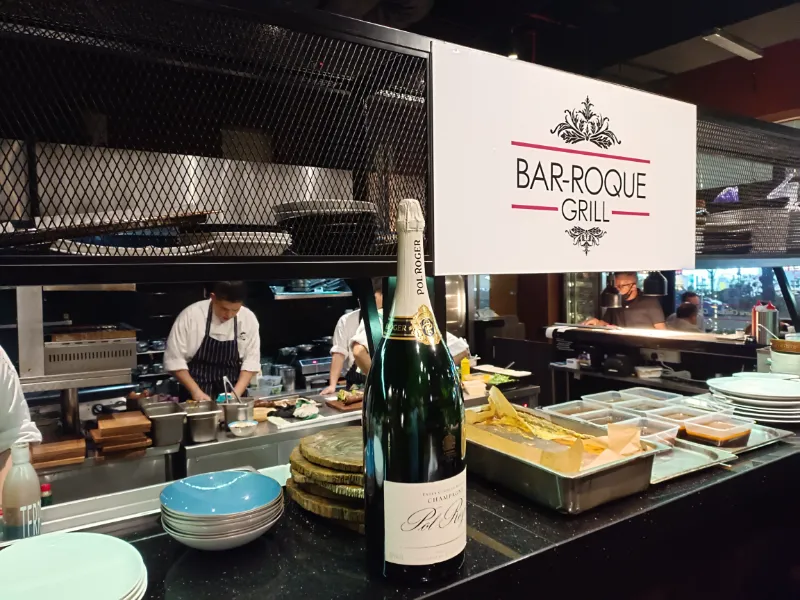 Bar-Roque Grill is a French steakhouse restaurant located in Singapore, specifically at 165 Tanjong Pagar Road. It offers a unique dining experience with a menu that features dry-aged beef, charcuterie, and a wide selection of wines. The restaurant is known for its upscale ambiance and Sunday brunch offerings. Bar-Roque Grill is situated within the Amara Singapore hotel.
The establishment is led by Chef Stephane Istel and Nicolas Schwarz, who bring their culinary expertise to create a French-inspired menu. Their emphasis on quality and innovation has garnered recognition, including being awarded the Michelin Bib Gourmand multiple times.
Bar Roque Grill Incredible Brunch Menu 2023
Bar Roque Grill today, Sunday 6/10 2019, I am off to the UK for a week for the new job. So we decided as a gang to visit a couple of our all-time favourite restaurants this weekend before I go, Bar Roque Grill. Yesterday we hit the specials board of Etna, going all Italian. Today we smash the French slopes with the New Sunday Brunch Menu + our mate Chef Stefan @ Bar Roque Grill. We ordered so much food, even Chef Stefan himself said; "Having a light lunch today then mate…?" of course with a wry smile.
I saw a certain post from a certain gentleman, AKA Chef Stefan, that he was launching a new Sunday Brunch Menu at Bar Roque Grill. I also saw a post about this incredible food-porn dish he had just finished making – did you see it? I nearly fell off my chair reading the post. His words were; "Okkkkk so today with finish one of my Favourite Terrine, Pâté en Croute, 4 days process, pork Iberia, Foie Gras, Morels, Sweet Bread & Pistachio… AMAZING" And, it was indeed. More than AMAZING in fact, and I'll get to that.
Let's just have a wee meander 1st. PLEASE ignore Google, they are not closed, they are open. Good job we rang to confirm the booking Google. We arrived at midday, with the restaurant has been open since 11 am. A great chance to pause and soak in the new menu, and to get a snap next to the incredible red award placard. Bar-Roque Grill is the only European restaurant to have been awarded the Michelin BIB Gourmand Award three years running for 2017, 2018, and 2019. Great work team. Be proud. It's no wonder with your incredible food and restaurant.
Enough banter – let's get to the food and that new menu. Here is my little write-up for the New Sunday Brunch Menu + our mate Chef Stefan @ Bar Roque Grill.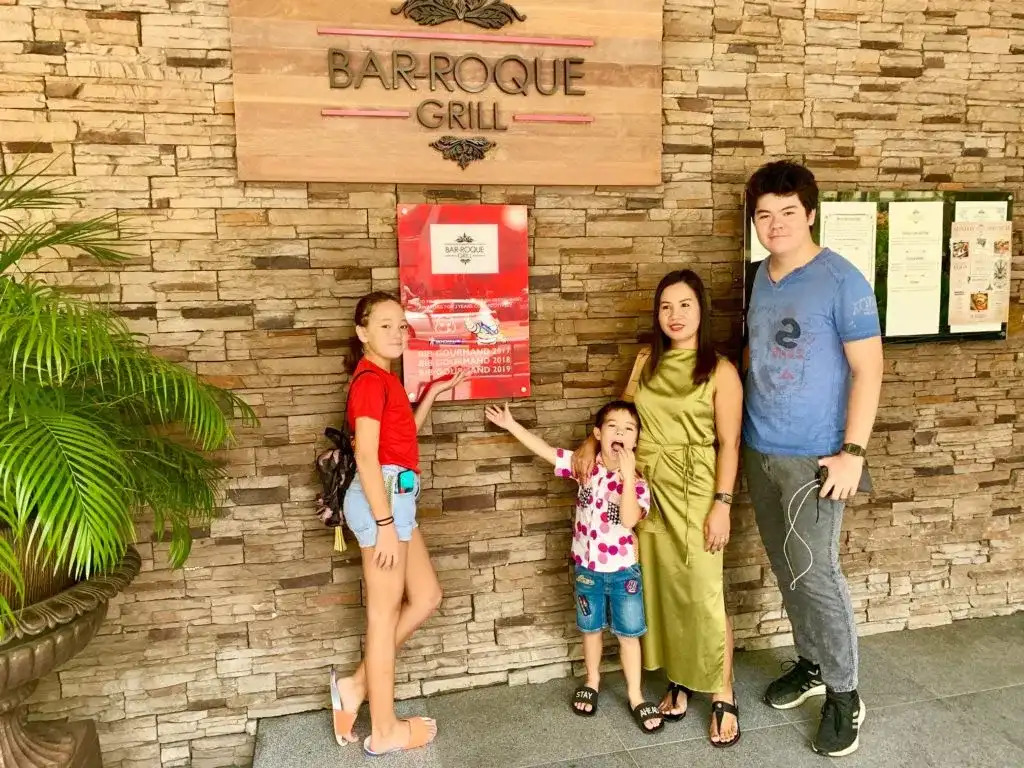 Is Ollie getting taller, is my wifey getting more glamorous and beautiful, is Jude ever more cheeky, and my Amy is always my Amy.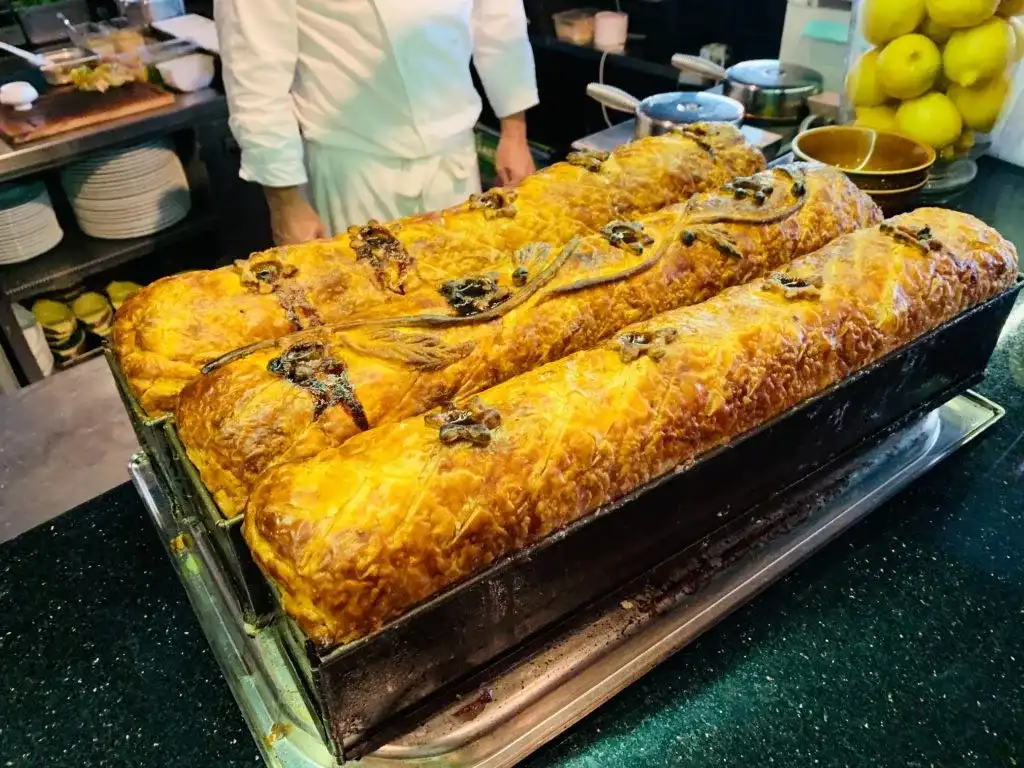 Here is that Pâté en Croute. Holy cow, how amazing does that look? I literally could not take my eyes off the artistry. This is real food-porn. This is Magnifique.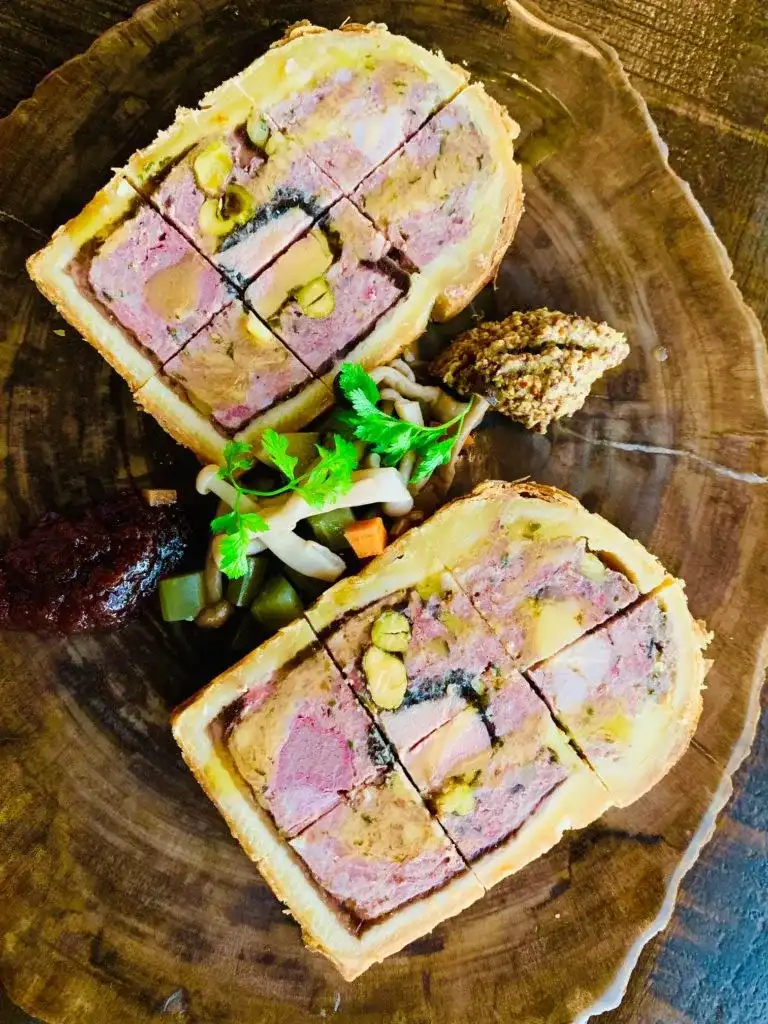 And then he cuts us two tasting portions. The FIRST cuts from the three amazing pieces of work before. Now have a look at that. OMG. See what I mean about art and food-porn. But wait until we get that taste going. This has to be one of the very best things to ever go in this fat mouth. Flavour explosions. Texture explosions. It is stunning. It's worth a trip here just for this. Absolutely knocked us all for six. ALL of us, including Jude, got stuffed into this. Chef, that was STUNNING!!!
The main man, Chef Stefan, and his front-line crew on the tools and getting the job done. And what a job it was. A simply delightful and delicious lunch. We're still talking about it now. And writing about it ha ha. Unforgettable.

I even love his steak knives. See there is absolutely no animosity between the English and the French, cough cough. OK ignore rugby and football for that statement.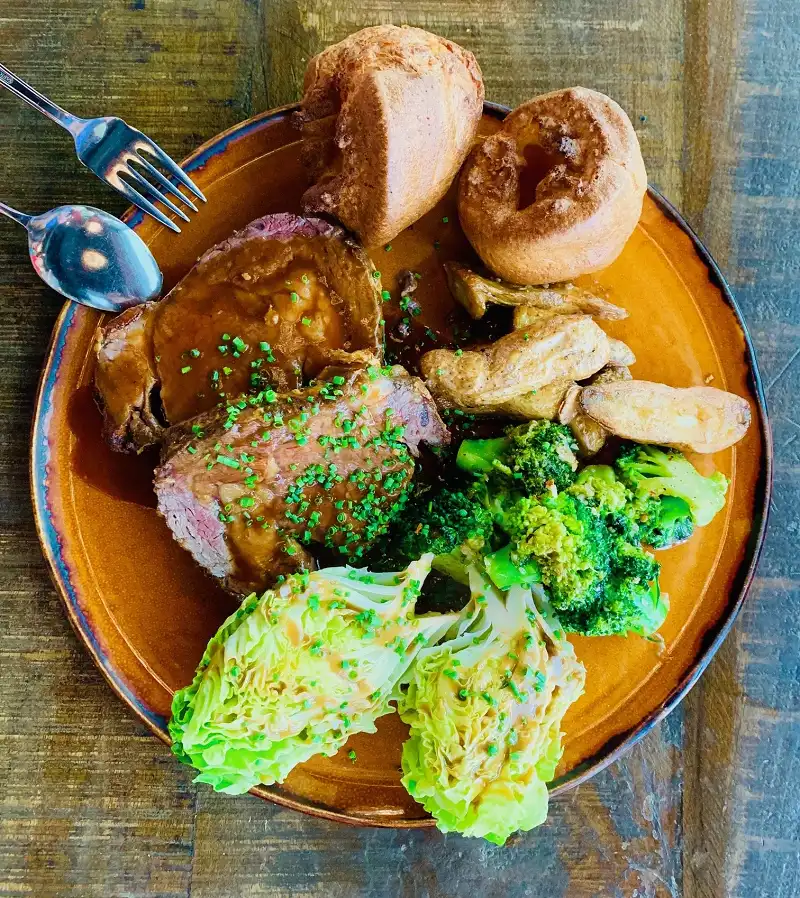 OK on the new menu for brunch is this bad boy. I say bad boy with the utmost respect because this is a cracker of a dish. Simply stated as; English Roast Ribeye. It comes with Yorkshire p[uddings to die for, smoked broccoli (I kid you not), crispy potatoes and a super savoury red wine sauce. The steak is like 2″ thick and perfect medium-rare. It kicks arse. We ordered the additional blue cheese, and also the creamy horseradish sauce. Perfect bed-mates for that meat. I used the left-over Yorkshire pud as a mopping up 'bread' for the garlic butter residue from the bone marrow – yes bone marrow, read on.
We had to try a burger too as these are new from the Chef. And hell yes it was just brilliant. It even comes with Raclette cheese and some bacon. BOOM!!! But, yes we had over-ordered. But we gave it all a good shot. I think even Chef was impressed with the amount the 4.5 of us consumed. We certainly were impressed with each other.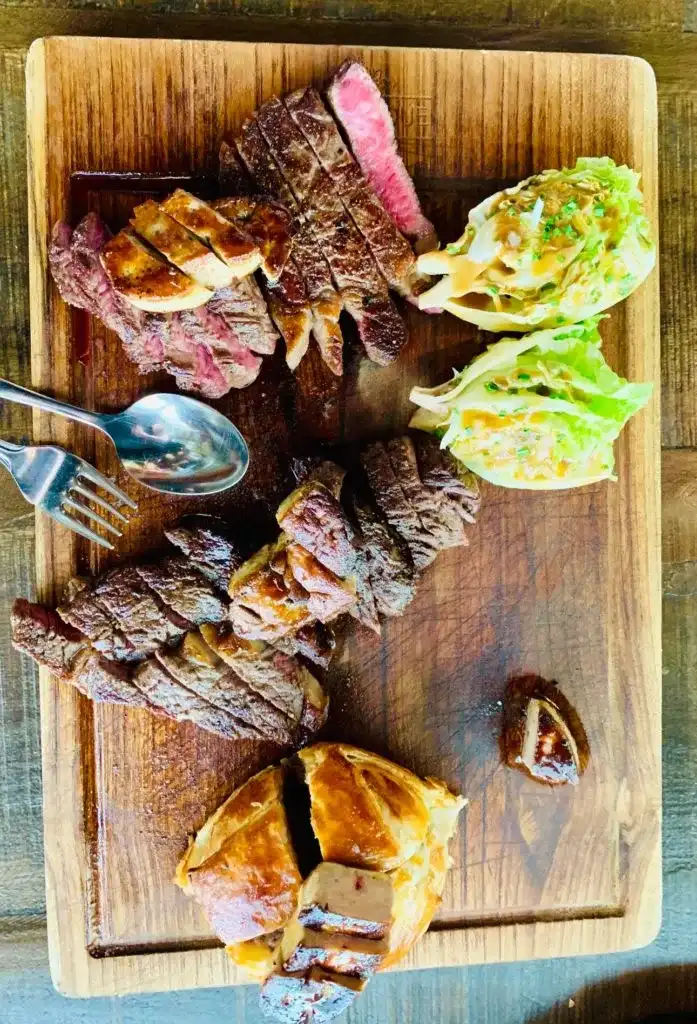 We hit another dish from the new menu. The Beef Platter for three. Hanger Wagyu, Black Angus Ribeye, Beef Wellington, Baby Romaine and Red Wine Jus. Oh yeah, we decided to 'up-size' and add on two portions of Foie Gras. Hey, when in Rome… Or when in France rather… Also, bless the Chef we were allowed to have half medium-rare and half medium-well. Top left is mine and Ollie's of course.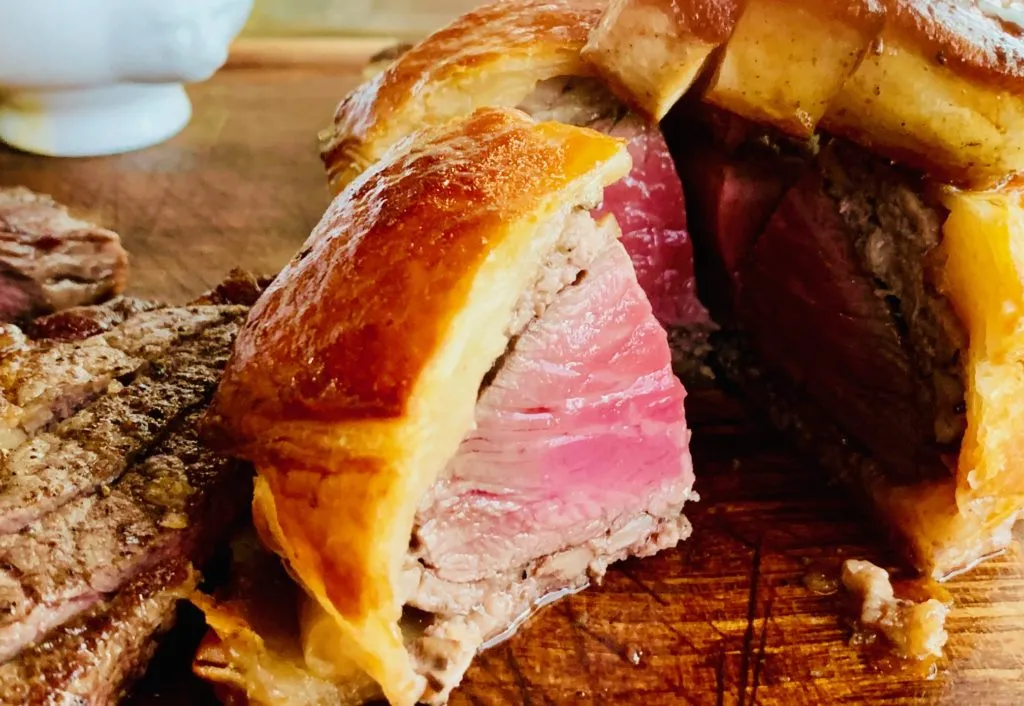 On that platter is this puppy. The Beef Wellington. How beautiful is that? It's food art. The mushroom 'pate' of sorts, is killer. Steak to perfect medium-rare and pastry to literally keel-over and pop your clogs for. It's a stunner and you can just order this as a stand-alone too. Cracking!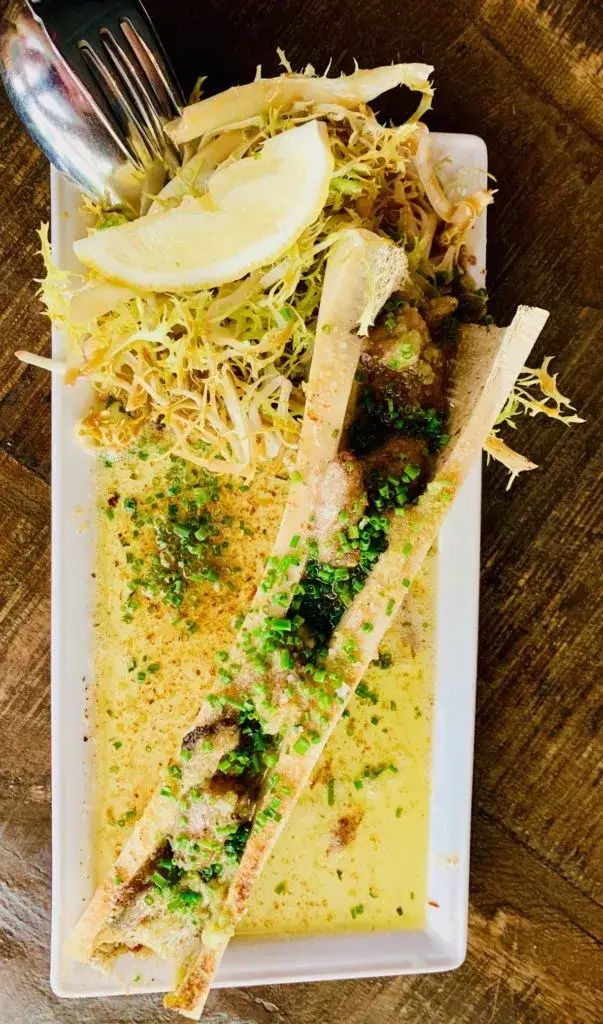 This place really is 'Death-Row' cuisine. It really is. We can't stop coming back. Literally any excuse, usually after Chef Stefan has posted some amazing food snaps of what he just created. We're like, shit, book a cab and table and let's get over there. If you have not been, you simply must. Come say hi to Stefan and Nico and enjoy the food and ambience. It's right up there with the very very best believe me. And today for New Sunday Brunch Menu + our mate Chef Stefan @ Bar-Roque Grill was no exception.
Let me just share the few words they say about themselves which ring true every single time we come here; "We celebrate the artisanal craft, which is why our highly sought after charcuterie, rillettes and terrines are made from scratch in-house. Our latest pride and joy? A customised chiller for an exclusive meat ageing programme, a dream of Stephane's for many years that was transformed into reality after his immersion with butchers in Paris and Strasbourg to learn the finer art of dry-ageing meats. A special hunting menu to celebrate the game season, spectacular seafood platters and a spotlight on French classics…it's always going to be a special meal at Bar-Roque Grill."
So that was that. That was New Sunday Brunch Menu + our mate Chef Stefan @ Bar-Roque Grill. We had to get home and lie down to ease the food coma we were all suffering. You just can't help yourself but keep going, and keep eating. Packing it away, as a squirrel would preparing for winter. Chef and crew that was a simply stunning lunch thank you. We will be back for more from the menu for sure. Folks get yourself a taxi booked and come see the crew. It's an absolute certainty you will.
Bar-Roque Grill's wine offerings offer pairing opportunities to enhance the gastronomic journey.
To complement their varied, dynamic menu, the Grill offers two phenomenal wines: Chateau Devise d'Ardilley Haute Medoc 2021 and Marquis De Monds Margeaux 2014.
The Chateau Devise d'Ardilley Haute Medoc 2021 is a splendid red Bordeaux from the renowned winemaking region of France. Bursting with rich mineral flavours, earthy tones, and a vibrant medley of red, black and blue fruits, it offers a spectacular partnership for Bar-Roque Grill's beautifully cured meats and charcuterie. The complexity and refined characteristics of this wine work perfectly to balance the robust, savoury flavours of the food.
Meanwhile, the Marquis De Monds Margeaux 2014, a Bordeaux red with its own distinct charm, brings a harmonious blend of ripe fruits and subtle earthiness that accentuates the taste profiles of Chef Stephane's authentic regional specialties, such as the choucroute garnie and tarte flambée aux escargots. Its intricacies play a delightful symphony on the palate, making every bite of the paired dish a memorable one.
To dine at Bar-Roque Grill is to journey through the flavours of Alsace in the heart of Singapore, with each dish offering a new adventure, further elevated by the accompanying Bordeaux wines. The Grill, recognised for its consistent quality and value by the Michelin guide, promises an amazing dining experience, and the addition of these two celebrated wines, Chateau Devise d'Ardilley Haute Medoc 2021 and Marquis De Monds Margeaux 2014, only serve to enhance this promise.
Bar-Roque Grill Address & Telephone
Address

:
165 Tg Pagar Rd, #01-00, Singapore 088539