Sandwich Saigon Cafe @ Katong
Sandwich Saigon Cafe, excellent Vietnamese food in Katong
I wrote about this place years ago. Do you remember? I wrote about how incredible the owner is at Sandwich Saigon Cafe @ Katong, and how she is making her own baguettes every day and her own soy and fish sauces.
Clearly, it has been years and it was time to revisit. Wifey and I had the chance to have lunch too as I was working from home this day after a trip to Melbourne for work. Stars aligned for 'date lunch', and so did the food stars align at Sandwich Saigon Cafe @ Katong.
Everyone raves about Long Phung down the road at Joo Chiat, as I have before in my BLOG. But prepare for the queue and prepare for the cash-only payment, which has burnt me once before with a long sweaty walk to the nearest ATM, 1km away.
So, all you East Coasters, look no further for a Saigon Cafe and get your bum here to Sandwich Saigon Cafe @ Katong. I had forgotten just how good this place is and the food they pump out at lightning speed. It is exceptionally good and well worth the visit.
Oh yeah did I mention? 24x7x365 Happy Hour on Sapporo's @ $5 only. Happy hour = Happy days = Weeeeeeee!!!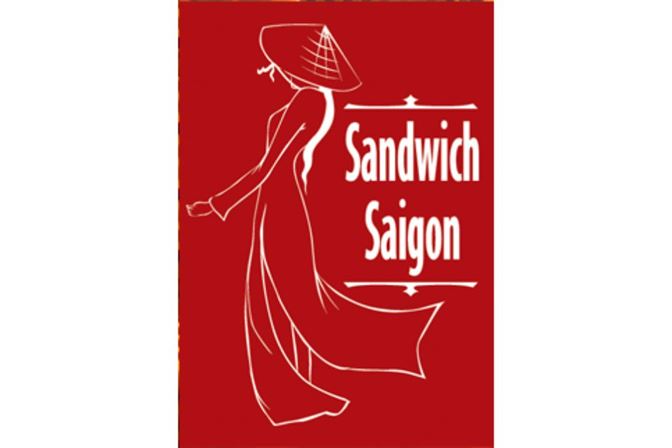 Here is that first food blog review I wrote years ago for Sandwich Saigon, Katong's Saigon Cafe
Let's hear from Sandwich Saigon
What is a Vietnamese sandwich that you'd eat at a Saigon Cafe?
"Vietnamese Sandwich is called Bánh Mì in Vietnam, which actually uses Vietnamese baguette, a crisp-crusted light, and airy baguette bread, and transforming it into delicious variations of the submarine-style sandwich.  After the French left Vietnam in the late 1950s, they left behind Banh Mi as reminders of this part of history.  The most common version of Banh Mi features thinly sliced pickled carrots and daikon (known as ðồ chua), cucumbers, coriander, chili peppers, pâté, mayonnaise, and various meat fillings.
Popular Bánh Mì meat fillings include steamed pork belly, pork chop, Vietnamese ham (chả lụa), etc.
We have always wondered why there are no authentic Bánh Mì shops to be found in Singapore to cater to Bánh Mì lovers.  That's why we came up with the original idea to set up Sandwich Saigon in Singapore and bake the freshest Vietnamese baguettes daily from our kitchen, and also cook the fresh meat fillings ourselves, to make the tastiest Bánh Mì for our customers. 
The lady owner Kelly's family operates a Bánh Mì factory in Vietnam, Sandwich Saigon is based on her family's recipe to bake the baguettes from the dough that we make from scratch every morning.
Our goal is to provide fresh, healthy, and authentic Vietnamese food to our customers.  We start our day from 5 o'clock in the morning to make fresh dough for baguettes and use carefully chosen fresh-from-the-market ingredients and top-quality Vietnamese fish sauce to make meat fillings such as Vietnamese ham, pork belly, and the pork chop marinated with the house-made sauce, and the meatball sautéed with the tomato-based sauce so that our customers can taste the freshness in every bite of the sandwich.
Our other signature dishes like Cõm Tấm(broken rice), Phở (rice noodle soup), Buìn (rice noodle), Gỏi Cuốn (fresh spring rolls), and Chả Giò (fried spring rolls) are also using the ingredients imported from Vietnam to maintain authentic and genuine taste."
Text courtesy of Sandwich Saigon
Sandwich Saigon Menu (2022)
Let's see the food we've consumed at Piedra Negra Singapore - authentic Mexican cuisine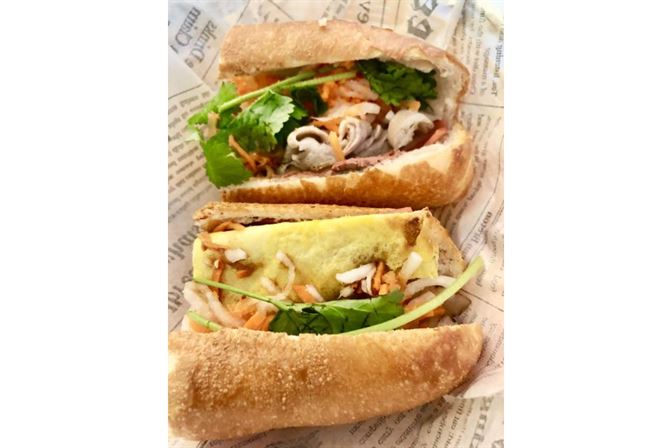 Yep, I could not resist my very own Bánh mì. I went for Saigon Special with extra Pate and Omelette. Well, you just have to right? I drizzled the homemade soy and fish sauce over and took a bite. 1st is an incredible CRUNCH of the homemade baguette. Best baguettes EVER!!! So light, but so intensely crunchy. Amaze-balls. Then you get the crunch of the veggies and the daikon. Then the savoury flavour hit. OMG, the best sandwich on the planet. I love you, will you marry me (sorry wifey)? This is food porn in the picture and in the eating, you simply have to try this.
@ $10.80 (with pate and egg)
#1bestBánhMì
@bestVietnamesesandwich
#bestVietnamesefoodoneastcoast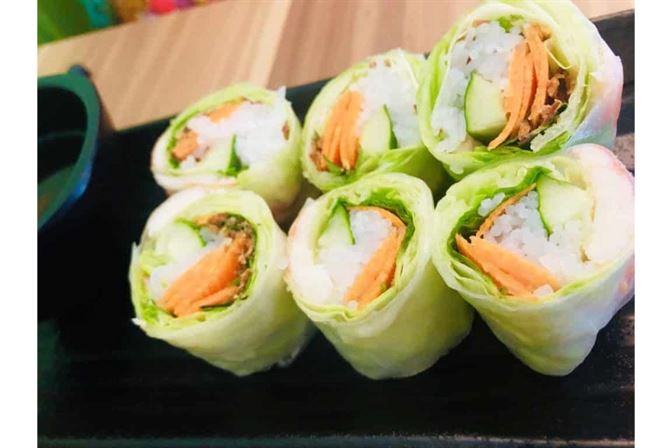 Wifey goes for a rather healthy option as she was not too hungry, but then ate about half of my Bánh mì, MWAH!!! Here are the fresh prawn spring rolls. When I say fresh I think the prawns were literally scooped from a bath and the veggies picked on the spot. You can just tell the freshness from the look, but then the crunch, slightly pickled veg, and a wee dip in the fish sauce and you are indeed in food heaven. Simply amazing food here.
@ $3.50 one piece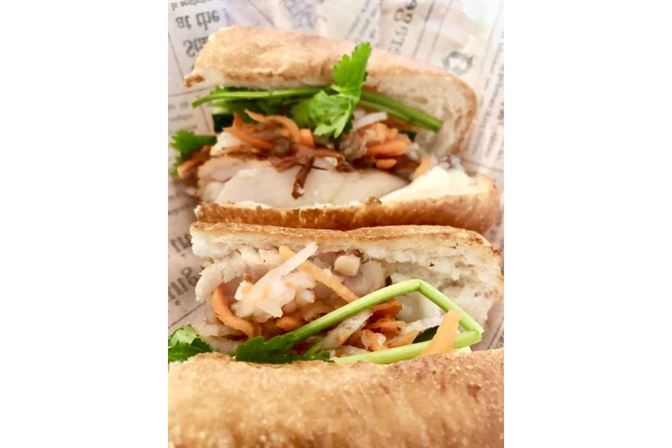 Here is Jude Jude's takeaway sandwich. Simply called – Smoked Chicken Sandwich. Jude couldn't say what it was because he was eating it all up so quickly that he had no time to speak. Yeah, he loved this to the very last little morsel. Cracker!!!
@ $9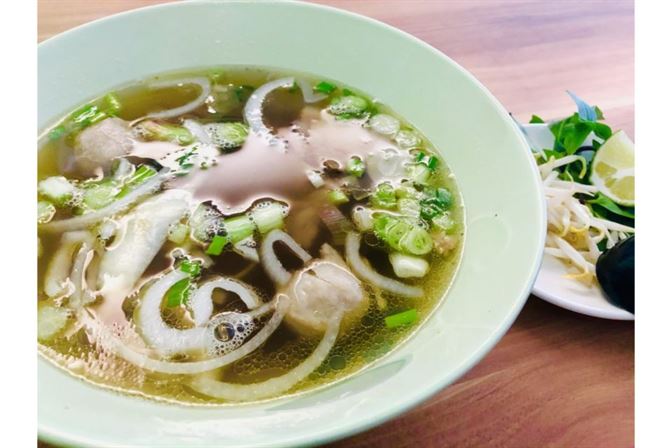 I got stuck into the Pho Bo with no noodles. Yes, there is that option, which is great for me on my low carbs gig at the moment. If only you could smell the fragrance coming from this broth. This broth takes like 8 hours to make ++. It is a labour of love to get this as it is. I know as I have made this myself – for the family, but also for Kilo Under Pressure, remember? This Pho is incredible. I will have this over and over again now when we come back here. It really is an amazing dish. Again I cannot emphasize the freshness enough. Beautiful food here, just beautiful.
@ $10.90
Let's check out the outside of Sandwich Saigon so you never walk past this place again...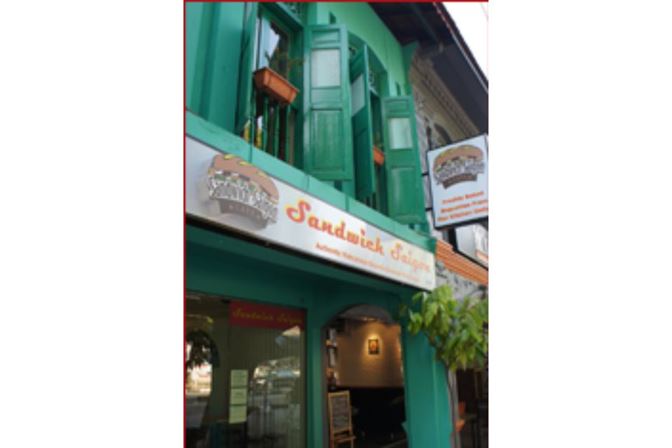 A humble little abode, but packed with flavour. It really is tiny inside nd a little cramped, which is awesome as it reminds me of times in Hanoi, crammed in a little restaurant devouring the local fare. 
Our conclusions of Sandwich Saigon
And there you have it folks, my re-review of Sandwich Saigon Cafe @ Katong. What an absolutely cracking lunch for wifey and me. It was seriously off-the-charts good. All of it. Jude ate every last little scrap of his sandwich too when we collected him from school. Big thumbs up from the wifey too. This is 'die die must try food' folks believe me. Get your bum on a bus or bike and go chow down in here.
Let me just advise too that all the food above, and two drinks for wifey and I came to only $48.20. I kid you not. How incredible is that for value for 1st-class food? It is WOW!!!
Some of the very best Vietnamese food I have ever eaten. In fact, I will say that the Siagon Special Bánh mì is actually the VERY BEST I have ever had. Exquisite with a little of their homemade fish and soy sauces, with that light, fluffy, and super crunchy baguette. Heavenly. Try it – ENJOY!!!
What are the opening times of Sandwich Saigon?
Opening Hours
    •    Monday – Friday : 11.30am to 2.30pm / 5.30pm to 10.00pm
    •    Saturday – Sunday : 11.30am to 10.00pm
What are the contact details for Sandwich Saigon?
Telephone no. (65)6345-3849
Email: sandwichsg@gmail.com
Facebook:  http://facebook.com/SandwichSaigon
What's the address of Sandwich Saigon?
Where else can you find exceptional Vietnamese food in Singapore? Perhaps if you couldn't get in at Sandwich Saigon. Click for reviews below...
And how about trying some of ISLIFEARECIPE Vietnamese recipes in your very own kitchen?
Connect with Us on Social Media