I cannot believe that it has been a full seven years since we last visited Colbar. I searched iPhoto and the last I col find was when our BFF Gordy left us to move to Malaysia. Clarky, Woody, Kev, Paul and all the ladies and kids were present and we had a stonking afternoon. But it was before Jude. It really was that long ago which is just crazy. I really cannot quite believe it. So today we change that. We're off to the Natural History Museum, see that blog on ninakennett.net which is sort of across the road from Colbar. So it made perfect sense to visit. We hit them hard. We were the 2nd arrivals for them today, rocking up at 1130am. And thank goodness for that as it got rammed about midday, like RAMMED!!!
I did absolutely notice an increase in the $$$ status of the place. When you have individual dishes up around the $35 mark you really are expecting best-of-best and potential fine-dining. But for those who have been here that is not what this is. It's punchy now on the $$$ front and it is in the middle of nowhere so add $50++ of taxi fares and it is not a cheap date. But I suppose you pay for the entire experience, not silver-service but what do you expect from Colbar.
Honest and bloody good, no-frills food. That's what you get!!! That's why people keep going back again and again.
Let's have brunch and a look at;
Colbar, a revisit 7 years later…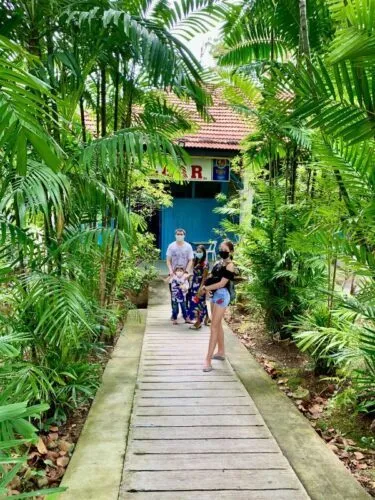 This place is timeless. It really does not change. It does not age. And that includes the staff/owners. The Nan & Grand-daughter were here today and they look EXACTLY the same as they did 7 years ago. Quite amazingly so actually. Makes you wonder if Colbar is in some time-warp thingy like the series DARK from Netlfix. Looking good ladies!!!
Everything is the same. The boards with the Japanese Kanji from the occupation during WWII, to the picnic chairs and tables. It is exactly the same. Told you we got there early, empty apart from one guy on his own that was on the hooch at 11am bless.
It's so quirky here, AKA retro. Sort of 70's hits 80's. Long may it stay this way. It's just charm. It's the ethos of Colbar. It's why you love it. Can't quite put your finger on it, but you just love it. All ages.
Got to love those fridges. One of the most-stocked cider & real-ale restaurants on Red Dot, if you don't mind it from the bottle that is. They have an incredible array of different brands and flavours. I had Tsingtao to start & a cloudy lemon cider to finish. There's either end of the scale as an example. I think the library of books might a wee re-stock though…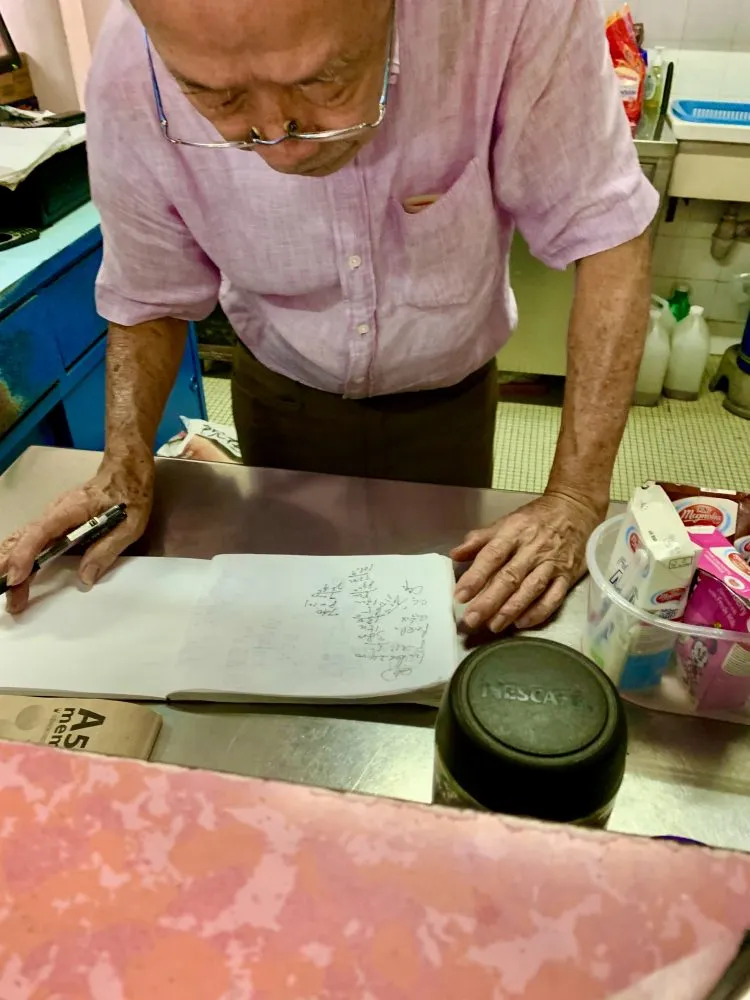 Here's the Uncle with his flawless system of ordering and taking payment – still religiously ONLY accepting cash with a hand-written ticket system for the kitchen. But he did mess up our order today as we had a beef bee hoon arrive by mistake and no mushroom soup as ordered. Looking at the scribblings I cannot comment. Maybe flawless is the wrong word to use…
But, when you get the chicken curry arrive all is forgiven. This thing is just off-the-charts best chicken curry ever. It really is. Goodness only knows what secret ingredients they have put in this? It's all in the sauce. I have this with chips and toast. It reminds me of Margate days after a good night ou getting curry and chips from the local Chinese. Memories flood back. This is just exceptional. Jude Jude had a go at this with me too bless him, and it is quite pokey on the chilli front. Proud to say the 6-year-old loved it too. It is a stellar dish. #1 and I are purists at Colbar and both had this today.
I also ordered this beauty. I have to get malt vinegar on something when I eat at Colbar, and there is nothing better than this dish for that. It is heavenly. Angels sing when this all gets muddled together. Some salt, the vinegar, the bacon & beans and some egg yolk and then spuds… Holy shit it is amazing!!! My two dishes would keep me coming back. Again, I am bemused as to why it has taken 7 bloody years. Perhaps due to all my mates leaving Red Dot?
Strawberry Blonde goes hard on the Pork Chop with chips and peas. Another simple dish, but a dish of simple beauty. So bloody good.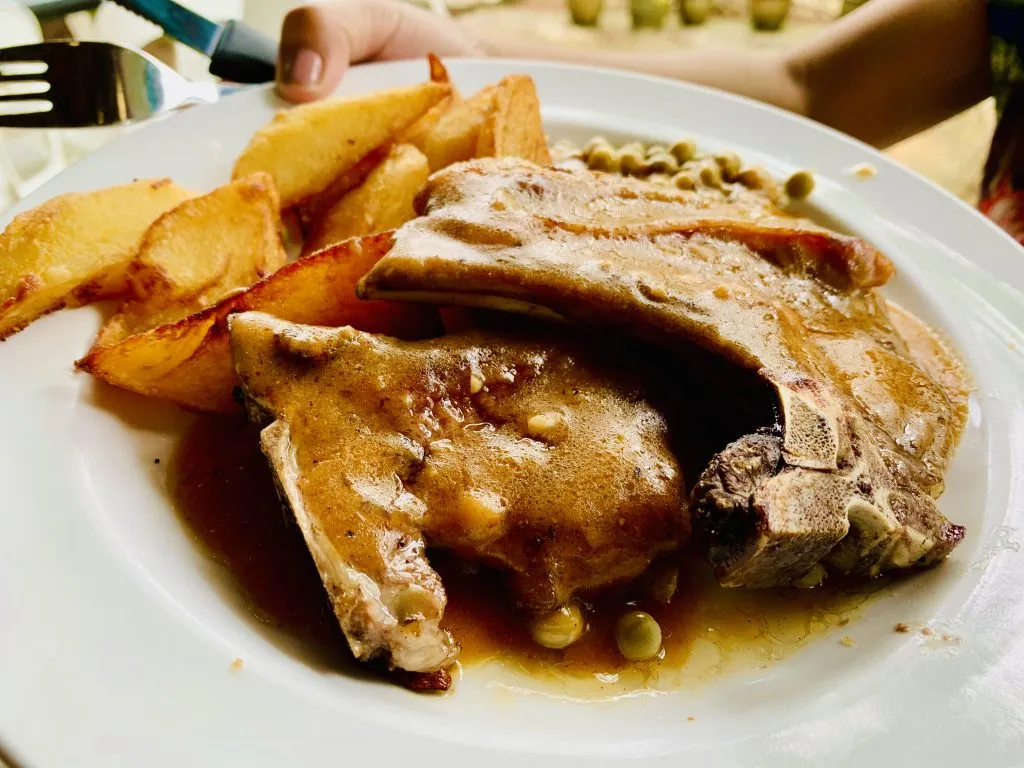 Wifey & Jude Jude decide to share lamb chops, but Jude Jude ends up eating all my lovely vinegar and salted chips and my bacon to boot. Love my co-pilot so that's all good, always of course. Wifey said lamb was, OK… Read into that what you will.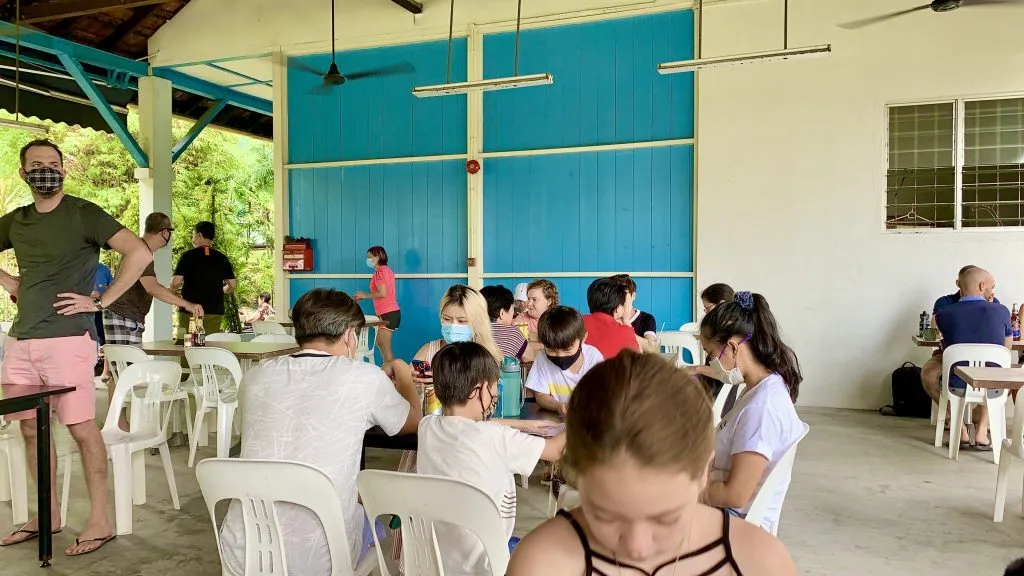 11th October 2020. No more than 5. Masks if not eating/drinking. Distancing. Almost no talking…
2013. Darling Buds of May sized family tables, all on it, having fun, sharing, shouting, laughing and giggling – damn you Covid-19!!! Missing our mates too!!!
The food was just bloody good. It really was. So sad now to have left it for 7 years. But looking back at those photos and seeing the mates and family crew that no longer reside here in Singapore I kind of get it. It really was a family gathering back in the day – you know who you are. It was a gang of us that used to frequent here. But they are now all spread to the four-winds in UK, Portugal, New Zealand and the like. We do miss our mates. But since then there has also been new stuff, including our very own Jude Jude of course. One day we'll all have a reunion I am sure, and I am certain that the Nan, Mum and Daughter will still be serving, only taking cash and serving up the best chicken curry a $ can buy. If you have never been it is an institution that you must try one day. It is a MUST!!! Just do it and – ENJOY!!!
Hainanese Pork Chops at Colbar are highly recommended and considered an institution of the restaurant. It is a dish that visitors should try if they only eat one thing there. Additionally, Colbar is known for its old-school selection of Hainanese western food and Chinese zhi-char dishes.
What is the history of Colbar Singapore?
, Colbar Singapore was established in 1953 as a canteen for the British army and their families who were stationed in the Wessex Estate area of Singapore. The establishment was named "Colbar," short for "Colonial Bar," due to its history as a gathering spot for colonial-era expats in the area
9A Whitchurch Rd, Singapore 138839