Vietnamese fast food? It is quality no matter what. Pho 24 some of the best Pho you can buy
Pho 24, the best Pho in Vietnam? You may or may not know, but I entered a photography competition with Singtel once, and I ended up winning. Surprise, surprise. I struggled to remember what I had entered actually, but could not thank them enough. What did I win? Well only a three-day, two-night trip to Ho Chi Minh, and a cooking class at Luke Nguyen's Cooking School, Grain, for Mary and me.
He is one of my favourite Chefs, and I have most of his books already, so I was massively excited. We left the older kids, but took Jude with us. What food fun in one of my absolute favourite cities on this planet, and of course, we get to dine at Pho 24, Ho Chi Minh one of the best Vietnamese restaurants in the city and one of our favourite pho places.
We have had Pho at this chain of restaurants before when in Hanoi, and I even introduced my mate Coleman to Pho Bo when he was a Vietnam-Virgin on his first trip to the country.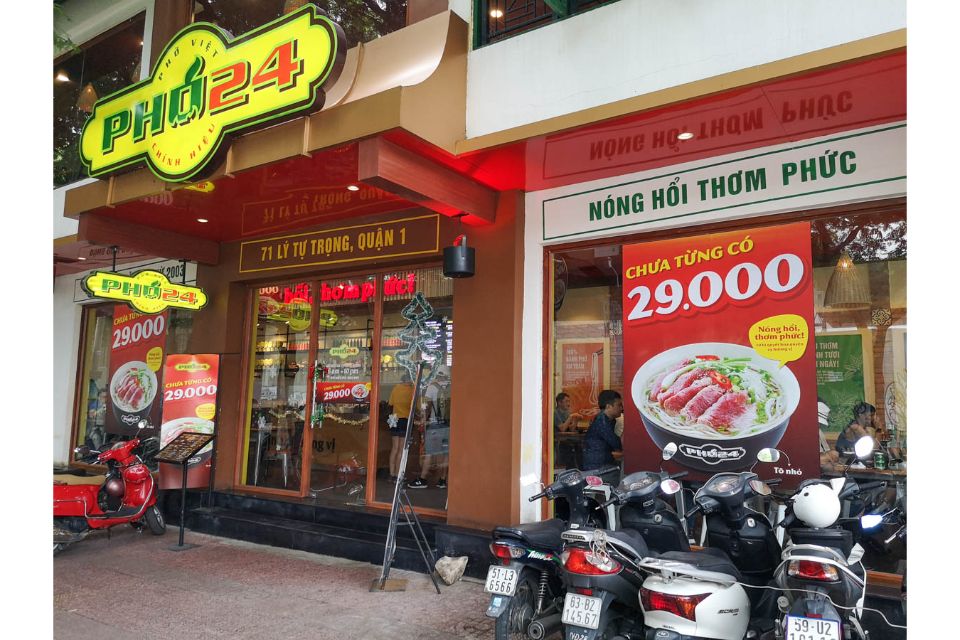 Pho 24, Ho Chi Minh was introduced to us as the best Vietnamese Pho in Ho Chi Minh by our taxi driver, and we went straight there whilst the hotel was making up our room. What a cracking 1st food experience in Vietnam for this trip, because it was indeed the best Pho ever. The broth is to DIE for, literally. I would have this as my death row meal, it is so very good. Great work Pho 24, Ho Chi Minh.
Let's have a little ISIFEARECIPE-dia on this iconic Vietnamese dish and Ho Chi Minh
What's the address of Pho 24 Ho Chi Minh?
Let's have a look at the experience at Pho 24, Ho Chi Minh
As far as I know, Pho 24 may be the only Vietnamese Pho restaurants that adheres to international standards. The iconic beef noodle soup, chicken noodle soup, and so on are only some of the many options available at Pho 24, Ho Chi Minh. It is all imported from Saigon and meets the same quality criteria as the other ingredients.
Elegant and polite, the Pho 24 restaurant chain retains the warmth and beauty of Vietnamese cuisine while maintaining a uniform quality of furniture design and staff support.
For those of you who haven't yet figured out what "Pho 24" means, the soup's ingredients include 24 special ones, it's cooked for 24 hours, and its price is Vnd 24,000 a bowl, however, due to the rising market price and Covid-19 issues it might be more like Vnd 40,000 now. Also, the Pho 24 chain will soon be open 24 hours a day in order to reflect its name.
Now, just to set the stalls straight here. 24,000 increased to 40,000 sounds like daylight robbery right? Er, do a quick Xe.com currency conversion and you will understand that even at the highly increased price of Vnd 40,000 that bowl of beefy yumminess is going to set you back a mere SGD $2.40 a bowl. That's less than Singapore hawker food these days. Amazing pricing for incredible food.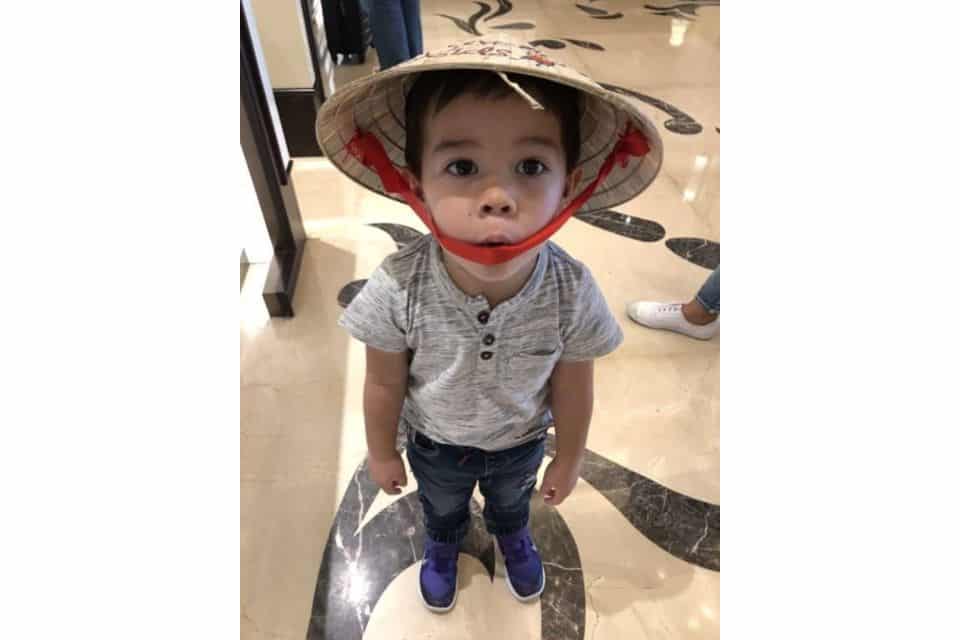 Jude Jude started the 'let's get local' process when we landed in Ho Chi Minh, Vietnam, this day. Good work son, you have blended in.
But now get your foodie game face on Jude Jude, we're going Pho hunting!!!
Let's take the advice of the taxi Uncle and go to Pho24. Hold on. a minute, it's right across the street…
Pho Bo is a thing of BEEFY BEAUTY!!! 
Pho Bo is an incredibly complex soup that is served so simply with no fuss, and no airs and graces. Do NOT forget, this has taken TWENTY-FOUR hours to make the broth and contains TWENTY FOUR ingredients. 
Optional garnishes usually arrive on a plate per person; 
Asian/Thai basil (hung que)
Leaves of thorny cilantro (ngo gai)
Bean sprouts
Thai bird or dragon chillies, thinly sliced
Lime wedges
What is the perfect accompaniment for Pho Bo at Pho 24, Ho Chi Minh? Two things actually…
An icy cold 333 beer
Family 
Wherever you go in Vietnam, make sure you search this brand out. This was 5 minutes down the road from our hotel, and also recommended by the limo driver.
It's a Vietnam food Mecca!!!
Nothing posh here, just superb food at incredible prices. Super-busy, but very comfortable and a great place to watch the world go by outside (AKA scooters) with this delicious food and icy cold beverages.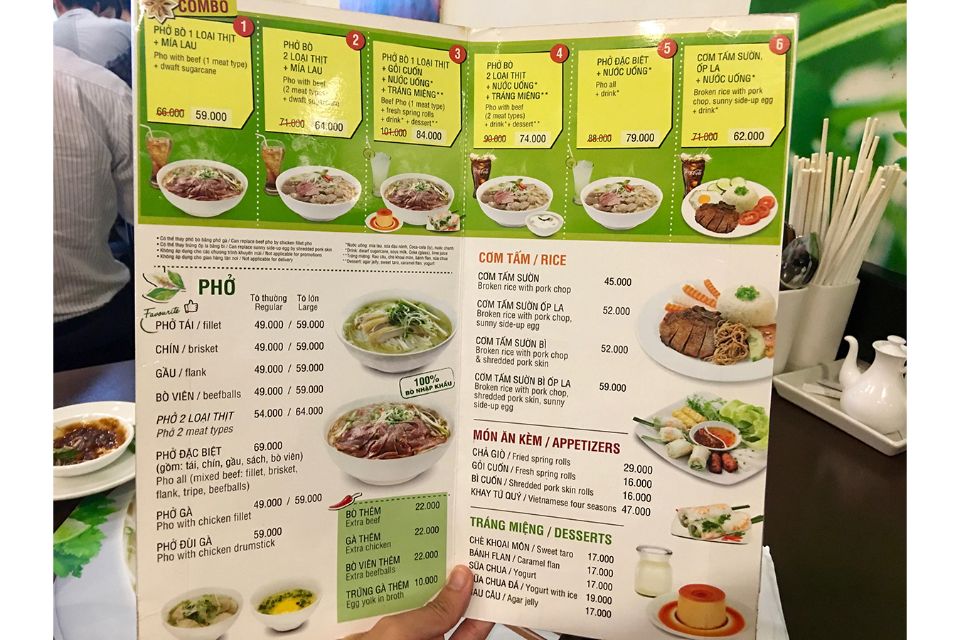 Our conclusions about Pho 24, Ho Chi Minh
One of the leading Vietnamese food corporations, Nam An, owns the Pho 24 restaurant chain. To now, they have a total of 60 Pho 24 restaurants in Vietnam and another 17 all throughout the world.
Pho 24 is a good option if you're looking for authentic pho but don't want to deal with the hassle of a roadside vendor. Served quickly and affordably, the pho here is truly a complex pleasure with notes of cinnamon, star anise, and basil. Sautéed beef cubes, grilled pork chops over rice, and lemongrass shrimp are also on the menu.
What an amazing start to our Vietnamese food adventure on this trip. I love the fact that the old limo-driving uncle said the best was Pho 24, the one we also viewed as the best in Hanoi.
This was our first step into food of Vietnam for this trip at Pho 24, Ho Chi Minh. We all left so very very happy because my goodness they do indeed bang out a cracking Pho. Best ever. ENJOY!!!
How about trying some ISLIFEARECIPE Vietnamese street food recipes to cook at home?
Pho Bo Recipe – yes, I did indeed stay awake overnight to make the beef broth over 24-hours, this is my very own version of making this iconic Vietnamese soup

Penang Nua

– a stunning recipe for some Vietnamese street food (my version with a twist), made with beef and fresh basil and usually served on some breads

Banh Mi

– another iconic Vietnamese dish inspired by the French occupation with baguettes and pate, but this is my version of this street food