Vietnamese Penang Nua – Beef Curry
I was struggling one day for cooking the family dinner. I ended up reading my book on Vietnamese Street Food and came across the recipe for Penang Nua. That sounds interesting I thought. Clearly it got my juices flowing and I spun up this recipe, my own version. A Vietnamese beef and basil dish on a roti prata. Go figure!!!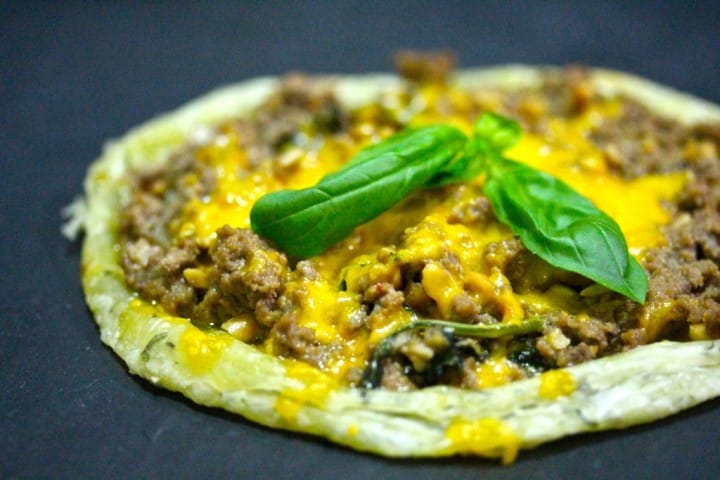 To make 5 mini Vietnamese "pizzas" or Vietnamese Penang Nua you will need;
500g minced beef;
1 tablespoon finely chopped garlic;
1 tablespoon soy sauce;
1 tablespoon fish sauce;
1 cup coconut cream;
1 cup roughly chopped sweet basil;
1 finely chopped chili padi;
1 packet grated cheese (any type will do);
1/2 cup crushed salted peanuts; and
5 frozen roti pratas.
This goes really quick as usual so stay with me – here comes Vietnamese Penang Nua.
Get some oil in your wok, get the heat on and fry the mince beef with the garlic;
When it is cooked through add in the soy, fish sauce, chili padi, and coconut cream and stir through;
Cook that through for another 5 minutes or so;
Off the heat and stir through the basil and peanuts;
In parallel get your oven heated to 240, and lay out your roti pratas and drizzle with a little oil;
Spoon the beef mixture on top as you can see in the picture;
Sprinkle some grated cheese on top and pop them in the oven;
Cook for about 5-10 minutes until the pratas puff up and the cheese has nicely melted.
Get them on the plate quick and then watch the plate empty fast. I have to say these were belters. My Vietnamese Penang Nua were damned good. All the usual tastiness you'd expect. Spicy, salty, beefy, herby – all in one. Oh yes!!!
ENJOY!!!
Connect with Us on Social Media