Ottoman Kebab & Grill, Bedok Mall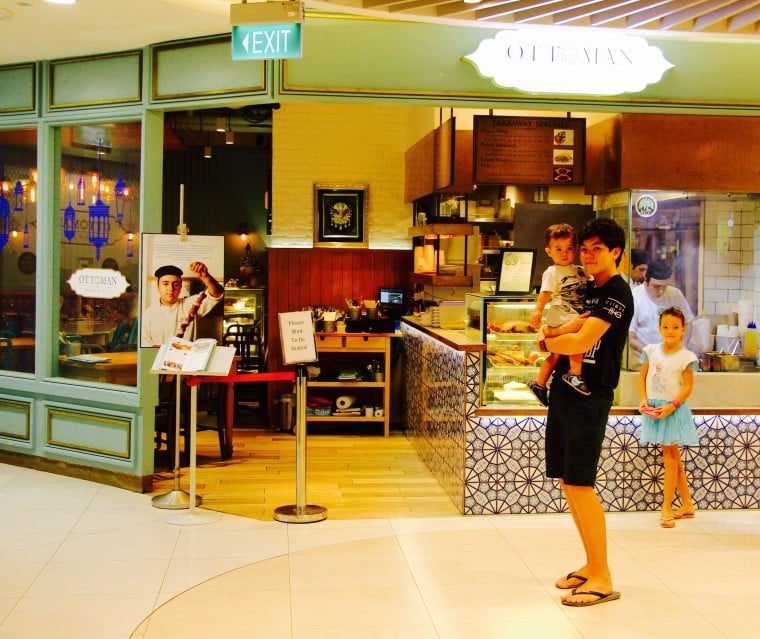 Here it is. A little poked away in a corner, but nonetheless one to search for is Ottoman Kebab & Grill, Bedok Mall. Today The Semi-Naked Chef and family made a bee-line there, having seen the joint on a previous trip, and having a family-wide craving for mutton kebab. I think a throw-back for Mary having seen me devouring that Margate kebab when I visited on my own a few months back now. Damn that was good too.
Located at #01-75 Bedok Mall, 311 New Upper Changi Road.
Maybe a little know fact, so always worth a back-to-back read of the menu, is that the Executive Chef at Ottoman Kebab & Grill, Bedok Mall is one of great reputation. Not just the fact that he has had 10 years culinary experience. In fact that alone is amazing. But no, how about this – he worked for 2 of those 10 years for Gordon Ramsay as Sous Chef at his Michelin Starred restaurant, Maze in London. Damn!!! And that Chef is Ali Kose – you can see him in the picture board to the left of the door above and actually cooking away at the grill just above Amy's head. Yep he was in session!!!
We had a fantastic feast, truly tonnes of food. And with the 5 of us eating 2 starters, 3 mains, a dessert, plus quite a few drinks @ $90 all in I thought damn respectful on the pricing too for the quality we got. One complaint, and one complaint only – get licensed guys. Eating a kebab with no beer – oh dear me – like having a w@nk with no hands!!! (sorry re that one).
To the food – usual style of pictorial and a wee explanation of the experience of the dish from those eating it.
One of the very best hummus I have ever had, without a shadow of a doubt. This was chickpea flavoursome, drizzled with quality olive oil and a dusting of spice. But then when you swallow you get citrus overtones in there too, a little garlic intensity and then it all sort of blends together. This was a cracker – loved it. We needed more bread though – our BAD.
Good choice here from Amy. Known as Icli Kofte. Or alternatively Turkish torpedo fried croquettes. This is minced lean mutton within the outer croquette – almost like a moist stew without any gravy. That outer layer of the croquette is made with Bulgar, and then fried to golden brown crispy-ness. Did I just hear someone say, what the hell is Bulgar? It's cracked wheat. Absolutely bloody brilliant this was. Almost akin to a Chinese dumpling with chewiness, but also with an amazing outer crunch too. Delicious. I could not help myself and nicked half of one. Good choice Amy.
Ollie and Mary go traditional – two Doner Mutton Pittas.
I love the way they call these things Doners. Is that who you'll be making your next phone call to request a new set of organs following the consumption of this rather fatty feast?
I actually made a bold assumption that this would be what you'd expect to compare to the Margate Kebab above in my previous blog. But actually not. It was way sweeter than I expected. A little heat there but not overly spicy. Very very delicious meat, like very delicious. And yes carved thin from the usual rotating spit of meat. A thing of beauty that is.
It doesn't get much of a write up to be honest, with the chicken version seeming to take first place as a 'popular choice' – but seriously for this Kebab expert it is indeed lamb or mutton all the way, so good choice family Kennett – and great job Ottoman Kebab & Grill, Bedok Mall, this was really very good. Did I mention a beer with it would have been excellent!!
I went for Chef Ali's recommendation – Iskender Mutton Kebab. Check out that photo. Oh man oh man oh man. Grilled patties of mutton, deep fried croutons underneath, with tomato sauce and a citrusy yoghurt. There was chili in there, but I couldn't tell you in what – potentially the tomato sauce. No wonder Chef Ali recommends this. I'd easily have this again when we come back. It was like sliced mutton kebab burgers in chili tomato sauce with crunchy fried bread and cooling yoghurt. Now if that doesn't float your boat, I suggest you get to the Dr's for a check-up.
Great work Ottoman Kebab & Grill, Bedok Mall – that is one classy dish!!!
I remember days sitting with my gorgeous Nan, as a kid, eating Ambrosia creamed rice. So seeing Turkish rice pudding on the menu for dessert I just had to have it. This version at Ottoman Kebab & Grill, Bedok Mall is called Sutlac. Name doesn't do it justice as that sounds like some gastro disease. This is a stunner of a dessert. A stunner. Rice pudding, cooked in milk, with sugar, I think a little cinnamon and topped with crushed pistachio. Oh my gosh – The Semi-Naked Chef is rating a dessert 5 out of 5 can that be? This is sweet but savoury and I LOVED it. A MUST have!!!
So folks if you happen to be over Bedok Way, and fancy a drift away from Asia fare to one of exotic Turkey, you seriously should try Ottoman Kebab & Grill, Bedok Mall. We did and it was bloody good. The Semi-Naked Chef says so, ENJOY!!!