Ollie's 18th Birthday Meal – Omakase @ Puri-Puri
A massively LARGE special occasion, so let's go LARGE for this birthday dinner. Ollie's 18th Birthday Meal – Omakase @ Puri-Puri was just that. Holy cow… and fish, and pig, and more cow and fish… Ollie and I were debating and debating what to do for this special, special day dinner. A lightbulb moment happened literally by both of is in synch. Let's get our Chef Greg face on, but let's have him go creative on us. Hence the Omakase. If you don't know what that is, have a little read below.
Firstly a MASSIVE Happy 18th Birthday to Ollie. AMAZING how fast that went. Hope you had a wonderful day matey. My #1.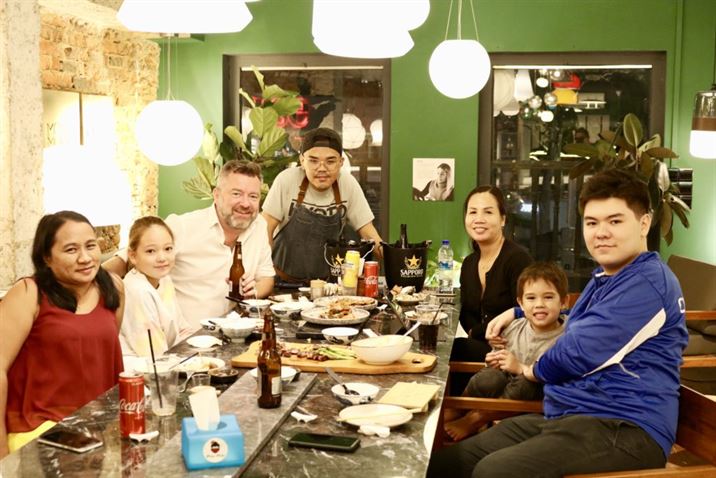 Daddy-Pedia time (well actually Michelin Food Guide); Few formal dining experiences are as revered or as intimidating as omakase, a form of Japanese dining in which guests leave themselves in the hands of a chef and receive a meal which is seasonal, elegant, artistic and uses the finest ingredients available.
In many ways, omakase is a spiritual companion and counterpoint to Kaiseki, the elaborate multi-course Japanese meal built around seasonality, quality ingredients and simple preparations. There is one key difference though. While kaiseki is a highly ritualized meal with a specific ebb and flow, omakase changes with each occasion, with the chef making decisions about what to cook mid-course. The truth of omakase lies in the word itself—directly translated, it means "I leave it up to you."
We chose our great mate Chef Greg's new restaurant location, which became Ollie's 18th Birthday Meal – Omakase @ Puri-Puri. You may remember Chef Greg from his days in the Siglap hawker scene, putting on a World 1st with Japanese Wagyu and the Thai BBQ style of Khun Mookata. That was incredible by the way, and we were there 1-2 times a week, easily. Now he has gone full-on Japanese after a stint at Mikawa @ Changi Business Park. His new gig is a co-share with a lighting company, called Puri-Puri and it is genius. He describes himself as a hole-in-a-wall cafe that offers Japanese rice bowls ranging from Kaisen Bowls to Japanese Wagyu Bowls. All that, at an affordable price for the community. Chef Greg is also the guy I have been buying that Grade A4 Japanese Wagyu from – that comes in a minute to our table too. Weeeeeee!!!
Over to you then Chef Greg. Make it happen fella. And fuck me, did he do himself proud. Ollie's 18th Birthday Meal – Omakase @ Puri-Puri. Let's get into it, shall we?
And that was that. #1 became a man. Party to come in November for his mates' gathering. Another surprise or two for him to come for that event ha ha. Watch this space on 23/11/2019. If you watch the video you will see that he even has his own personalised beer label (well cider). He's a lucky lad, and so are we for this amazing dinner. Puri-Puri rocked us tonight and made Ollie's 18th Birthday Dinner very special indeed. Happy Birthday, #1, hope you liked the pressies and the dinner. We sure did. Bring on the party. This was Ollie's 18th Birthday Meal – Omakase @ Puri-Puri. Get yourself to Puri-Puri @ 367 Beach Road, say ho to Chef Greg from us, and you surely will – ENJOY!!!