Lime House best Caribbean restaurant in Katong East Coast
First family lunch at Lime House Katong, yes this is lunch @ Lime House Katong (new for 2022)
It's just wonderful to have Chris and the Lime House crew now open in Katong. Today was a first for us with our lunch @ Lime House Katong (new for 2022).
Again, it has to be said that it was very sad to say goodbye to our mates at Rabbit Carrot Gun, but we embrace change and Lime House has certainly done that. The electric, cum neon, green and light airy design of the place is such a nice change. You really do feel like you are dining overseas on some Caribbean beach when dining at Lime House @ Katong, even down to the cool tunes wafting out over a warm breeze to entice you onto that beach feeling.
The only thing missing is literally your toes scrunching through white sand. So, today the family and I went for lunch @ Lime House, and a super lunch it was. 
Let's get Limin' Katong!
Get 10% off Lime House with Chope from Is Life a Recipe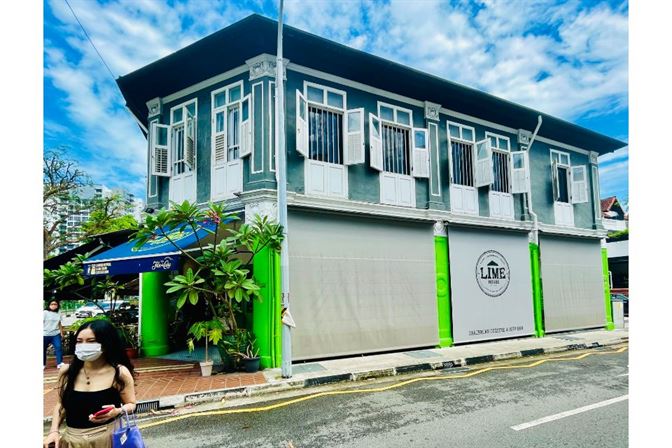 See what I mean about those Caribbean vibes. The green colour POPs, and attracts you in. If only those brown tiles at Lime House were talcum powder white sand because then it would be heavenly. Does that not look like a Caribbean beach bar/restaurant or what…? Still, lunch @ Lime House Katong (new for 2022) was very special today.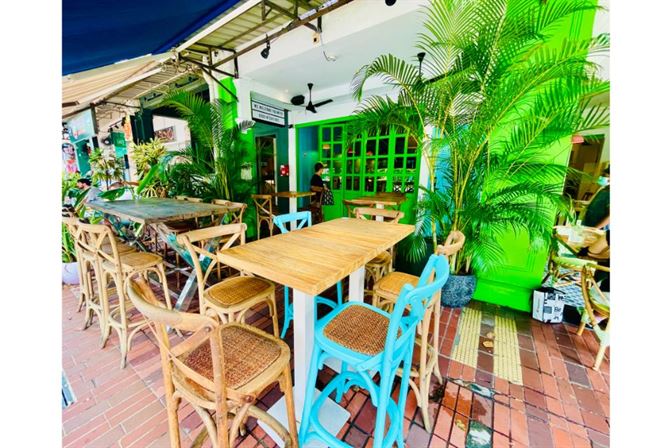 One kid caution callout for you is that depending on how good your kids are with slightly 'exotic' foods they might struggle with the limited lunch menu at Lime House. My kids were fine with lunch @ Lime House Katong (new for 2022), no, actually delighted with it however and we dug into 2x Jerk Chicken Skewers, 2x Sofrito Beef Steak, sides, and desserts.
Oh yes!!! You just know this is going to be so good. Jude Jude and I shared the chicken skewers and a steak between us, and boy oh boy they're so very scrumptious. The Lime House Jerk Chicken Skewers deliver a perfect balance of spice and then add to the rice you have Caribbean umami slapping your taste buds about all over the place. The Lime House Sofrito Steak was to die for. Perfectly cooked to medium-rare, seasoned spectacularly, and topped with this off-the-charts salsa. It's a WOW dish, it really is. I am pretty certain we'll always order this on every return visit to Lime House @ Katong.
Let's hear what Lime House @ Katong say about themselves
Let's get into that Lime House Katong Caribbean menu for 2022
Agreed, it is short and sweet. But, believe me, less is more, because the flavours are not. It's such a great menu with complex punches of sweet, sour, and spice. She is a beauty that's for certain. You must try the Lime House Jerk Chicken Skewers and Lime House Sofrito Steak, and man oh man those Plantains and Lime Slaw are just wicked bedfellows.
We is Limin' East Coast…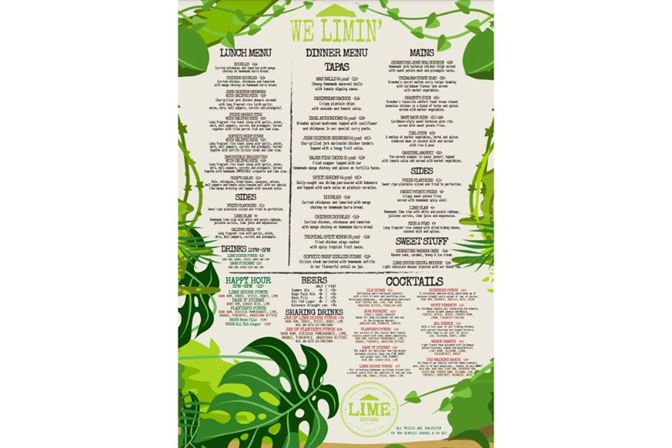 Here comes some food snaps from the incredible Caribbean fare of Lime House Katong
First up are some delectable mocktails from the Lime House Katong bar. A ginger-based and fruit-based version. Oh yes, happy kids for sure.
Lime House Caribbean Sides
LIME SLAW @ $5
Homemade Lime House lime slaw with white and purple cabbage, julienne carrots, lime juice, and mayonnaise. One word of caution – this is one big serving, and don't forget you're gonna get lime slaw with most of your main dishes as well… Just saying like…
We had sides of the Lime Slaw and the seriously good Plantains. Woof!!!
FRIED PLANTAINS @ $11
Sweet ripe plantains sliced and fried to perfection. Soft and mushy but so very very good. Beer food on steroids folks!!!
Lime House Caribbean Mains
JERK CHICKEN SKEWERS WITH CALYPSO RICE @ $16 Char-grilled jerk chicken skewers served with long fragrant rice (with garlic, onion, okra, bell peppers, carrots, and pineapple).
You'll find it hard to find a better chicken skewer on East Coast than this. Tender and moist and coated in this aromatic Jerk spice rub that just keeps on giving. You get ever-increasing warmth of the spice and then slao, pow, kaboom as flavour pops literally assault your mouth – caveat; in a VERY positive way. Mix a little of that chicken and jerk spice in with the Calypso rice and angels start to sing. She is a dish to behold.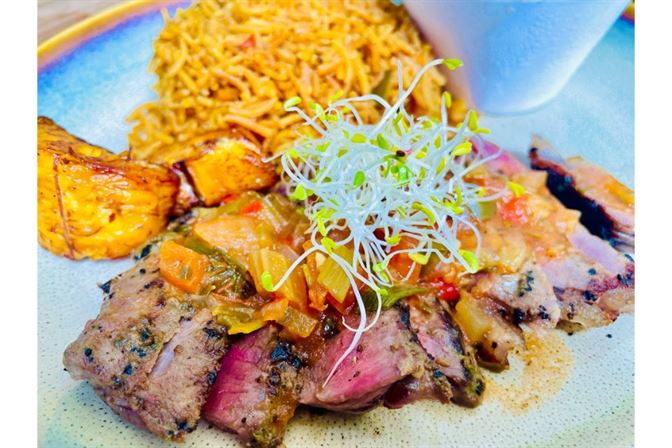 SOFRITO BEEF STEAK WITH CALYPSO RICE @ $22 Long fragrant rice toast along with garlic, onion, okra, bell peppers, carrots, and pineapple. Served together with sofrito Sirloin steak and lime slaw.
Oh, my giddy aunt. I complain a lot about steaks in restaurants for under-seasoning and toughness and chewiness. Not one word came from these lips about that today, just that this was nearly perfect. Seasoned to perfection, medium-rare pink2pink, tenderness personified, and then the addition of the salsa cum chimmi. WOOF!!! This is a BEAUTY!!!
Lime House East Coast desserts
To finish we went hard ordering both desserts and my goodness we're so absolutely happy that we did. These are two DIE DIE MUST TRY desserts. A heavenly chocolate mousse-style dish that packs a cocoa punch so not overly sweet, and then the most delicious and savoury banana toast. Simply an incredible rating for both of them.Up there with the absolute best that's for certain.
SIGNATURE BANANA CAKE @ 14 Banana cake, caramel, honey & ice cream. Oh my. This has a crunch like toast, but then soft and gooey in the middle, then savoury and sweet hit you, then salt from the caramel and and and… The dessert that keeps on giving is this. WOW!!!
Not to be underplayed by this bad boy from Lime House Katong. This is a dish of legend and one you'll be ordering again and again, once you take that first bite.
LIME HOUSE CHOCO. MOUSSE @ $14 Light chocolate mousse injected with our house rum.
Family Kennett was surely Limin' today at Lime House Katong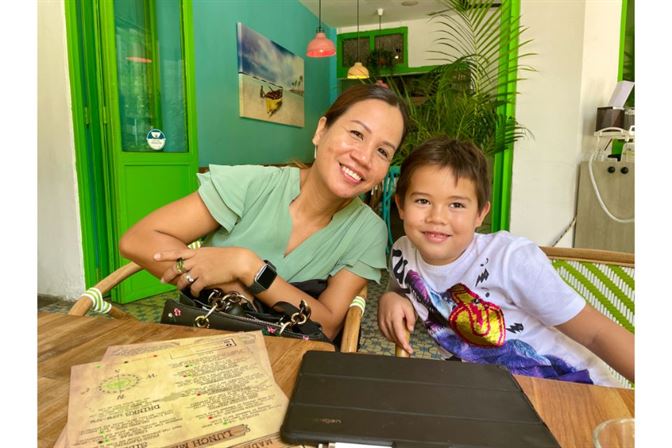 Our conclusions of Lime House @ Katong
We can't wait for dinner now and the chance to get stuck into the Lime House Katong goat curry. That is a must on our food list, so watch this space for a Dinner @ Lime House Review 2022 coming to a Singapore Food Blog near you soon.
So East Coast Foodies, consider yourself super lucky with the stunning variety of foods now available along East Coast Road from Katong to Siglap, now with the addition of the Caribbean and Lime House at Katong.
Let's get LIMIN' East Coast…
How about time for some ISLIFEARECIPE-dia, let's answer those FAQ's
Here are some more reviews from ISLIFEARECIPE of neighbours of Lime House Katong if you didn't book and couldn't get a table...
Connect with Us on Social Media