Get ready for Chimichanga Mexican Restaurant and Bar at PLQ
On a recent visit to PLQ Mall we spied this incredible site advertising Chimichanga is setting up at PLQ! Boy are we excited about this outlet joining us in the East Coast of Singapore!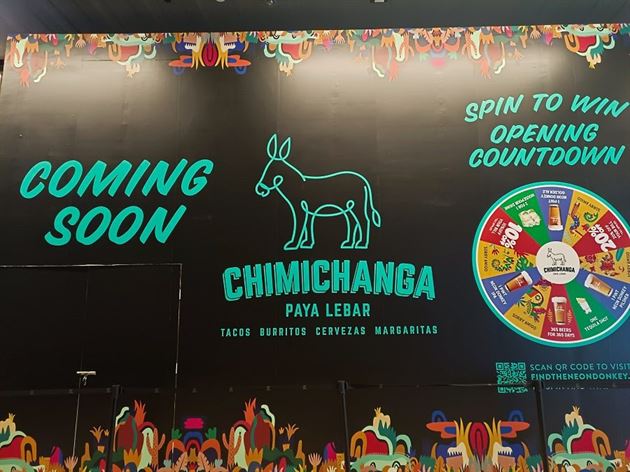 What's not to love about Mexican Food! Chimichanga Singapore started out its life at 36 Dunlop Street in Little India where the crew would serve up delectable quesadilla and tacos that went so well with their powerful Margaritas. There are many other food choices besides those two choices and too many to name here today so I have included Chimichanga Little India Menu below so you can see what to expect when the Chimichanga PLQ gets operational.
Chimichanga Little India is temporarily closed and is going through a makeover, so now we have two Chimichanga sites to visit upon opening!
If you can't wait to try their exceptional Mexican Food and Margaritas then head to the Chimichanga Hollnd Village Branch or either of the the two Chimi's outlets mentioned below!
Chimichanga PLQ Competition
The Chimichanga Team is all about putting Fun in F&B and this time is no execption. They have devised a teaser competition in the run up to the opening of Chimichanga PLQ called Find the Neon Donkey!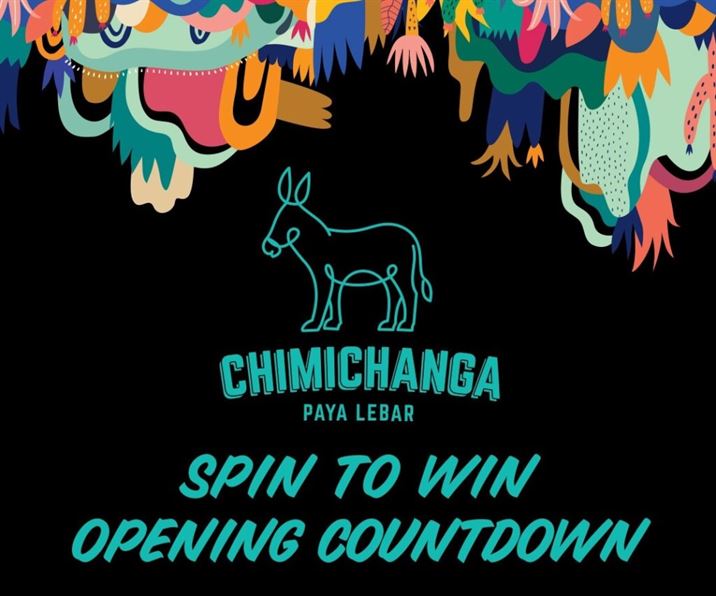 1. "Spin to win" game is organised by Chimichanga PLQ Pte Ltd and is open to participants who have registered. Do note you need to be a minimum age of 18 to participate. 2. Limited to one spin per registered mobile number and email address. 3. Rewards cannot be exchanged or redeemed for cash. 4. Chimichanga PLQ Pte Ltd reserves the right to change these terms and conditions, including the right to cancel the "Spin to Win" in such manner as they deem fit, without prior notice or reason, and without liability to such participant or winner. 5. Chimichanga PLQ Pte Ltd will notify participant's prize through the email address indicated on the registration page submitted by the prize winner of the "Spin to Win" wheel. Do note your entry will be voided if you have input a wrong email address. 6. Chimichanga PLQ Pte Ltd may use all contact information provided by each Participant to conduct verification and other actions in connection with the Contest (including but not limited to those actions stated in these Contest Rules). In addition to the above-mentioned, Chimichanga PLQ Pte Ltd may also use the contact details for any promotional, advertising (included targeted advertising) or marketing activities which Chimichanga PLQ Pte Ltd believes may be of interest to the Participant. This includes sending out marketing, advertising (including targeted advertising), communication and promotional materials to the Participants relating to any products, marketed or sold by its various Chimichanga or Chimi's outlets. If a Participant wishes to withdraw consent to any specific use of his/her contact details, he/she should email marketing@chimichanga.sg 
Another brand name within the Chimichanga family is Chimi's
I recently dropped by the Chimi's right next to Somerset MRT and had a great afternoon sipping Margaritas and people watching, a great sport on a Saturday afternoon!
The day turned into night very quickly and the food that flowed was exceptional quality, unfortunately the amount of Margheritas I had made me forget to take any pictures to share with you here!
Yes you guessed it right folks, Chimichanga Singapore offers stunning Mexican food with Island Wide Delivery right to your door via our friends at FoodPanda!
Chimichanga PLQ is currently being set up in the PLQ Main square, Address to follow once available!
36 Dunlop St, Singapore 209364
Chimichanga Holland Village
3 Lorong Liput, #01-02/03, Singapore 277725
1 Marina Boulevard, #01-01, Singapore 018989
313 Orchard Road, #01-25B, 313@Somerset, Singapore 238895
**Disclaimer**
Drink Responsibly
Islifearecipe does not propose that those who abstain from alcohol should start drinking in order to improve their health. In both the short and long term, excessive alcohol use may be harmful. Additionally, you may want to look up the health advantages and dangers of alcohol use on the websites of reputable national consumer organizations. If you have any concerns about the effects of alcohol on your health or medicine, you should speak to your doctor. This website is only for educational reasons, and the writers have gone to great lengths to ensure that the information provided is in accordance with the regulations pertaining to the drinking of alcohol.