The French Stall brings a bit of Paris to Singapore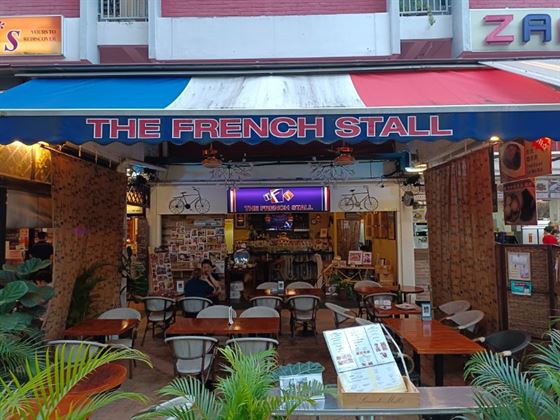 The French Stall many will know has its origins serving up the finest French food in Victoria Street and then later in Serangoon Road before closing down in 2016 so that Chef Xavier Le Henaff could follow his dream taking his French made boat out to sea in Asia.
Like all good plans something got in the way of his semi-retirement that involved boating and offering private dining experiences and that something was Covid!
January 2021 The French Stall came back into action this time at Changi Village a short distance from the Civil Service Club @ Changi that now houses Al Capones. The French Stall took on a 2-year lease to weather to Covid storm and give the locals in the East some French food at affordable prices!
French Food? it's why we went here right?
Prices have of course changed a lot overtime, with the three-course set meal being just over SG$10 back in 2000 compared to today's price of SG$42. That's 4 Times the price in 22 years. 
This is not The French Stall overcharging but the price of food today that has caused these much higher prices and at SG$42 it is still a bargain as you will soon see…
The French Stall Menu 2022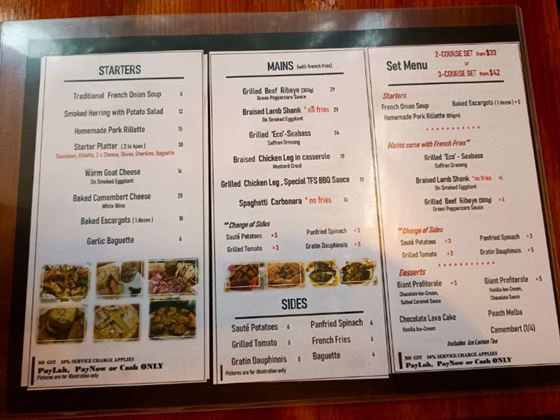 The French Stall Set Menu
The Set Menu 3 Course Set is as mentioned will set you back SG$42 whereas the 2 Course Set is SG$33 and you can opt for starter and main or main and dessert instead!
As you can see from the set menu there are some really good choices to be had with the choice of French onion soup, baked escargots, or the home-made pork rillette.
Mains are the Grilled 'Eco" seabass farmed locally nearby between Changi Village and Pulau Ubin, Braised Lamb shank (+SG$6, no fries), the lamb shank seemed very popular the night we were there and the Grilled Rib Eye (+SG$6).
Desserts included Giant Profiterole wit ha choice of Chocolate or Vanilla ice cream with salted caramel or chocolate sauce (+SG\$5), what a dilemma! Or the Chocolate Lava cake, Peach Melba or a quarter of Camembert.
3 Course Set – SG$42 - What did we Order?
Starter - The Pork Rillette (80g)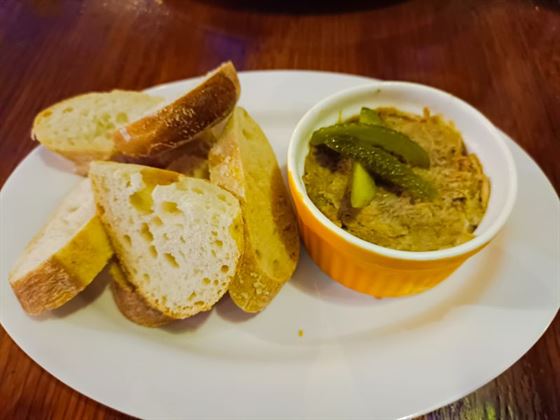 Main Course - Grilled Beef Ribeye (300g)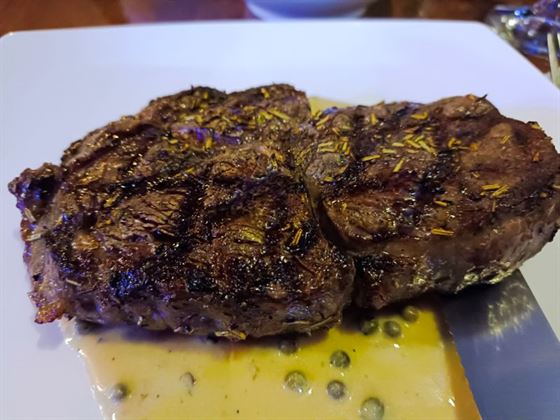 I ordered the Ribeye medium rare and that is exactly what I got, a plump 300g of NZ Ribeye that just melted in the mouth and was extremely well seasoned. The steak sat on a bed of green pepper sauce that accompanied the beef extremely well.
Just look at that doneness below, perfection!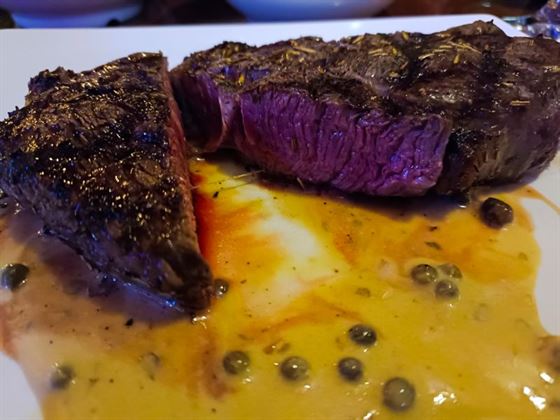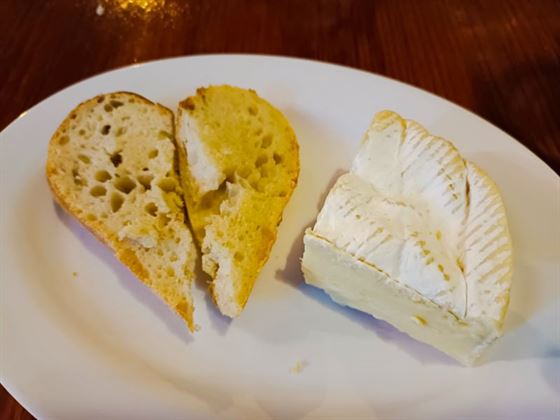 I Love Cheese – Pun intended! Ordering this was a mistake, not their mistake but mine!
The Camembert was silky smooth and tasted really good however it came with more bread, and I was running out of room for even more bread.
Should have opted for something sweet to round the meal off, note to self Chocolate Lava Cake next time!
The French Stall A La Carte & Specials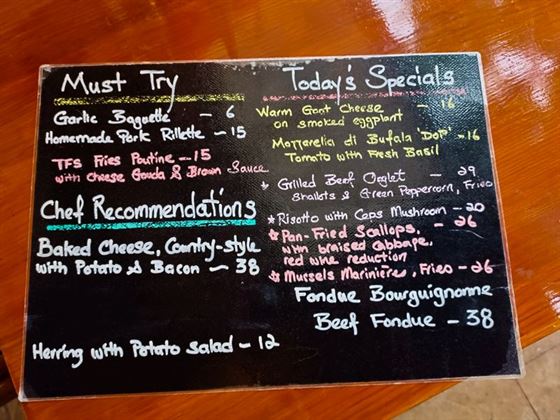 The wife being more health conscious than me proving why women live longer than men, opted for Warm Goat Cheese on Smoked Eggplant SG$16).
Great dish especially if you are vegetarian (not vegan), the goats cheese was a little torte for my liking but the eggplant was smooth and seasoned well.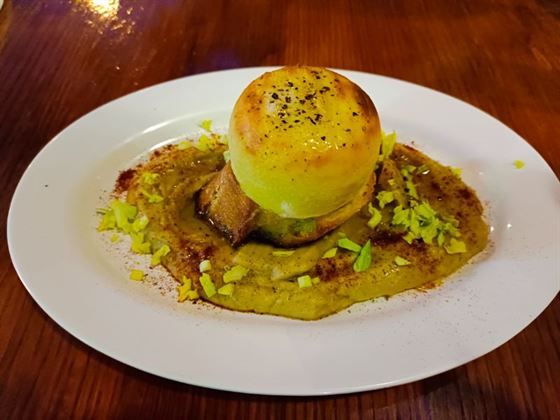 The freshly flown in French mussels that were quite exquisite, they cost SG$26.
The French Mussels came with a side of French Fries which came in the same bowl as mine (that can become a very territorial situation), but we were well fed and watered so they were shared equally. The mussels were small but plenty and sweet to the taste. The lite salty fish broth got slurped up at the end as it was delightful.
The a la carte cost came in at exactly SG$42 for the two courses. The wife said she will opt for Seabream the next time following the 2 Course set!
We opted for a bottle of very reasonably prices Bordeaux red wine 2016 that was SG$50. I did not bother to take any pictures of this as its just a bottle of French red wine but I felt it worth mentioning as any other French restaurant and the price would be nearer to double.
I topped the meal off with a digestive (no not the biscuit) but a Pastis (I had ordered a Ricard previously at Le Bonne Table, this sent the restaurant into a spin before I was finally told it's called Pastis, my bad!  I was in fact referring to Pernod Ricard the brand!
Unfortunately, Le Bonne Table closed down due to not being able to find staff willing to work so far in Katong! Such a shame! They still have Joséphine – French Cuisine & Wine Bar located at 97 Amoy St which we have yet to visit but is on our plans as soon as we get a chance!
The French Stall poured me a very large Pastis and gave me a big bottle of water which I definitely needed as it was very strong but got better as I got half way down! A great finish to a lovely meal at our new favourite French food restaurant in the East!
The French Stall Conclusion
The place is rustic and does remind us of our times spent in France, with a real French Chef making food from scratch you know this is the real deal and at these prices you can't go wrong!
The Food from start to finish was on point, all hand made and delivered by Xavier's family who are all very welcoming to their guests. Thank you for the good food and hospitality!
As Arnie says "I'll Be back!"
Make sure you book in advance as the place was very busy and I would hate for you to be disappointed! Tell them Spencer from Is Life a Recipe sent you!
Make sure you follow them on Instagram and Facebook for updates!
The French Stall Address & Telephone