Roasted Heirloom Tomatoes 'w' Anchovies – Open Sourdough Toastie
What if ChillaxBBQ started doing Toasties…? What if we had an actual shop selling different varieties for the time of day, seasonal varieties, veggie and meat options, some weird and whacky shit as well as old favourites, ChillaxBBQ daily specials and farmer's market style with local produce? Would you come and dine? Would you order a home delivery? For a few weeks now I have been creating some new recipes based on this Toastie concept, and here is one from today. Cooked for Wifey's lunch when she returned from work. She said openly without provocation that is was superb so that for me is a VERY good sign as Mrs K is a great and very honest critic of food – she'll tell you as it is. Literally, she WILL tell you as it is with nothing held back… haha. Scary sometimes, especially when fish is involved and I can't taste it before serving. And that is what happened today for this…
Roasted Heirloom Tomatoes 'w' Anchovies – Open Sourdough Toastie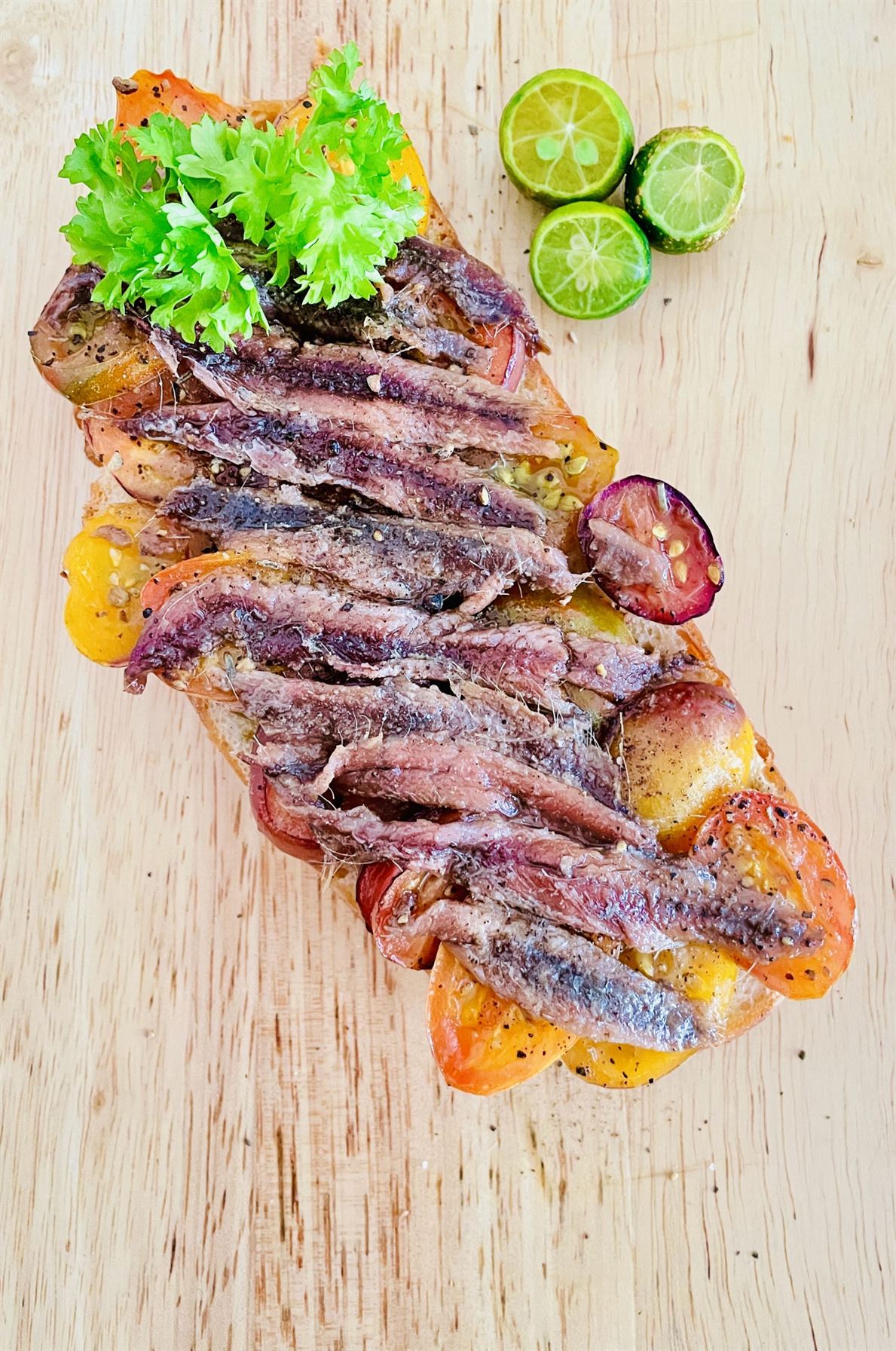 For a one-person serve, it's as easy as this – but then all you have to do is call or visit and we'll do it for you…
1x thick slice of sourdough;
Drizzle that on both sides with good quality Olive oil and pop it in the oven at 180 degrees until it starts to crisp and brown, and out she comes;
Lay on thinly sliced Heirloom cherry tomatoes – check out those colours;
Sprinkle with sea salt (secret recipe – not just sea salt) and cracked black pepper and back in the oven until the tomatoes soften up;
Lay one some anchovies in oil over the tomatoes – as many as you see fit as these are salty little buggers – and again back in the oven until they warm and soften up;
Out she comes for finishing and plating;
Serve that beautiful thing up – come on that looks all restaurant-like doesn't it?
And that is that. That is Roasted Heirloom Tomatoes 'w' Anchovies – Open Sourdough Toastie. She's a beauty and would be proud to sit on our new menu, of that I am certain. Wifey's commentary and feedback were that it was excellent. She described, without prompt, the textures, the sweet, sour and saltiness of the dish combined. She loved it. I am so happy. That's another one added to the list for sure. Happy days for the Beard-Clan – ENJOY!!!
Connect with Us on Social Media