Feng Feng Hainanese (Boneless) Chicken Rice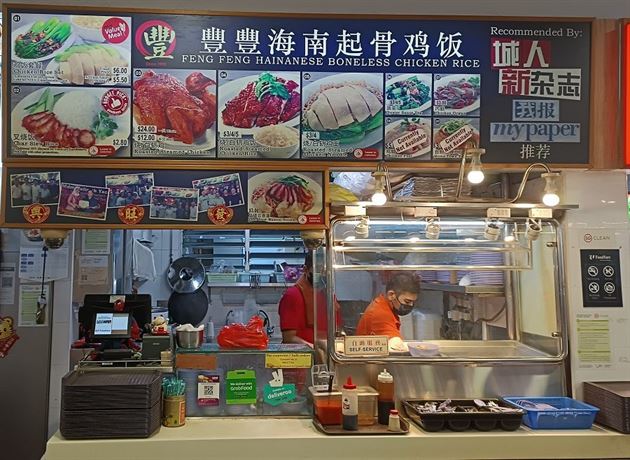 This post is about my Local Chicken Rice spot, called Feng Feng Hainanese (Boneless) Chicken Rice, I usually go there for the Char Siew Wanton Mee (SG\$3) but it sells out daily by 11am it's that good and I never take the time to photograph it for a blog because I can't wait to get stuck in, so when I went tonight to the Feng Feng Chicken Rice to DaBao (take away) dinner for the family I thought why not write this one up for their chicken rice!
The hawker centre its located in is at Green Forest and is run by NTUC Social Enterprises who run about 13 hawker centres across Singapore. Before NTUC Social Enterprises, all hawker centres were managed by the National Environment Agency (NEA). The NTUC Social Enterprise hawker centres are run on a not-for-profit basis which makes them more affordable than other hawker centres because the rentals are lower for the stall holders.
The word Feng you will recognise from Feng Shui, in that sense it means Wind, not a great name for a chicken rice stall granted but Feng in this sense means Phoenix but trust me it's Chicken not Phoenix they serve up!
Feng Feng Hainanese (Boneless) Chicken Rice Review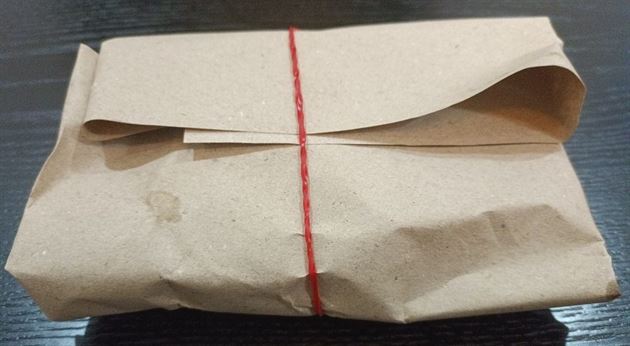 What we ordered from Feng Feng Chicken Rice
I ordered 2 sets of Hainanese Chicken Rice (which literally means that what you get), opting for the 'healthier' poached Chicken because that's all they had left at 6.30pm, each set was SG$3 per packet and comes with a small packet of chili sauce. I ordered Chicken Liver separately at SG$1.50. Total Bill was SG$7.50 (That's USD5.40 and GBP4.40).
The Chicken feet were thankfully not available, tried them once, way too much effort for the end result, so skip that normally anyway!
Now for that price no one can complain, so here is my review of this simple yet effective National Dish of Singapore Chicken Rice!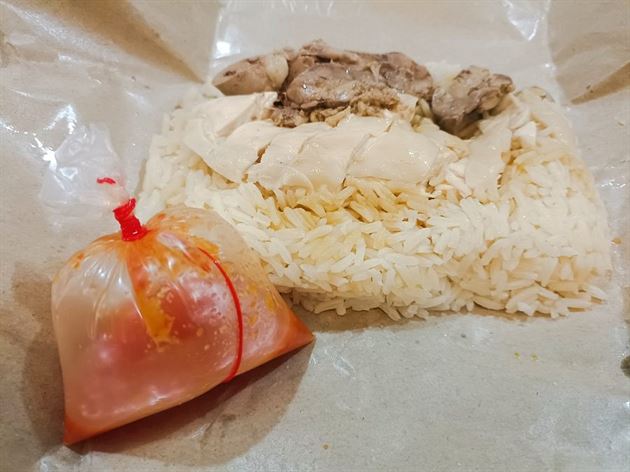 As you can see from the image above there is more rice than chicken here and when eating chicken rice, you want a morsel of both together but half way through the chicken was alas no more! But thankfully I ordered extra chicken liver which was rich and creamy in texture and added a nice balance to the meal that had been splashed with the chicken rice chili that gave it a little heat.
Overall we enjoyed the meal and would most certainly eat it again but more than likely order the Chicken Rice Set at SG$6 which is an additional portion of oyster sauce veggies to top up the meal.
Feng Feng Hainanese Chicken Rice Tampines Location
AFE DELIGHTS. FENG FENG CHICKEN Rice
Singapore One Nation of Food Lovers
Once thing I really love about Singapore is that it's multicultural and when it comes to race and religion it's about tolerance of each other's differences, which is why if you look closely at the headline picture you will see the President of Singapore Halimah Yacob who is Malay giving an award to a stall that sells pork!
Here is a side story on this topic, at Seng Kee Black Chicken Herbal Soup it's diagonally opposite a mosque and right next to one of my favourite Halal Prata places Al Jasra Restaurant, you can buy food from Al Jasra Restaurant and they will serve it to you on a table at Seng Kee where you are eating a pigs liver claypot! You can of course not serve the other way around but that's what the tolerance is all about and I love it!
Seng Kee Black Chicken Herbal Soup
Chicken Rice, a Singaporean delicacy
From hawker stalls to restaurants, chicken rice can be found everywhere in Singapore, and CNN Go ranked it 45th on its list of the world's 50 most delectable meals in 2011.
Although local hawker centres are a popular choice for Singaporeans who have the time and energy, they can also be relied upon when they are in the mood for "Famous Chicken Rice" restaurants.
8 Famous Chicken Rice Places
For those of you who haven't been to Singapore, here are eight of the best places to have chicken rice in alphabetical order.
Boon Tong Kee Chicken Rice 
Chin Chin Eating House 
Five Star Hainanese Chicken Rice
Liao Fan Hawker Chan 
Loy Kee Best Chicken Rice
Lucky Chicken Rice
Tian Tian Hainanese Chicken Rice
Wee Nam Kee Hainanese Chicken Rice
High Class (Atas) Chicken Rice
For an upscale version try Chatterbox Chicken Rice at the Mandarin Orchard Singapore. 5 star price and 5 Star portions! It is definitely worth having at least once in your life, trust me you won't regret it!
How to Cook Chicken Rice at Home
Now if you are a Singaporean living overseas then I am sure you are knocking up a Hainanese Chicken Rice at home on a regular basis but then there are the expats who lived here for years and moved home eventually or those tourists who came through fell in love with Chicken Rice and want to savor that moment again, so here is a version of Hainanese Chicken Rice you can try at home!
What you need for the Rice
2 tablespoons cooking oil like canola, vegetable, peanut
2 cloves garlic finely minced
1 shallot minced
1 inch section of ginger finely minced
2 cups long-grain uncooked rice
2 cups reserved chicken poaching broth
1/2 teaspoon sesame oil
6 fresh red chilies
3-inch piece of ginger
3 cloves of garlic
½ teaspoon sesame oil
1 teaspoon salt
½ teaspoon sugar
The juice of 1 small lime
1 teaspoon rice vinegar (or white vinegar)
3-5 tablespoons chicken broth (from boiling the chicken, or until a saucy consistency is achieved
Grind the chilies, ginger, and garlic in a food processor until finely chopped.
Add the sesame oil, salt, sugar, lime juice, and vinegar to the food processor.
How to Prepare the Chicken for Cooking
Bring a big saucepan of water to a rolling boil. In the meanwhile, scrub the chicken well with kosher or coarse salt to remove any remaining residue. Rinse the chicken well, both inside and out.
Preboil the Chicken – Put the chicken in the water after it has reached a rolling boil. Bring back up to a rolling boil and wait for the scum to rise to the top. Bring to a boil for five minutes. Throw out all of the water, including the stuff on the surface.
Add enough fresh water to the pot so that it is high enough to cover the chicken by an inch, then add the garlic, green onion, and ginger. Over high heat, bring the saucepan up to a boil, and then immediately reduce the heat to a low setting to maintain a simmer. Continue cooking for another 20 to 30 minutes, or less if you're using a chicken of a smaller size. To determine if the meat is cooked through, push a chopstick into the flesh beneath the leg and watch to see whether the juices flow clear. Alternatively, place a thermometer into the thickest portion of the thigh, being sure not to contact the bone. It should read 160 degrees Celsius. During the rest period, the temperature of the chicken will rise to 165 degrees Fahrenheit
When the internal temperature of the chicken reaches 165 degrees Fahrenheit, take the saucepan from the stove and turn off the heat. Immediately pick up the chicken and place it, breast side down, in a basin filled with cold water to chill. The rapid chilling will put an end to the cooking process, preserving the meat's pliability and tenderness while imparting an appealingly hard quality to the skin. After it has cooled down, dry the chicken with paper towels, and then massage the chicken all over with the sesame oil. This will assist in lowering the risk of the chicken becoming dry.
The preparation of the Rice
Put the rice into a big bowl, then pour water over the top of it. You may clean the rice by using your hands to move the water around and clean it. While retaining the rice within the bowl, tilt the bowl to drain the water. Repeat the process three more times until the water becomes clearer.
Place two teaspoons of frying oil in a saucepan or wok and bring it up to a medium-high temperature. When the oil is heated, add the ginger, shallots, and garlic, and cook them together until the scent in your kitchen is heavenly. Take cautious not to let the aromatics catch on fire! After adding the drained rice and stirring to coat it, continue to simmer for one more minute. Add the toasted sesame oil, and thoroughly combine.
Pour in two cups of the poaching liquid you set aside before and bring to a boil. After immediately covering the pot, reducing the heat to a low setting, and continuing to simmer for 15 minutes. Turn off the heat and let the dish rest (with the cover still on) for an additional five to ten minutes.
While the rice is cooking, you may prepare the sauces and cut the chicken so that it is ready to be served
Chicken Rice Garlic Chili Sauce
To prepare the chicken rice chili sauce, place all of the components for the chili sauce in a blender and process until the mixture is completely smooth and brilliant red.
To create the ginger garlic sauce, heat the cooking oil in a small saucepan over medium heat until it is extremely hot and smoke begins to curl out from the surface of the oil. Put an end to the heat. Immediately add the garlic and ginger, then let it cook for a few moments while it is sizzling. After it has had a chance to settle, whisk in the salt and vinegar.
Add a smidgen of Dark Soy Sauce to sweeten to taste!
Voila, Hainanese Chicken Rice
Connect with Us on Social Media