Milk Fish wrapped in Pandan leaves
Here is a new recipe for you. Milk Fish wrapped in Pandan leaves.
Mary had asked me to cook Milk Fish for a BBQ we were going to be attending, so I made up this little recipe for her. It's pretty simple, and it apparently turned out to be really nice.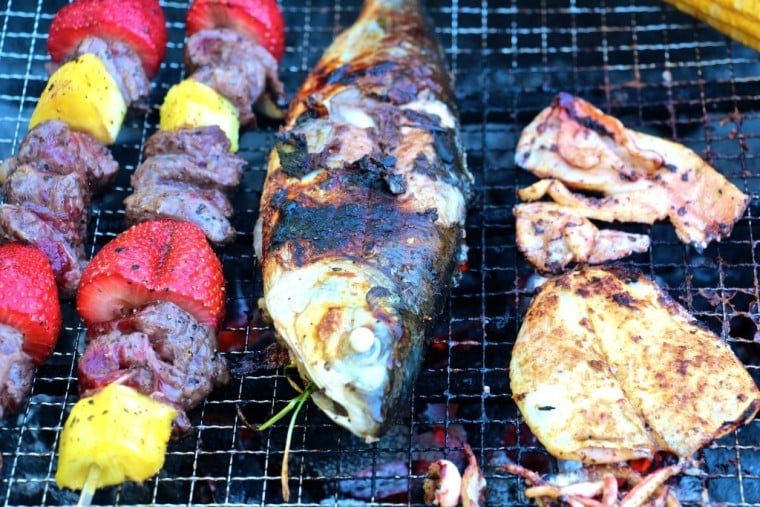 You can leave the fish in foil if you'd rather, and just have it steamed. But as we were BBQ'ing, and my Mary loves fish with charred skin, I took off the foil and Pandan leaves to get the skin on to the coals. Crispy, and charred skin is yummy!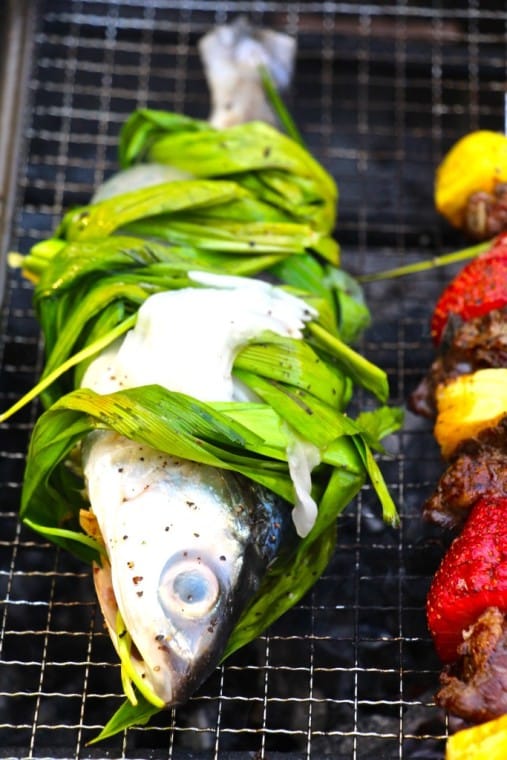 To make Milk Fish wrapped in Pandan leaves you will need;
1 Milk fish. Get it cleaned by the fishmonger; and
Some fresh coconute jelly from the supermarket.
Stuff the fish cavity with;
2 stalks of lemon grass. Peel a few outer layers off, and with the flat side of a knife give them a bash to release the flavour;
1 inch knob of roughly chopped young ginger; and
A small bunch of ripped coriander.
Lay the fish on to a large piece of silver foil, drizzle it with olive oil, and sprinkle both sides with some sea salt and cracked black pepper. Evenly wrap round a couple of Pandan leaves and roughly tie a knot, Repeat that process all the way down the fish to cover it.
Place the coconut jelly on top of the fish and bring the edges of the silver foil to the middle to create a sort of tent shape to allow the steam to flow round. Seal the foil to avoid the steam escaping. This is your steamer to make Milk Fish wrapped in Pandan leaves.
I cooked the fish in the foil on the BBQ for about 15 minutes a side. This made the coconut jelly melt and absorb in to the fish, the fish to cook, and for the and pandan leaf flavour to steam in to the fish. When fully cooked through take it out of the foil, remove the leaves and grill it straight on the BBQ to crisp the skin. I simply served the fish with some plain white rice – Filipino style. Milk Fish wrapped in Pandan leaves – ENJOY!!!