Sooperlicious Cakes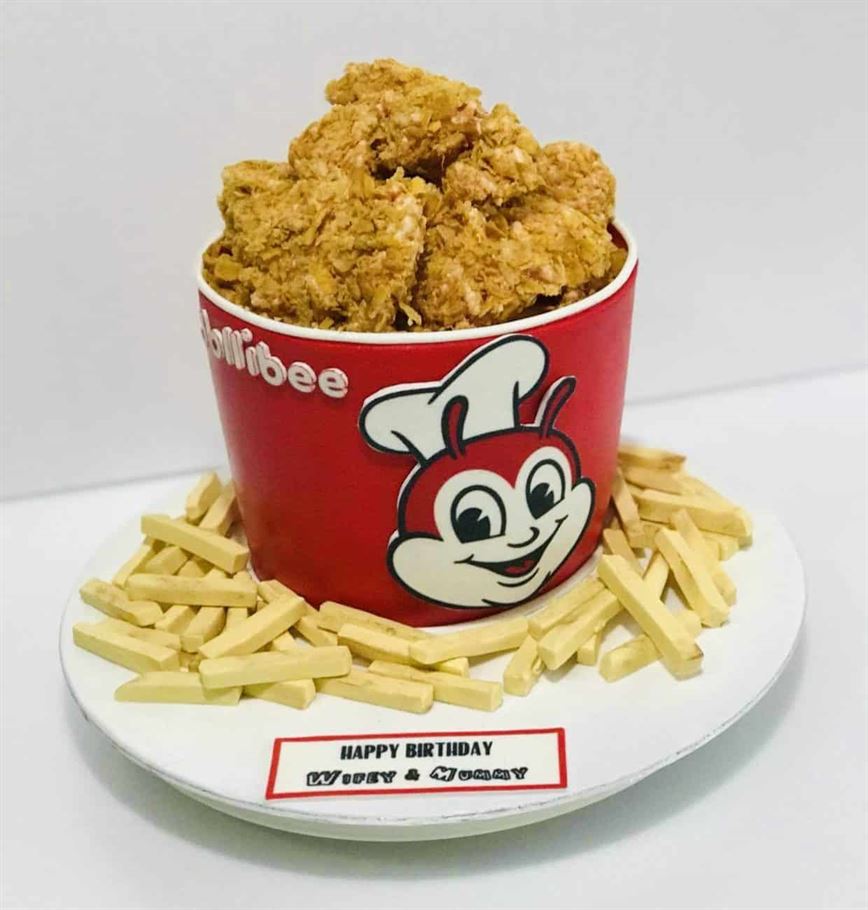 Sooperlicious Cakes
A little bit different today folks. Not a restaurant review, but a local F&B business nonetheless and one that is well with a review. It is a cake-maker called Hana that set this business up. I was looking for something special for Wifey's birthday this year and WOW did she and her team deliver. Just watch my wife's face when we 'unveil' the cake after her birthday dinner. The cake made such a special end to the birthday day. Best we have ever ordered in my reckoning. My request was completely bespoke and could be the VERY FIRST EVER Jollibee birthday cake made on the planet.
She and Sooperlicious Cakes come with a massive recommendation from me and the family. They can bespoke your order, you can collect, or they deliver and they were phenomenal dealing with me being rather demanding git as I always am. A big 5* out of 5* from me, Islifearecipe & ChillaxBBQ.
Was wifey happy with her birthday cake?
There is another reason why this cake is so special. With a Filipino wife, you get to know the Jollibee brand very well and not just when within the Philippines. They will hunt this stuff out wherever we are on the planet. Personally, I hate it and that bloody annoying bee and his cohorts like Twirly Whirley who I had this experience with before in the Philippines… So for me to make the effort to find and get made this cake means double, ney treble meaning to Wifey & the kids as they really do know how much I loathe this brand – so this is BIG haha!!!
As I always do, let's also hear from Hana the founder;
"After years of flying in the aviation industry, Hana responded to what she calls an "intimate calling" to be an entrepreneur. She had always had a passion for baking and wanted to use it as a means to give back to society. To her, the best job that one can have is something that pays the bills, that she is passionate about doing day in, day out, and that contributes to society.
She doesn't see herself as a born artist (even when the intricate designs of a Sooperlicious cake speak otherwise) but rather, as someone whose skill was nurtured out of a raw passion for the craft.
The journey has seen her take huge strides as a person – where she used to be more of a people pleaser or feel overwhelmed over tight deadlines, she is now able to view life through a different lens. A tight deadline is now a meaningful challenge. A complicated design request is now an opportunity to learn something new and push her limits. An accidentally burnt cake is not just wasted ingredients, but a chance to review her processes and what could be improved or streamlined.
Her favourite quote is "you were born to be real; not to be perfect."
In her free time, she enjoys watching reality shows like MasterChef (with a cup of afternoon tea in one hand and cupcake in the other) and dream about herself winning the competition one day."
That says it all – as when you get the product her and her team have incorporated all of the above and absolutely show that passion. I hope you agree from the photos I am sharing of the amazing creation we had made for Wifey's Birthday Dec'20. Give Hana and her team a bell and place your orders. 13 years in Singapore and this is the best I have ever seen. Sooperlicious Cakes – ENJOY!!!
(Visited 196 times, 1 visits today)