Bicol Express is an extremely popular Filipino dish introduced to be my Mary. Apparently originating in the district of Malate, Manila and then later made into true Bicolano style. Basically a sort of mild (if you want it to be) curry with green chilies, coconut milk, shrimp paste, onion, pork, and garlic. There are today many diferent varieties of Bicol Express, including mine – my BK Express (get it? BK=Brian Kennett. BK Express. OK OK I'm going for a lie down!)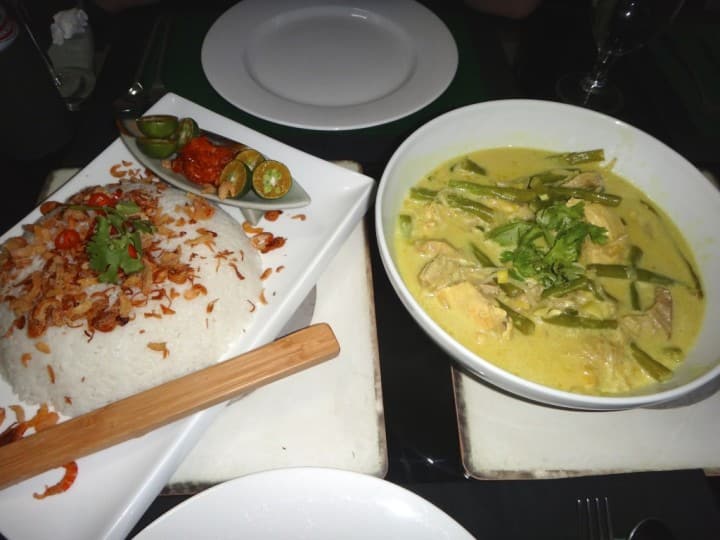 I'm going to sound like a broken record when I state that this is amazing. Sweet, salty, meaty, coconuty, spicy – oh my, they'll be coming back for more of this one, believe me! I learnt the exact recipe from Mary, but of course you now know me, I have to change it a little. Mary thinks my version is more Thai than authentic Filipino, but hey that is what cooking is all about for me.
With some steamed rice this will easily feed 4-6. You will need:
1 kilo of lean pork fillet cut in to strips lengthways
3 green Jalapeño peppers
3 cups of coconut milk (fresh is best)
3 tablespoons of fish sauce (this is where Mary says I got all Thai on her)
4 garlic cloves crushed or chopped finely to a mince
1 small red onion finely chopped
1 cup of French beans topped and tailed and halved
1 cup of coconut cream
2 tablespoons of chopped ginger, or about an inch knob (ooer!)
2 tablespoons of chopped lemon grass, or about 2 stalks
1 pinch of turmeric
2 tablespoons of cooking oil
2 handfuls of bean sprouts
2 cups of cooked plain white rice – of course depending how many you have coming along to eat with you.
First take a bowl of salty water and soak the chilies for 30 minutes, rinse and strain. Then cut in half and de-seed running a teaspoon reversed up the length, and cut in to strips.
Heat the oil in a pan and then brown off the pork for a few minutes only. In another pan sauté off the garlic, onion, lemon grass, ginger and fish sauce. Once "wilted" add to the pork, and out back on the heat again. Add in the turmeric, and coconut milk. Bring this to a gentle boil, and simmer on low heat for 10 minutes or so being careful not to over cook and burn the milk. Add in the chilies, French beans and bean sprouts and cook until the liquid starts to dry up. Once this happens in goes the coconut cream.
Simmer this until the sauce thickens and glistens.
Add some salt to taste, and serve with the rice. Maybe sprinkle some fried off onions on top, or maybe even a few dried shrimp.
This dish is mega. Simply delicious. My thanks to The Philippines and my Mary of course – although I am absolutely taking the credit for it as I added a few things of my own, ha ha!