Oxtail & lentil curry
If I remember rightly this creation came from eating a brunch one day on our ravels through Asia. I fell in love with the dish immediately and swore to myself that I need to re-create my own version, and strangely enough this is how my Oxtail & lentil curry was created.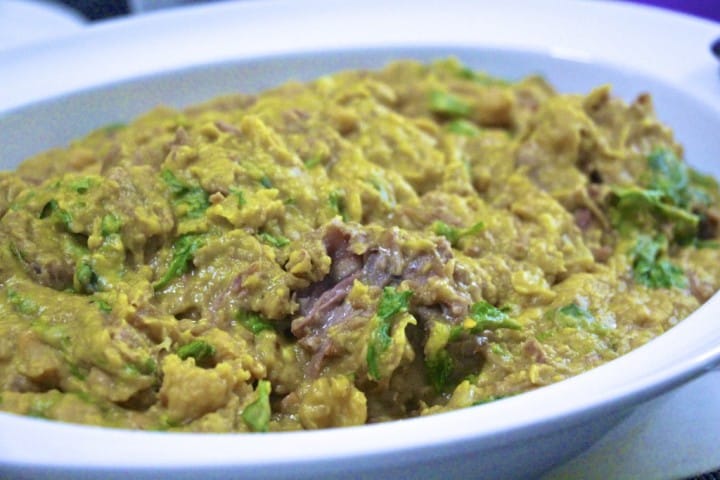 If I remember correctly I had this curry in Penang when Mary and the kids and I visited once. So in honour of that memory I created this dish in July 2013 – Oxtail & lentil curry. I used a slow cooker, and the result was that the meat will just fall off the bone. Here we go;
You will need 2 large oxtail pieces per person. Place the oxtails in a large pan filled with cold water. You want enough water to just cover the tails. Bring that to the boil. This will create a really 'dirty' looking mess on the surface. Strain that off and put the oxtails back in with more fresh water, and again bring to a boil.
Add the oxtails, the clean broth from the second boiling, and all of the following ingredients to the slow cooker;
400g of split red lentils – wash them in a sieve until the water runs clear;
1 tin of large chick peas including the brine;
2 chopped red onions;
2 chopped chili padi;
5 chopped garlic cloves;
2 inches of chopped ginger;
1 heaped tablespoon of ground cumin;
1 heaped teaspoon of ground turmeric; and
A good pinch of sea salt and cracked black pepper.
Set that on a slow cook for three hours. Your Indian oxtail & lentil curry is nearly done now. Keep checking to make sure there is enough fluid covering all the lentils and meat. Top it up with fresh water if it starts to get too dry.
When you have finished the slow cook, add in;
1 good handful of chopped mint;
1 good handful of chopped coriander;
A 2″ knob of butter; and
Another pinch of sea salt and cracked black pepper.
Stir these in to the finished dish, making sure the butter has melted, and you are ready to serve. Oxtail & lentil curry is an absolute cracker of dish. You are going to love it. We all loved this one! Its an absolute belter – ENJOY!!!
Is Life a Recipe YouTube Channel
(Visited 128 times, 1 visits today)