This one is quirkily named: Muddy Mushroom Soup – button mushrooms caramelized over 3 hours with pork bone stock. An incredible flavour sits in this little coffee cup. As you get to the bottom you even get little bits of slow-braised pork rib. It's just insanely good. We ordered two to stop the fighting.
@ $15
And then this one follows soon after. Again I had to order two to stop a food fight. And again, an absolute stunner. This is Beefy Tomato Soup – goodness me, best tom soup ever – beef bone stock, tangy tomatoes & sour cream. You get bone marrow flavours and then slapped with zing of tart tomatoes. It's really quite incredible a little soup.
@ $15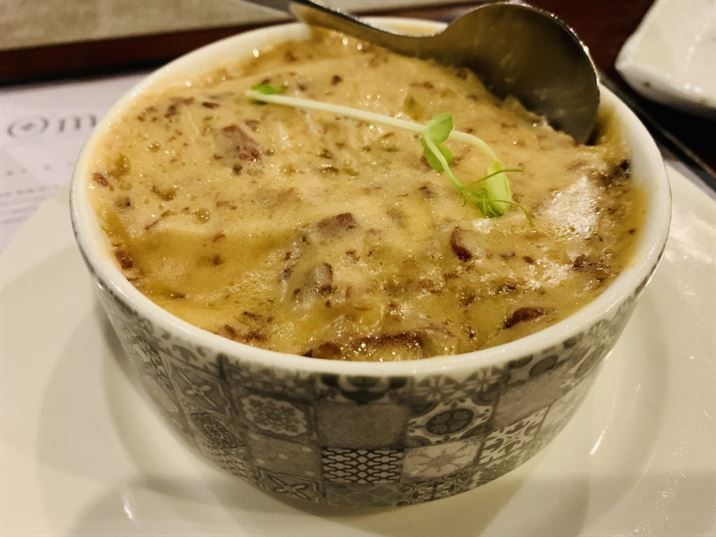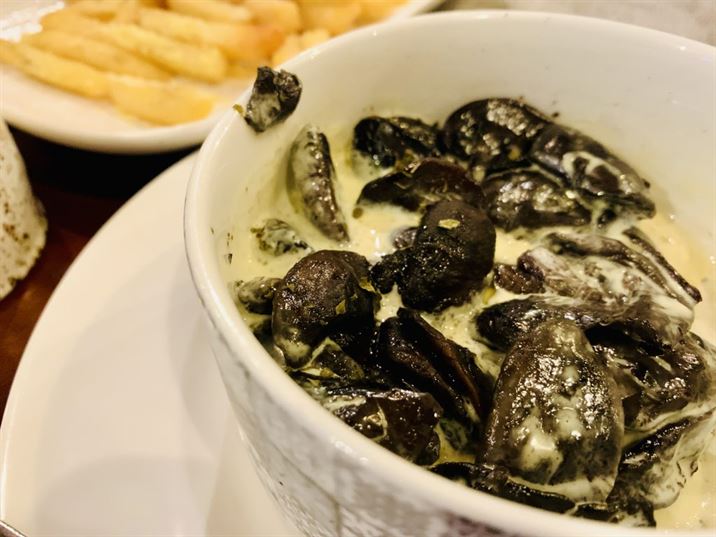 Jude Jude orders one of his all-time favourites, but this was Mad Mac n Cheese at Tomahawk. This was up there with ChillaxBBQ's 3-Cheese Fondue recipe. It was a winner in a big way!!!
The 'main event' is fast approaching now and the sides come out 1st and these are worth a call-out. Some seriously intense mushroom flavour from these bad boys. Just brilliant. Twice-Sauteed Mushrooms are shrooms caramelized over 2 hours until they are chewy and nutty. Boom!
@ $18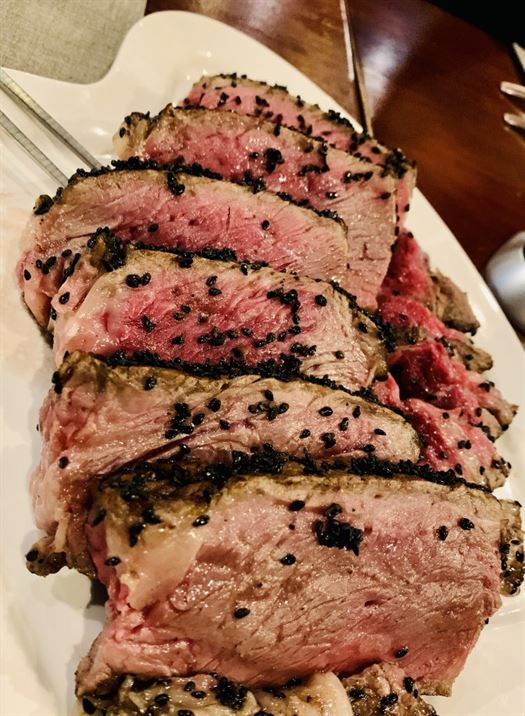 Pink2Pink Perfection. I love it. They even serve this with a personal Chef Torch if you want to char it up some more for those, not of the medium-rare disposition, of which I had 2 to contend with today. Thank Gawd #1 and Jude Jude were with me to have some form of steak decorum in such an incredible establishment!!!
So this is on the menu as Wagyu Tomahawk Rib-Eye Steak a 6/7MB Australian Sanchoku Wagyu rib-eye, with truffle black sesame. She is a monster but perfectly cooked. A stunner.
And then the main event arrives with nearly 2Kg of prime beef real estate on this platter. It's an incredible thing to see. They use this black sesame & truffle 'crust' and bless them they ask for forgiveness for the 30 or so additional minutes to cook the steak. For me, that is a blessing as it means they have not sous-vide prior, and I hate sous-vide as you know. I am so hoping that the Chef is reverse-searing these monster Tomahawks in the oven not boiling in the bag. PLEASE!!!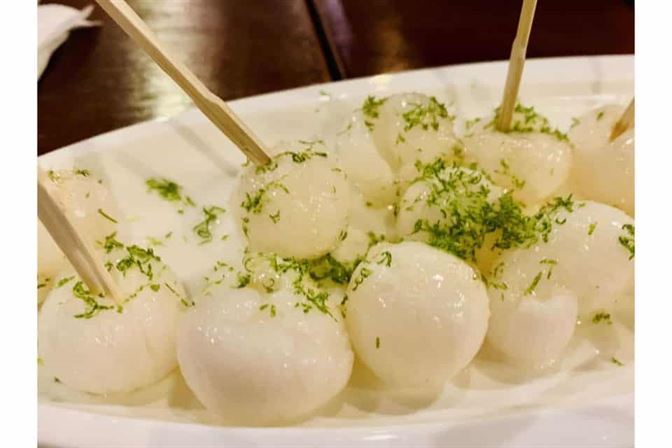 We then crack into a pork rib territory for another stunning little dish. Super-tender and a fascinating spin on Char Siu. This is Smoked Char Siu St.Louis Pork Ribs – Australian Borrowdale certified free-range pork, prepared with 21 ingredients and then hickory-smoked, served with Japanese cucumber salad. OINK!!!
You have to watch the video again for this little bit of food theatre at tableside. A CO2 carbonator gets filled with Longan fruit. He then carbonates it with the gas. That infuses into the fruits. That then gets served up with freshly grated lime peel and a little sugary syrup (maybe maple or honey…?). What you get is pop-rocks sensation when you eat the fruit. It is BONKERS. Who doesn't love a bit of food science? This is their Fizzy Fruits – fruits made fizzy from pressurized CO2. What an awesome finish to lunch!!!
@ $16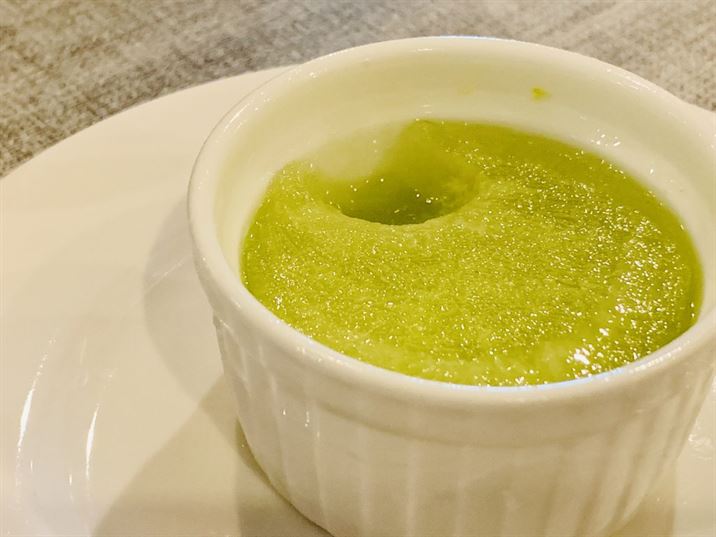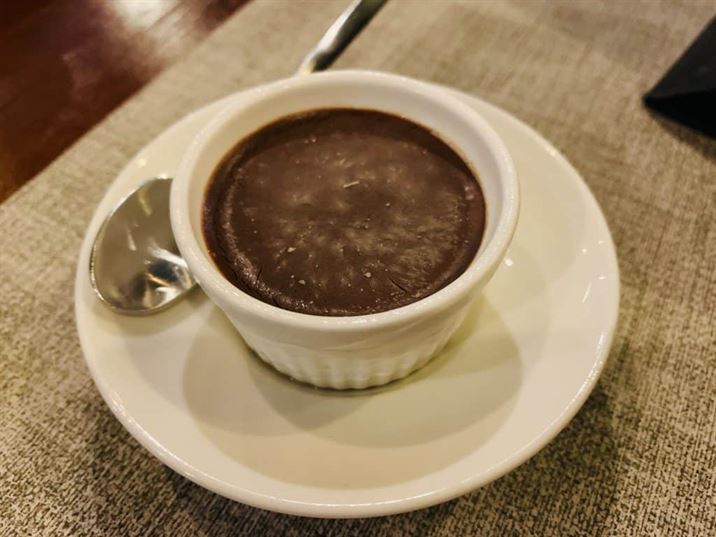 #1 goes hard on this beauty. One mouthful and he was eyes wide-open and all goo goo gah gah about how wonderful it was. A superb marriage here of Midori & lemon. This is their Midori Lemon Sorbet – honeydew melon liquor, lemon juice, and ginger juice. Kaboom!!!
@ $8
Little baby ramakins of their Premium Ice-Cream arrived for Jude Jude. This is chocolate, but not just any chocolate. This is all the way from Valrhona, France, a crew that has been making chocolate since 1922. Yeah, they are masters at their craft. This is some intense chocolate ice cream and it is off-the-charts good.